Genotypic Frequency of RHC Antigen in Women of Reproductive Age in Pakistan
Saima Bashir

Army Medical College/National University of Medical Science (NUMS) Rawalpindi Pakistan

Fahim Akhtar

Pak Emirates Military Hospital/National University Medical Science (NUMS) Rawalpindi Pakistan

Mohammad Abdul Naeem

Combined Military Hospital, Lahore/National University of Medical Science (NUMS) Pakistan

Maria Khan

Armed Forces Institute of Transfusion/National University of Medical Science (NUMS) Rawalpindi Pakistan

Sunila Tashfeen

Pak Emirates Military Hospital/National University Medical Science (NUMS) Rawalpindi Pakistan

Saleem Ahmed Khan

National University of Medical Science (NUMS) Rawalpindi Pakistan
Keywords:
Alloimmunization, Genotyping, Hemolytic disease of the fetus and newborn (HDFN), Polymerase chain reaction (PCR)
Abstract
Objective: To determine the genotypic frequency of RHC antigen in females of reproductive age.
Study Design: Cross-sectional study.
Place and Duration of Study: Armed Forces Institute of Transfusion (AFIT) and Pak Emirates Military Hospital, (PEMH) in collaboration with NUMS Pakistan, from Dec 2020 to Dec 2021.
Methodology: Females aged 16 to 45 years were recruited in the study. Demographic data, including age, parity, ethnicity etc.,was recorded on a proforma. Venous blood samples were collected in EDTA tubes, and DNA was extracted using 5% Chelex TM. A conventional Polymerase chain reaction and amplified products were subjected to Polyacrylamide Gel electrophoresis.
Results: Amongst 200 females, 172(86%) had the expression of RHC antigen, while 28(14%) were negative for the respective antigen. These results were valuable in predicting the risk of hemolytic disease in fetuses and newborns and alloimmunization in our population.
Conclusion: Females in the reproductive age group had RHC positivity of 86%. This data will help predict the risk of HDFN in future pregnancies and individuals at risk of alloimmunization in RHC-negative women.
Downloads
Download data is not yet available.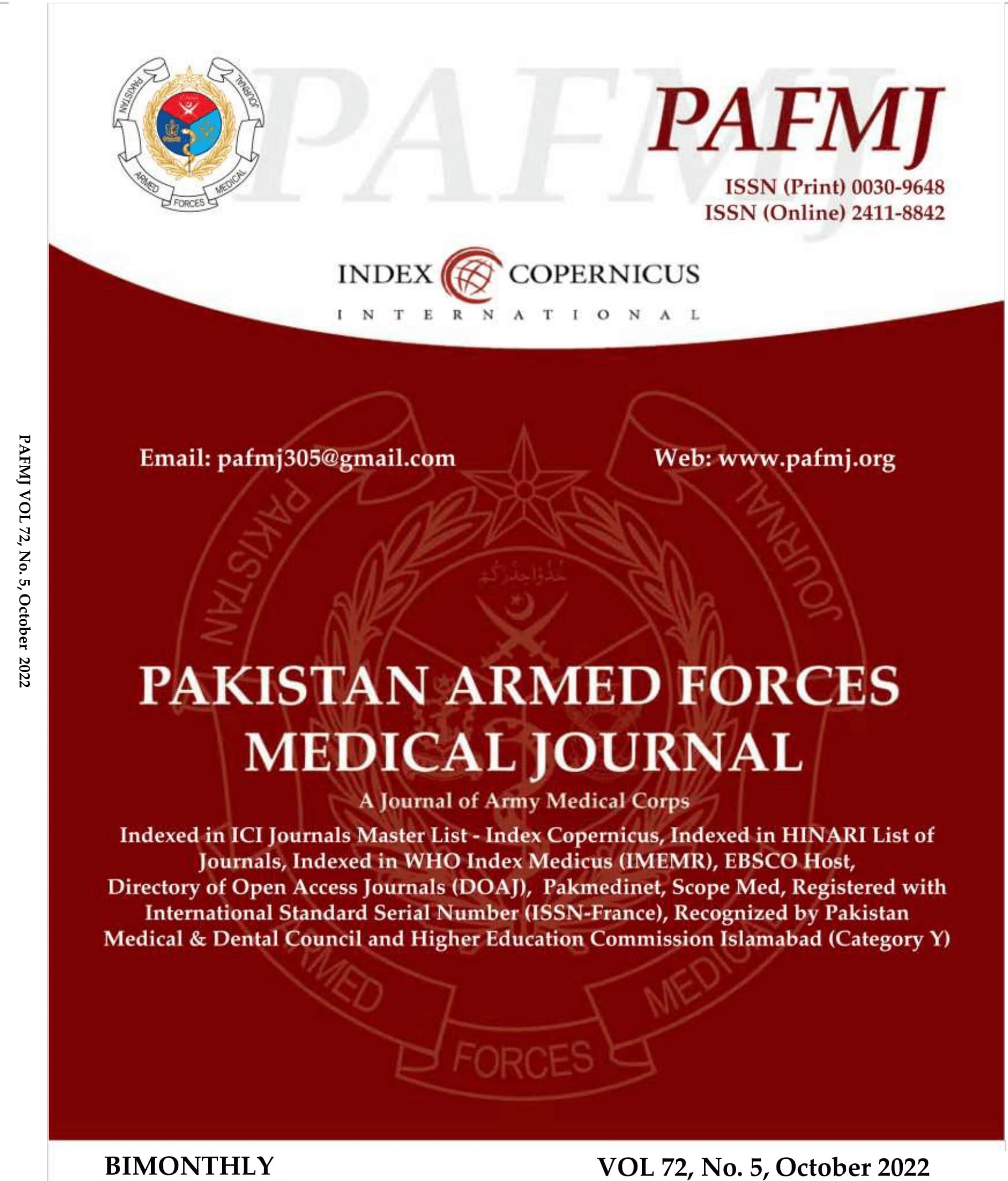 How to Cite
Bashir, S., Akhtar, F., Naeem, M., Khan, M., Tashfeen, S., & Khan, S. (2022). Genotypic Frequency of RHC Antigen in Women of Reproductive Age in Pakistan. Pakistan Armed Forces Medical Journal, 72(5), 1839-42. https://doi.org/10.51253/pafmj.v72i5.8470
Section
Original Articles