Association of Serum Apelin levels with Peripheral Neuropathy in Type-2 Diabetes Mellitus
Keywords:
Apelin, Diabetic peripheral neuropathy, TNF-alpha, Type-2 diabetes mellitus
Abstract
Objectives: To determine serum levels of Apelin in healthy individuals, type-2 diabetic patients and diabetic peripheral neuropathy patients (DPN) and to find the correlation with serum Apelin levels and serum fasting blood glucose, glycosylated hemoglobin.
Study Design: Cross-sectional analytical study.
Place and Duration of Study: Physiology Department and Centre for Research in Experimental and Analytical Medicine (CREAM) lab of the Army Medical College/National University of Medical Sciences (NUMS) Rawalpindi Pakistan, from Jan to Dec 2021.
Methodology: A total of 90 individuals comprising three Groups having 30 subjects in each were recruited. Group-I included thirty healthy subjects, and Group-II consisted of thirty newly diagnosed patients having T2DM, Group-III consisted of thirty T2DM patients with DPN. We used Michigan Neuropathy Screening Instrument (MNSI) to assess neuropathy. Serum Apelin and tumour necrosis factor-alpha (TNF-alpha) levels were recorded from the blood samples of all subjects by enzyme-linked immunosorbent assay (ELISA) using human serum Apelin and TNF-alpha ELISA kit catalogue no. E2014Hu (bio-assay technology) and E0082Hu (Bio-assay technology), respectively.
Results: The mean values of serum Apelin were higher in Group-III compared to Group-II and Group-I, and a statisticallysignificant difference was found (p value=0.001). The serum Apelin levels showed a strong negative correlation with Group-III serum FBG, HbA1c and TNF-alpha with r value -0.728, -0.79, and -0.95, respectively.
Conclusion: Serum Apelin has a beneficial role in DPN in T2DM, with reduced TNF-alpha levels as one of the possible mechanisms.
Keywords: Apelin, Diabetic peripheral neuropathy, TNF-alpha, Type-2 diabetes mellitus.
Downloads
Download data is not yet available.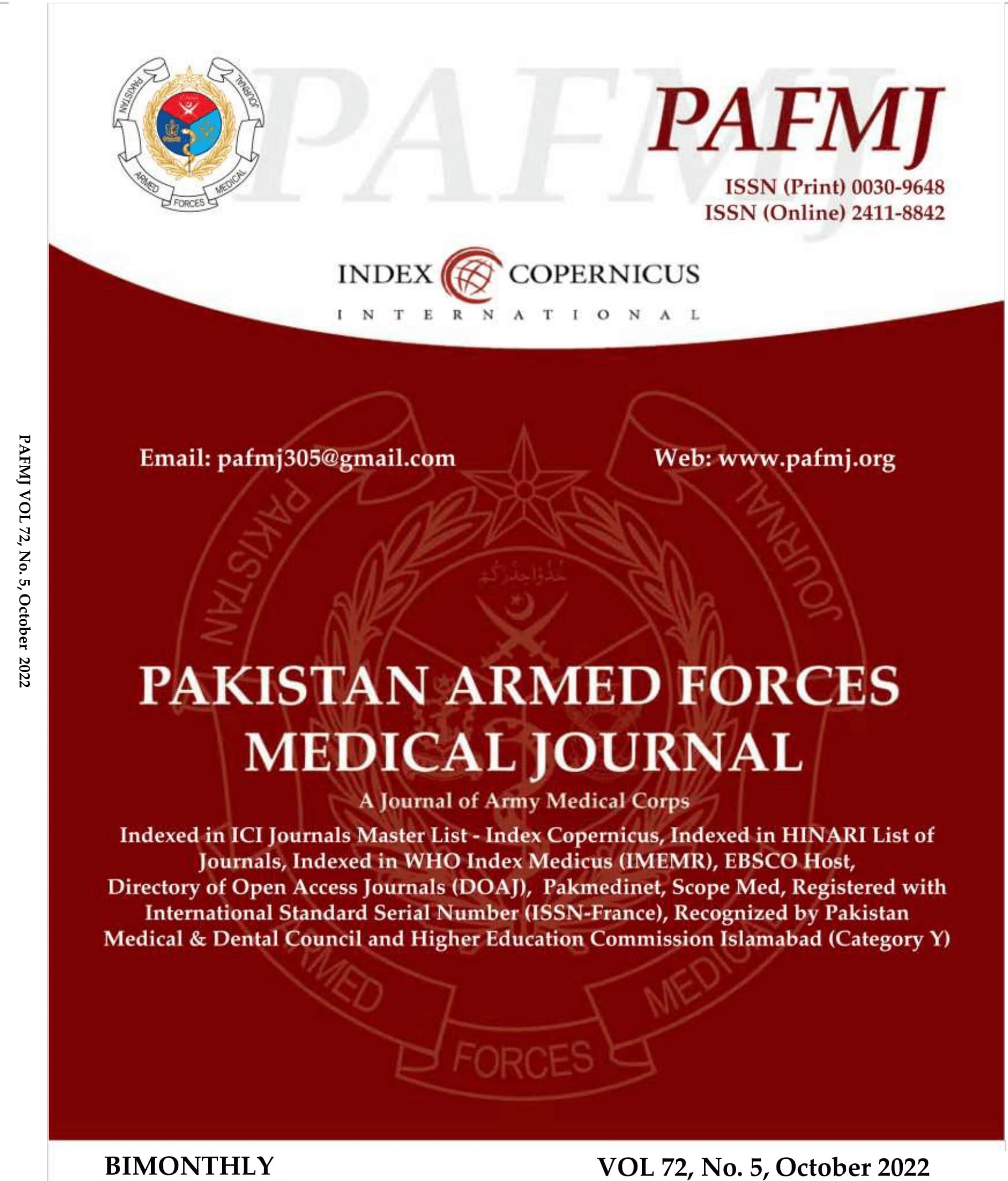 Downloads
How to Cite
Mazloum, S. F., Nadeem, A., Shauqat, S., & Latif, N. (2022). Association of Serum Apelin levels with Peripheral Neuropathy in Type-2 Diabetes Mellitus. Pakistan Armed Forces Medical Journal, 72(5), 1808–11. https://doi.org/10.51253/pafmj.v72i5.8433
Section
Original Articles