Protective Effect of Selenium and Zinc Against Dehp Induced Toxicity in the Thyroid Gland of Rats
Keywords:
DEHP, Selenium, Oxidative stress, Zinc
Abstract
Objective: To compare the efficacy of Selenium and Zinc in improving histological features on DEHP-induced toxicity in the thyroid gland of rats.
Design of study: Laboratory based experimental study.
Place and Duration of Study: Anatomy Department of Islamic International Medical College with the National Institute of Health (NIH), Islamabad Pakistan cooperation from Sep 2019 to Sep 2020.
Methodology: Forty, eight weeks old rats were divided into four groups, each containing ten male rats. In control, Group-A rats were on the standard diet. In Group-B, rats were given orally 500mg/kg/day DEHP. In Group-C rats were given 500mg/kg/day DEHP and 1mg/kg/day Selenium orally. In Group-D rats were given 500mg/kg/day DEHP and 5mg/kg/day Zinc orally. After 28 days, rats were dissected, and the thyroid gland was removed. Histological parameters, vacuolization and number of follicular cells were observed with H and E stining among control and experimental groups.
Results: In Group-B, 50% of rats showed severe vacuolization. In Group-C, 60% of rats showed minimal vacuolization. In Group- D, 40% of rats showed minimally, and 40% of rats showed mild vacuolization. Among quantitative parameters, the number of follicular cells was conserved more by Selenium than Zinc.
Conclusion: Selenium and Zinc have a protective effect on thyroid histological changes caused by DEHP, but Selenium shows better conservation than zinc on thyroid histology.
Downloads
Download data is not yet available.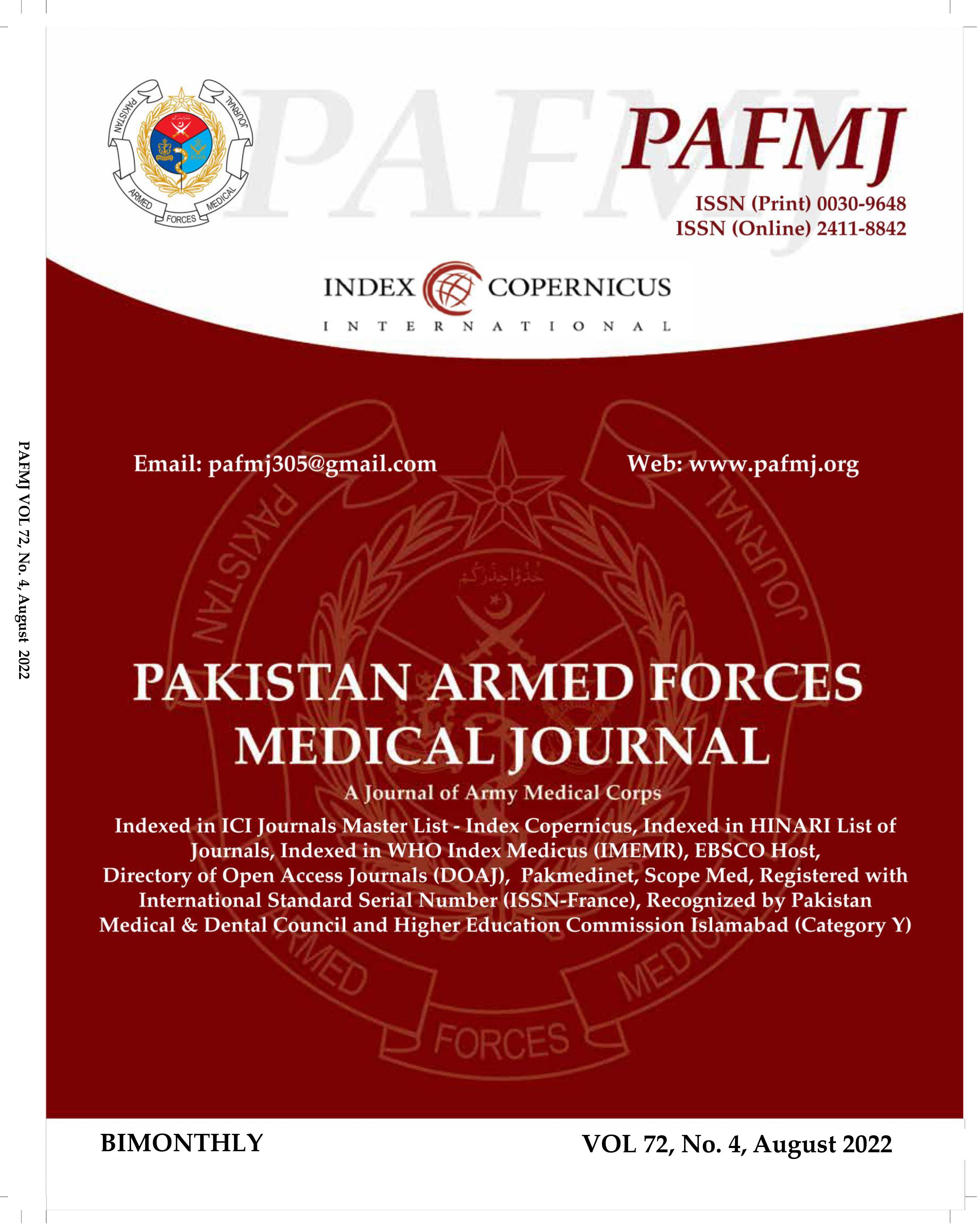 Downloads
How to Cite
hussain, N., Ali, S., Bano, M., Khursheed, T., Beenish, H., & Bano, S. S. (2022). Protective Effect of Selenium and Zinc Against Dehp Induced Toxicity in the Thyroid Gland of Rats. Pakistan Armed Forces Medical Journal, 72(4), 1424–27. https://doi.org/10.51253/pafmj.v72i4.8393
Section
Original Articles