Study of the Effect of Treatment of Helicobacter pylori Infection in Rheumatoid Arthritis Patients
Keywords:
Disease activity score 28, Helicobacter pylori, Rheumatoid arthritis
Abstract
Objective: To assess the disease activity after treatment of Helicobacter pylori infection in rheumatoid arthritis patients at a tertiary care hospital of Rawalpindi.
Study Design: Comparative cross-sectional study.
Place and Duration of Study: Department of Rheumatology, Pak Emirates Military Hospital, Rawalpindi Pakistan, from Jun to Nov 2021.
Methodology: A total of 197 adult patients diagnosed with rheumatoid arthritis and with symptoms of dyspepsia were inducted into this study. First, the disease activity was measured considering parameters such as clinical swollen and tender joints count, disease activity scores 28(DAS-28), visual analogue scale (VAS) and laboratory parameters like erythrocyte sedimentation rate at the start as the baseline. Then, these were repeated after six months, and the differences between the two groups were compared.
Results: At the start of the study, patients who were positive for H. pylori had markedly more swollen and tender joint counts and raised ESR values than those in the negative group. In addition, the disease activity score of 28 and pain scores was markedly raised in the positive group. After H. pylori eradication, the H. pylori-positive patients differed significantly (p<0.001) from patients group negative for H. pylori infection in terms of improvement in DAS-28 score, visual analogue score and clinically. Laboratory indices like ESR showed significantly decreased values (p<0.001) in the H. pylori-treated group compared to those not infected with H. pylori.
Conclusion: From our results, it is suggested that H. pylori infection has a role in the pathogenesis of rheumatoid arthritis.
Downloads
Download data is not yet available.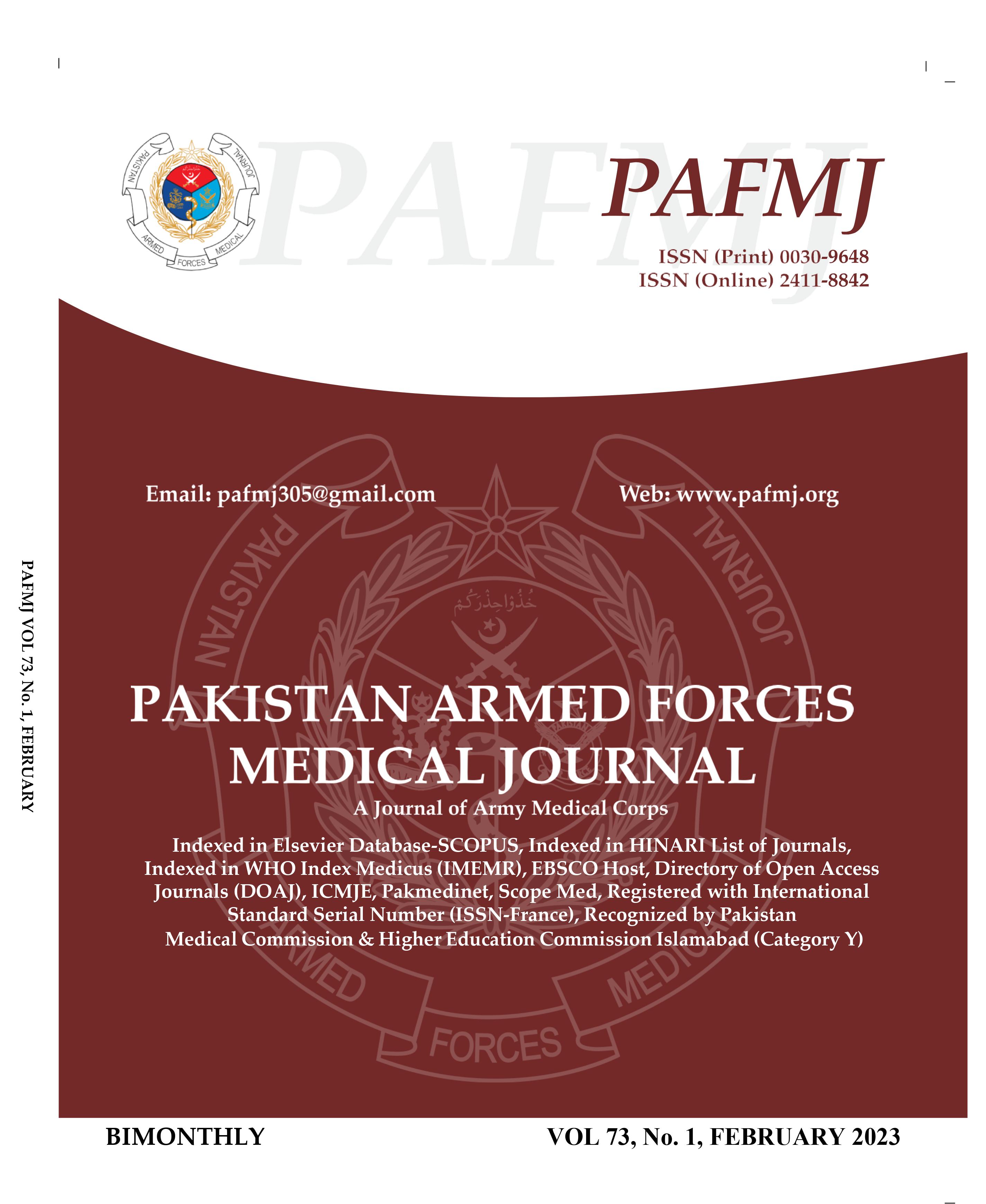 Downloads
How to Cite
Haq, U. U., Haq, S., Nawaz, H., Haq, R., Hakim, F., & Ud Din, Q. A. M. (2023). Study of the Effect of Treatment of Helicobacter pylori Infection in Rheumatoid Arthritis Patients. Pakistan Armed Forces Medical Journal, 73(1), 281–84. https://doi.org/10.51253/pafmj.v73i1.8348
Section
Original Articles