Effect of Short Inter-Pregnancy Interval on the Outcome of Vaginal Birth after Cesarean Section
Nafeesa Hiba

Pak Emirates Military Hospital/National University of Medical Sciences (NUMS) Rawalpindi Pakistan

Salma Nisar

Combined Military Hospital Medical College, Kharian/National University of Medical Sciences (NUMS) Pakistan

Zainab Abbas Mirza

Pak Emirates Military Hospital/National University of Medical Sciences (NUMS) Rawalpindi Pakistan

Khansa Qadeer

Pak Emirates Military Hospital/National University of Medical Sciences (NUMS) Rawalpindi Pakistan

Sadaf Mumtaz

Pak Emirates Military Hospital/National University of Medical Sciences (NUMS) Rawalpindi Pakistan

Munawar Jannat Rana

Combined Military Hospital, Peshawar/National University of Medical Sciences (NUMS) Pakistan
Keywords:
Cesarean section, Obstetric labor, Repeat cesarean section, Vaginal birth after cesarean
Abstract
Objective: To determine the effect of short inter-pregnancy interval on the outcome of vaginal birth after cesarean section.
Study Design: Comparative cross-sectional study.
Place and Duration of Study: Obstetrics and Gynecology Department, Pak Emirates Military Hospital, Rawalpindi Pakistan, from Jan to Oct 2021.
Methodology: A total of 400 pregnant females were selected for this study. For every consecutive pregnant woman with a previous cesarean section and short inter-pregnancy interval (<18 months) recruited into the study, a suitable control with inter-pregnancy interval ≥18 months were recruited.
Results: Only 107(53.5 %) females with short interpregnancy interval had a successful vaginal birth after cesarean section, whereas 143(71.5 %) females with >18 months' inter-pregnancy interval had a successful VBAC. In patients with a history of vaginal delivery, the success of vaginal birth after the cesarean section was significantly higher than in those without previous vaginal delivery or VBAC (p=0.005). 231 out of 250(92.4%) pregnant females with spontaneous onset of labour had a successful VBAC compared to those who had induction of labour, 19(7.6%) (p=0.005). Patients who needed augmentation during delivery had a higher rate of undergoing a cesarean section than VBAC (p=0.003). However, no significant difference was observed in the spontaneous onset of labour and the need for induction and augmentation of labour for the inter-pregnancy interval.
Conclusion: Our study concluded that with increasing inter-pregnancy interval, the chances of a successful VBAC increase (p=0.001) with fewer reported complications.
Downloads
Download data is not yet available.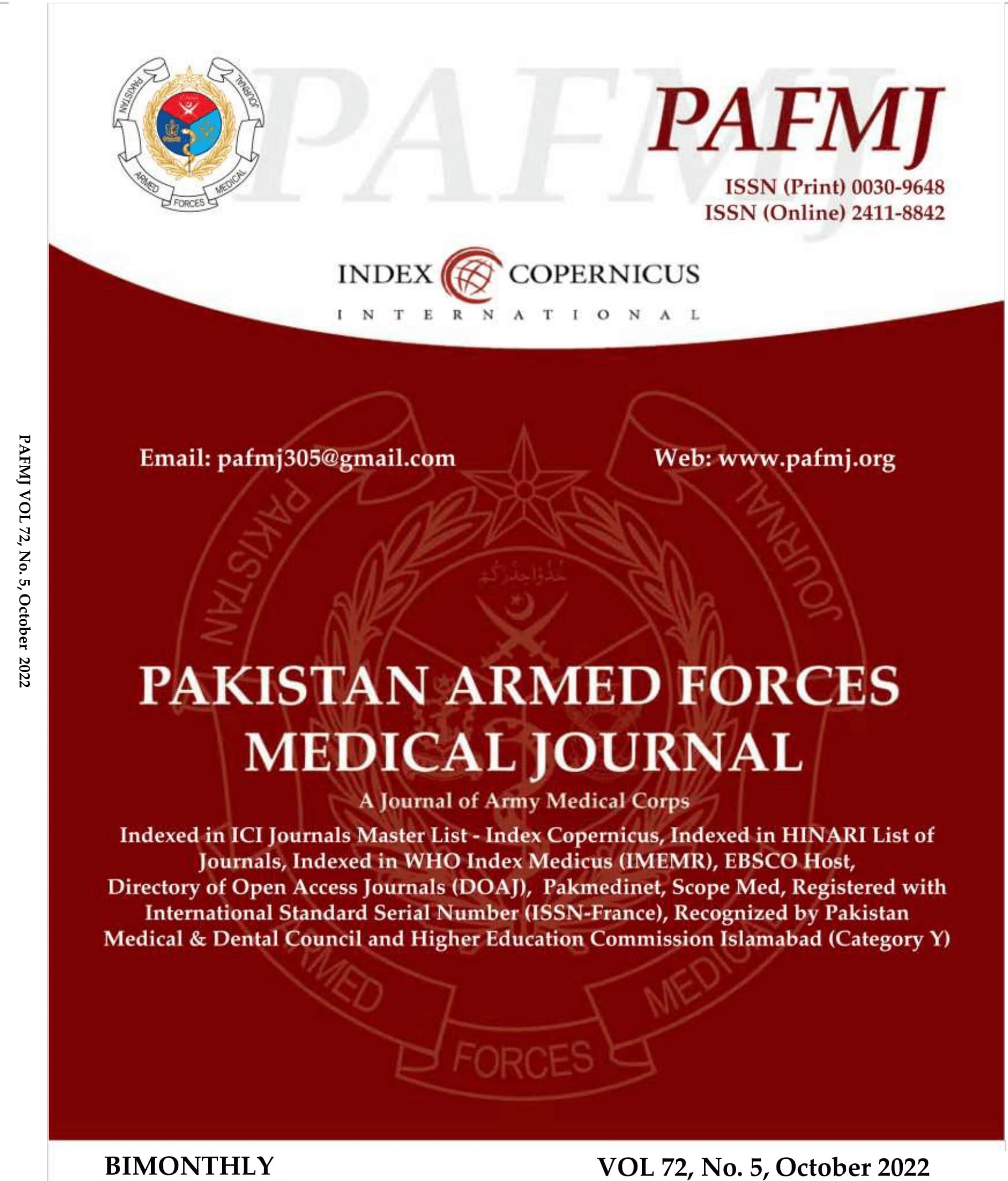 How to Cite
Hiba, N., Nisar, S., Mirza, Z., Qadeer, K., Mumtaz, S., & Rana, M. (2022). Effect of Short Inter-Pregnancy Interval on the Outcome of Vaginal Birth after Cesarean Section. Pakistan Armed Forces Medical Journal, 72(5), 1799-1803. https://doi.org/10.51253/pafmj.v72i5.8221
Section
Original Articles