Management of Primary Pterygium with Intralesional Bevacizumab (AVASTIN) Injection
Keywords:
Bevacizumab, Ocular surface disease index, Primary pterygium
Abstract
Objective: To determine the management of primary Pterygium with intralesional Bevacizumab (AVASTIN) Injection.
Study Design: Quasi-Experimental Study
Place and Duration of Study: Armed Forces Institute of Ophthalmology, Rawalpindi Pakistan, from Oct 2019 to Mar 2020.
Methodology: Sixty patients of Primary Pterygium with Grades 1, 2, and 3 were included. Pre-Intralesional injection evaluation includes the Ocular surface disease Index (OSDI), grading of Pterygium and ophthalmic examination, refraction,slit lamp bimicroscopy, fundoscopy, tonometry, and corneal topography. After four weeks of intralesional injection,reassessment was done.
Results: A total of 60 participants with the mean age of the participants was 44.06±14.83 years were included in the study. In 26(43.3%) patients, grittiness, epiphora, redness, and photophobia were reported, and 16(26.6%) patients reported blurring of vision that improved in 100% of patients after intralesional injections. There was statistical significance (p-value ≤0.05) in means of K1, Sim K astigmatism, Surface asymmetry index, Surface Regularity Index, Grade of Pterygium, and Ocular surface disease index before and after the intralesional injection of Bevacizumab. However, no significant difference was recorded in Uncorrected Visual Acuity, Best Corrected Visual Acuity, and K2 parameters in pre and post-injection states (p-value ≥0.05).Only 7(11.6%) patients reported subconjunctival haemorrhage after the procedure.
Conclusions: Treatment of Primary Pterygium with intralesional Bevacizumab injection successfully improves symptoms,Ocular Surface Disease Index, and reduces corneal astigmatism with minimum complications.
Downloads
Download data is not yet available.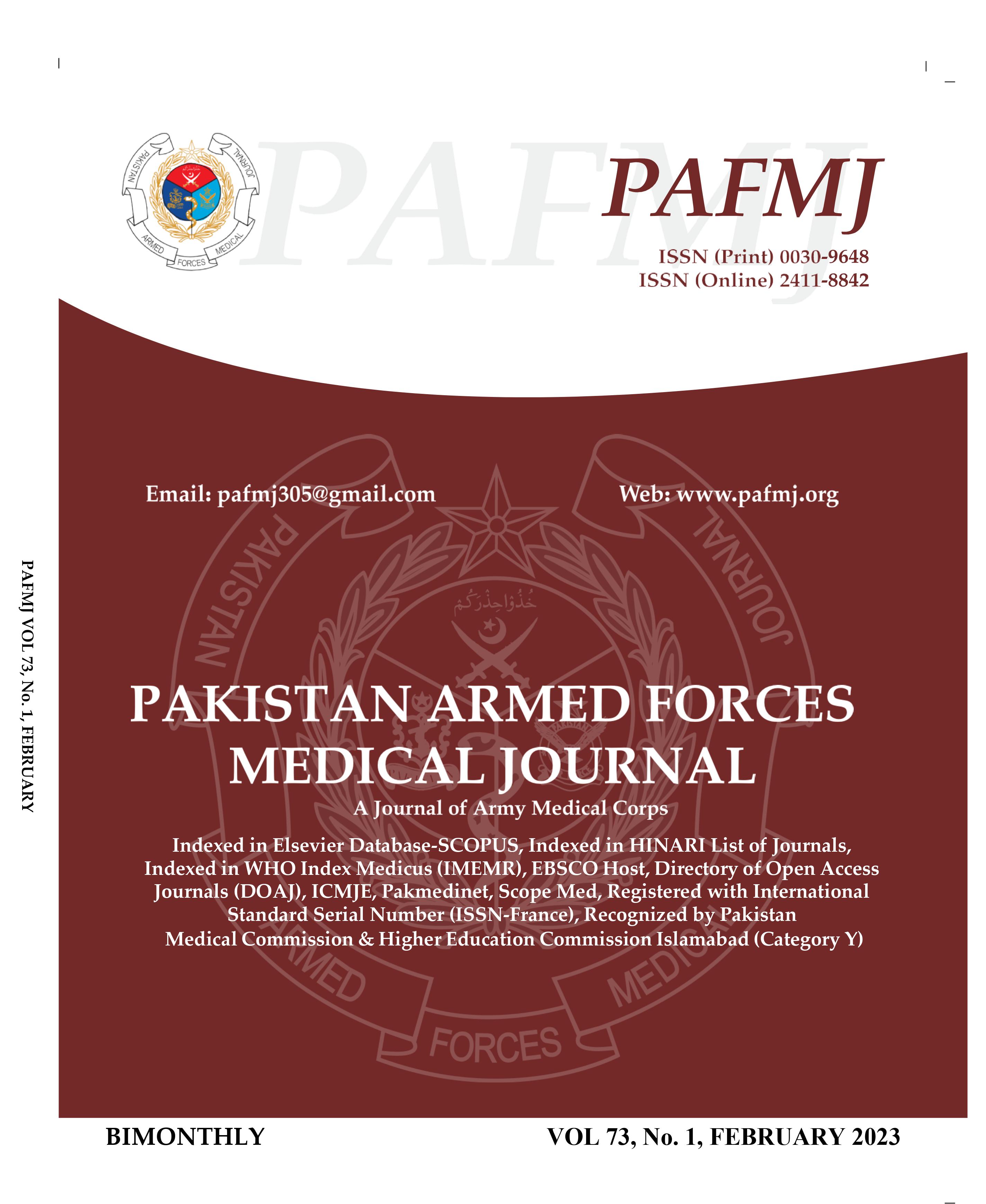 Downloads
How to Cite
Mahmood, I., Shahid, M., Awais, M., Manzoor, M., Rauf, A., & Babar, Z. U. (2023). Management of Primary Pterygium with Intralesional Bevacizumab (AVASTIN) Injection. Pakistan Armed Forces Medical Journal, 73(1), 211–14. https://doi.org/10.51253/pafmj.v73i1.8208
Section
Original Articles