Patients Eagerness for 2nd Eye External Dacryocystorhinostomy after the Satisfactory Surgery of 1st Eye in Tertiary Care Hospital of Islamabad Suburbs
Afia Matloob

HBS Medical and Dental College, Islamabad Pakistan

Waseem Akhtar

Rawal Institute of Health Sciences, Islamabad Pakistan

Erum Yousafzai

Rawal Institute of Health Sciences, Islamabad Pakistan
Keywords:
Dacryocystorhinostomy, Satisfaction, Preference
Abstract
Objective: To determine patient satisfaction with successful external dacryocystorhinostomy for one eye and patients' preference time for second eye dacryocystorhinostomy after the first surgery.
Study Design: Prospective longitudinal study.
Place and Duration of Study: Department of Ophthalmology, HBS General Hospital, Islamabad Pakistan, from Jan 2018 to Dec 2020.
Methodology: A sample of 37 patients was calculated. All selected patients underwent bilateral external dacryocystorhinostomy and were followed for six months. Patient satisfaction was measured using a treatment satisfaction scale.
Results: A total of 37 patients were included in the study. The mean age of patients was 33.5 ± 3.1 years. Satisfaction with 1st eye external DCR was extremely satisfied in 14 (37.8%), satisfied in 14 (37.8%), neutral in 2 (5.4%), dissatisfied in 6 (16.2%) and extremely dissatisfied 1 (2.6%). 31 (83.8%) prefer second eye surgery in ≤1 year after first eye DCR, while 6 (16.2%) prefer second eye surgery after more than one year of first eye DCR surgery. The majority of females prefer ≤1 year duration for second eye DCR surgery as compared to males 25 (67.7%) vs 6 (16.2%), (p=0.03). Anatomical success and functional success were insignificantly associated with satisfaction of first eye DCR surgery of patients (p=0.793 and p=0.482)
Conclusions: High satisfaction with first eye dacryocystorhinostomy and greater preference for second eye dacryocystorhinostomy was found in patients coming to tertiary care hospital in Pakistan.
Downloads
Download data is not yet available.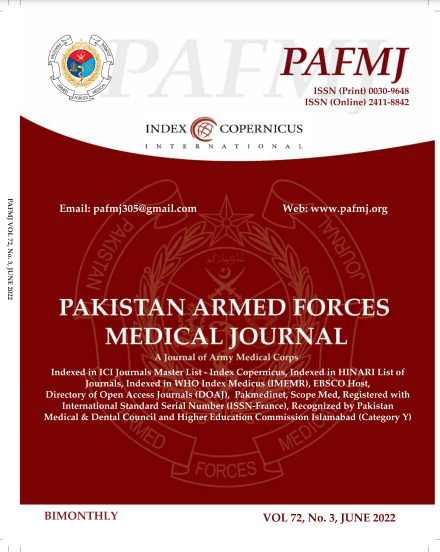 How to Cite
Matloob, A., Akhtar, W., & Yousafzai, E. (2022). Patients Eagerness for 2nd Eye External Dacryocystorhinostomy after the Satisfactory Surgery of 1st Eye in Tertiary Care Hospital of Islamabad Suburbs. PAFMJ, 72(3), 1051-54. https://doi.org/10.51253/pafmj.v72i3.8072
Section
Original Articles