Frequency of Dry Eye Diseases among Children During the COVID-19 Pandemic in Pakistan
Samar Fatima

Combined Military Hospital, Murree/National University of Medical Sciences (NUMS) Pakistan

Hussnain Abbas

Pakistan Naval Ship Hafeez Hospital, Islamabad Pakistan

Khalid Baloch

Pakistan Naval Ship Hafeez Hospital, Islamabad Pakistan

Abdul Rauf

Armed Forces Institute of Ophthalmology/National University of Medical Sciences (NUMS) Rawalpindi Pakistan

Shagufta Perveen

Combined Military Hospital, Lahore/National University of Medical Sciences (NUMS) Pakistan

Irshad Hussain

Combined Military Hospital, Peshawar /National University of Medical Sciences (NUMS) Pakistan
Keywords:
Abnormal tear function, Dry eyes, Online classes, Screen time, Schirmer-II test
Abstract
Objective: To assess the frequency of dry eye among children during the COVID-19 pandemic.
Study Design: Cross-sectional study.
Place and Duration of Study: Pakistan Naval Ship Hafeez Hospital, Islamabad Pakistan, from Mar to Aug 2021.
Methodology: Children aged 7-15 years reporting to the PNS Hafeez Hospital, OPD were included in the study. A proforma was used to record the demographics and screen time of the children. In addition, an ophthalmic examination was conducted to assess the dry eye status of the children using the Schirmer-II test.
Results: Seventy-three children participated in the study. Their mean age was 11.08±2.42 years. There were 40(54.8%) boys and 33 (45.2%) girls. These children had a mean daily screen time of 7.23±2.77hours. Children with dry eye had a greater amount of screen time (8.75±2.11hours) as compared to those with normal tear function (6.05±2.66 hours; p<0.001). In addition,the screen time of children with dry eyes was significantly greater than those with normal tear functions (p=0.001).
Conclusion: Children with dry eyes were reported to have more screen time and more online classes than their counterparts with normal tear functions. Authorities should consider resuming face-to-face sessions for all school children.
Downloads
Download data is not yet available.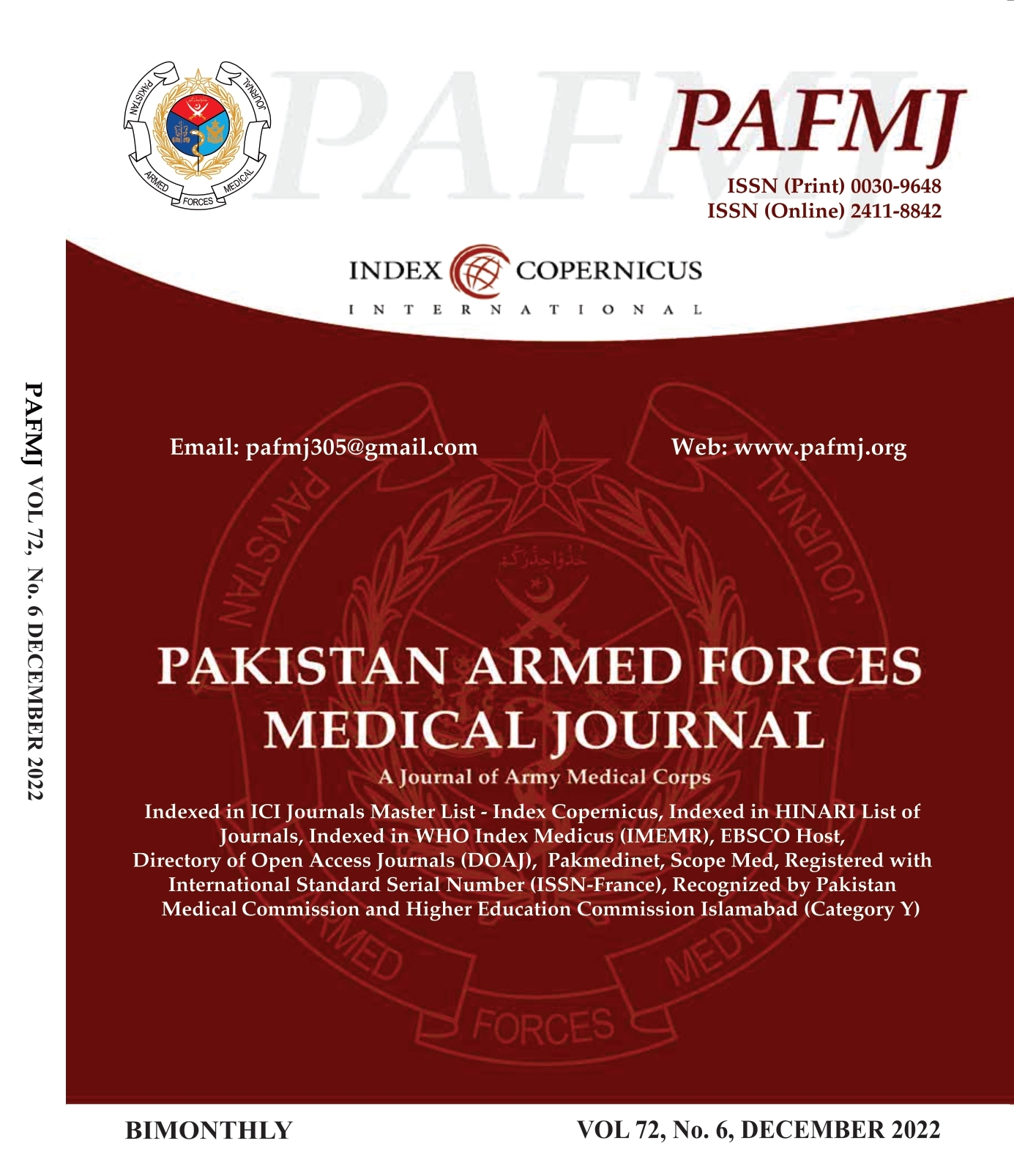 How to Cite
Fatima, S., Abbas, H., Baloch, K., Rauf, A., Perveen, S., & Hussain, I. (2023). Frequency of Dry Eye Diseases among Children During the COVID-19 Pandemic in Pakistan. Pakistan Armed Forces Medical Journal, 72(6), 2078-81. https://doi.org/10.51253/pafmj.v72i6.8067
Section
Original Articles