A Study on the Clinical Profile, Blood Profile and Culture Sensitivity Pattern of Salmonella Typhi in Paediatric Patients
Keywords:
Culture sensitivity, Multi-drug resistance, Salmonella typhi
Abstract
Objective: To study clinical profile, blood profile and culture sensitivity patterns of Salmonella typhi in paediatric patients and factors associated with multi-drug resistant pattern.
Study Design: Comparative cross-sectional study.
Place and Duration of Study: Paediatrics and Microbiology Department, Combined Military Hospital Peshawar from Jan 2021 to Jan 2022.
Methodology: A total of 97 paediatric patients with a confirmed diagnosis of Salmonella typhi were included in the study. A detailed clinical proforma was designed to document all the symptoms this patient had since admission. In addition, all baseline blood investigations and culture sensitivity analysis were requested during clinical evaluation. Basic demographic factors were associated with the presence of multi-drug resistant disease patterns in study participants.
Results: Out of 97 children in the study, 65 (67.1%) were males, while 32 (22.9%) were females The mean age of the children in our study was 9.82±3.26 years. 61 (62.8%) patients had Salmonella typhi, which was not multi-drug resistant, while 36 (37.2%) had multi-drug resistant disease. Fever was the commonest symptom reported by our study participants. No organism was found resistant to Meropenem. Statistical analysis revealed that raised C-reactive protein levels at the time of assessment had a statistically significant relationship with the presence of multi-drug resistant disease (p-value=0.001).
Conclusion: A considerable number of pediatric patients with typhoid had multi-drug resistant illnesses in our study participants. Therefore, special attention should be paid to children who had raised C-reactive protein levels at the time of initial assessment.
Downloads
Download data is not yet available.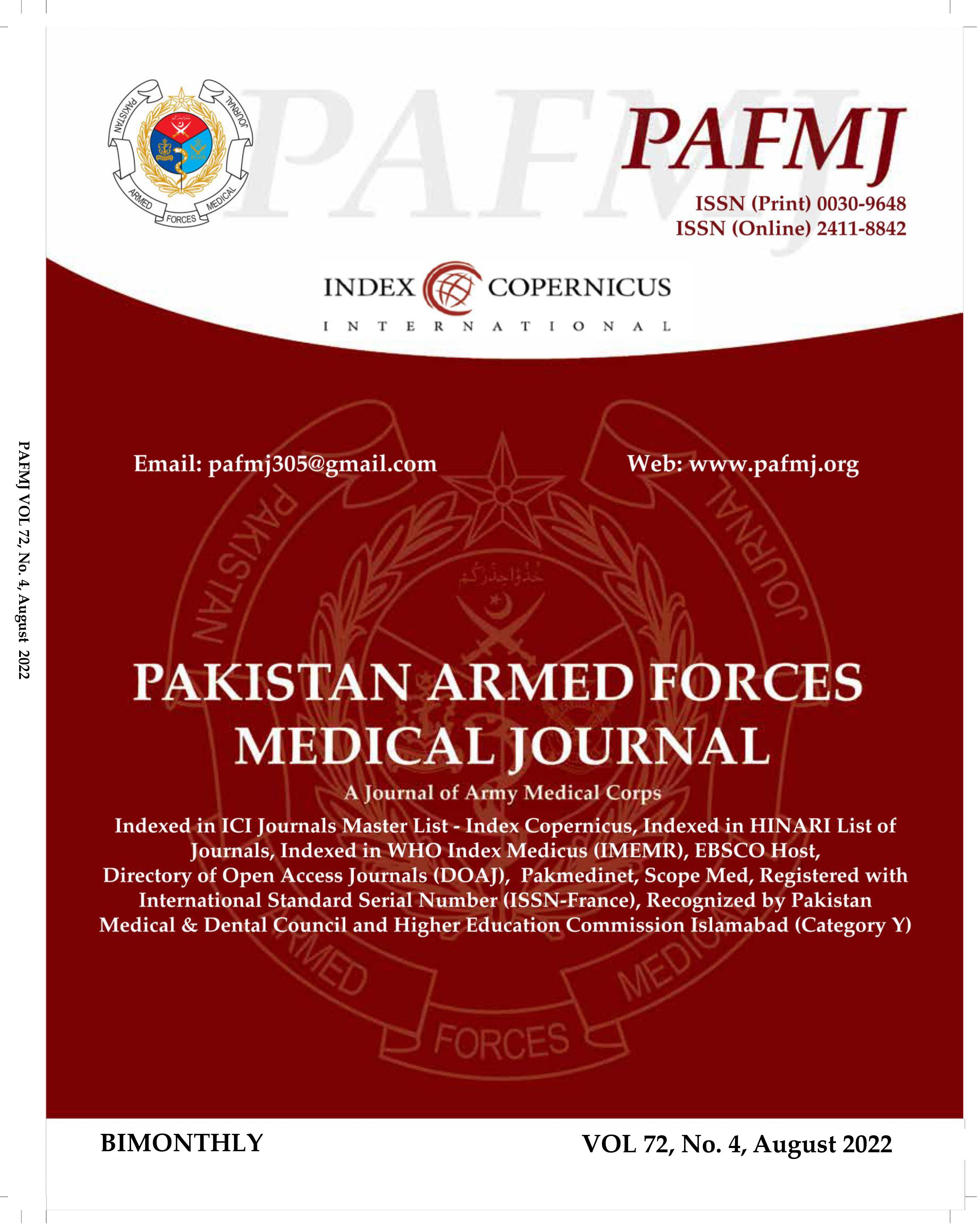 Downloads
How to Cite
Ullah, H., Razzaq, A., Ahmad, A. M., Rehman, R., Ateeq, S., & Aziz, A. (2022). A Study on the Clinical Profile, Blood Profile and Culture Sensitivity Pattern of Salmonella Typhi in Paediatric Patients. Pakistan Armed Forces Medical Journal, 72(4), 1241–44. https://doi.org/10.51253/pafmj.v72i4.8036
Section
Original Articles