A Comparative Analysis of Body Image, Life Satisfaction and Self-Esteem of Patients Before and After Rhinoplasty
Saeed Ullah

Pakistan Naval Ship Hafeez Hospital, Islamabad Pakistan

Abdul Hakeem

Combined Military Hospital/National University of Medical Sciences (NUMS) Rawalpindi Pakistan

Noshaba Razaq

Combined Military Hospital Lahore/National University of Medical Sciences (NUMS) Pakistan

Saadat Ullah Waleem

Combined Military Hospital, Bahawalpur/National University of Medical Sciences (NUMS) Pakistan

Zaryab Saeed

Rawal Institute of Health Sciences, Islamabad Pakistan
Keywords:
Body image, Life satisfaction, Rhinoplasty, Self-esteem
Abstract
Objective: To answer whether life satisfaction, self-esteem and body image rate differ significantly in patients before and after aesthetic rhinoplasty.
Study Design: Quasi-experimental study.
Place and Duration of Study: Combined Military Hospital, Sialkot and Combined Military Hospital, Rawalpindi Pakistan,from Aug 2019 to Aug 2021.
Methodology: The study was conducted on 60 male and female participants between the age of 20-50 years. The demographic questionnaire, questionnaires of life satisfaction, body image and Rosenberg self-esteem scale were used to investigate the significant difference between males and females for life satisfaction, body image, and self-esteem before and after rhinoplasty. Patients filled out the questionnaires before surgery and six months after surgery.
Result: The results of the study showed a significant difference in the mean scores before and after rhinoplasty. For life satisfaction the scores were, 23.550±1.032, 28.80±13.31, for body image, 8.91±3.34, 28.51±4.27 and self-esteem 4.68±4.74,30.56±5.27 in both genders. Results revealed that 49 (56.80%) females, with the highest number (31, 51.7%) of undergraduate participants and the majority of them (40, 66.7%), were from the middle class.
Conclusion: The results of our study confirmed a significant change in the participants' experience of their life satisfaction,body image and self-esteem after rhinoplasty.
Downloads
Download data is not yet available.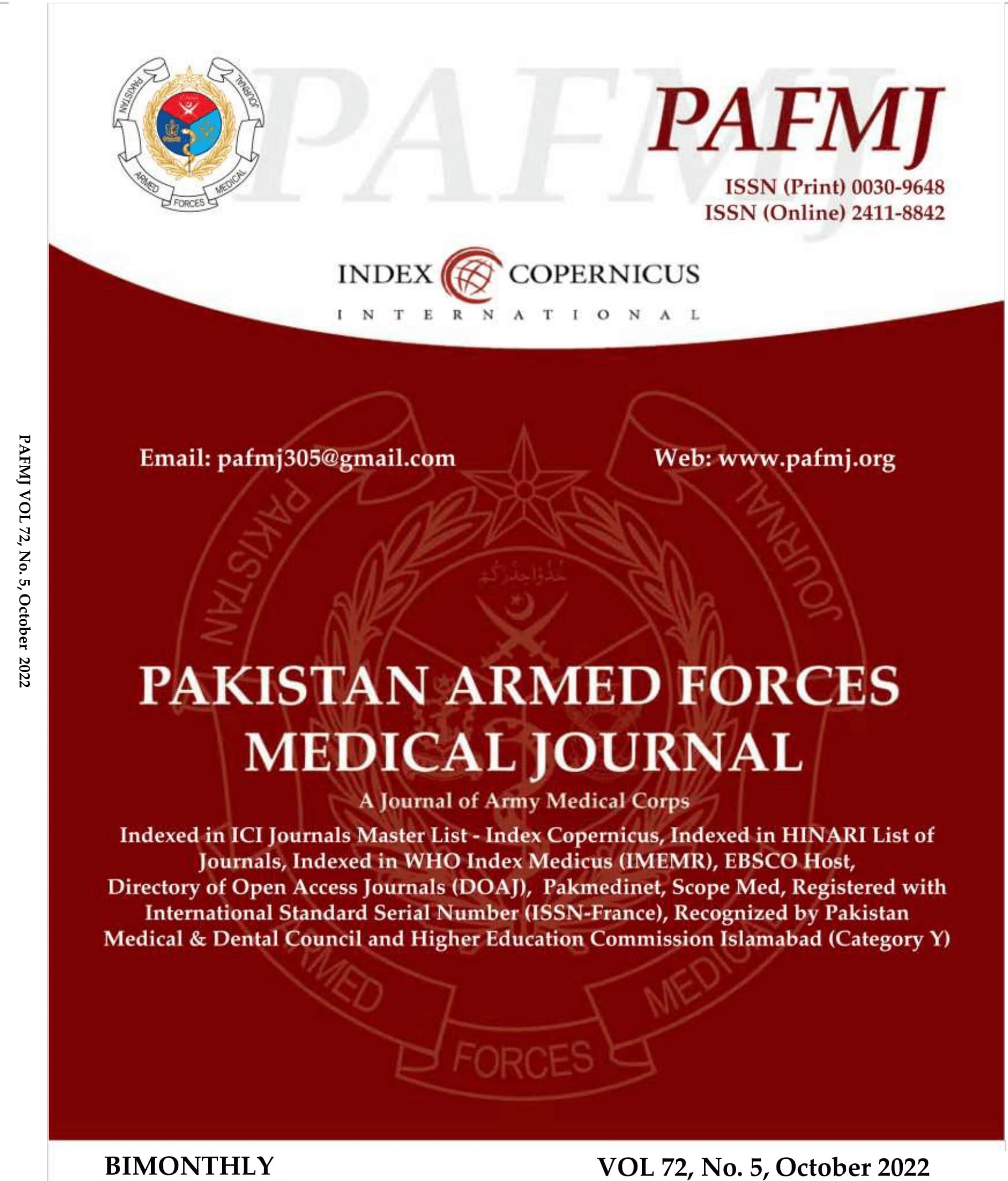 How to Cite
Ullah, S., Hakeem, A., Razaq, N., Waleem, S., & Saeed, Z. (2022). A Comparative Analysis of Body Image, Life Satisfaction and Self-Esteem of Patients Before and After Rhinoplasty. Pakistan Armed Forces Medical Journal, 72(5), 1791-94. https://doi.org/10.51253/pafmj.v72i5.7968
Section
Original Articles