Comparison of Sequential and Concomitant Therapy for Eradication of Helicobacter Pylori
Keywords:
Concomitant therapy, H-pylori, Sequential therapy
Abstract
Objective: To compare the effectiveness of sequential and concomitant therapy for the eradication of Helicobacter pylori.
Study Design: Quasi-experimental study.
Setting and Duration of Study: Department of Gastroenterology and Medicine, Pak Emirates Military Hospital, Rawalpindi Pakistan from Jun to Sep 2021.
Methodology: A total of 105 patients who were H-pylori positive on stool antigen tests and had to undergo eradication therapy were included in the study. Patients were randomized into Groups by lottery method. Group-A was given the Clarithromycin concomitant therapy (Omeprazole+ Amoxicillin+ Clarithromycin+ Metronidazole) for 10-14 days, while Group-B was given the Clarithromycin based sequential therapy (Omeprazole+ Amoxicillin for five days and then Omeprazole+ metronidazole+ Clarithromycin for next five days) for eradication of H pylori. A stool antigen test was done to determine the successful eradication in both Groups.
Results: Out of 105 H pylori antigen-positive patients included in the study, 69(65.7%) had successful eradication of stool antigen while 36(34.3%) had stool antigen positive even after adequate treatment. The mean age of the study participants was 39.53±7.647 years. Eradication of H pylori in the study population was statistically significantly found in patients with age less than 40 years (p-value-0.033) and those who were taking sequential therapy as compared to concomitant therapy (pvalue<0.001).
Conclusion: H-pylori eradication was achieved in most of the patients taking treatment. However, in our study, patients younger than 40 and those taking sequential therapy had more chances of successfully eradicating this bacteria invading the gastric mucosa than patients taking concomitant therapy.
Downloads
Download data is not yet available.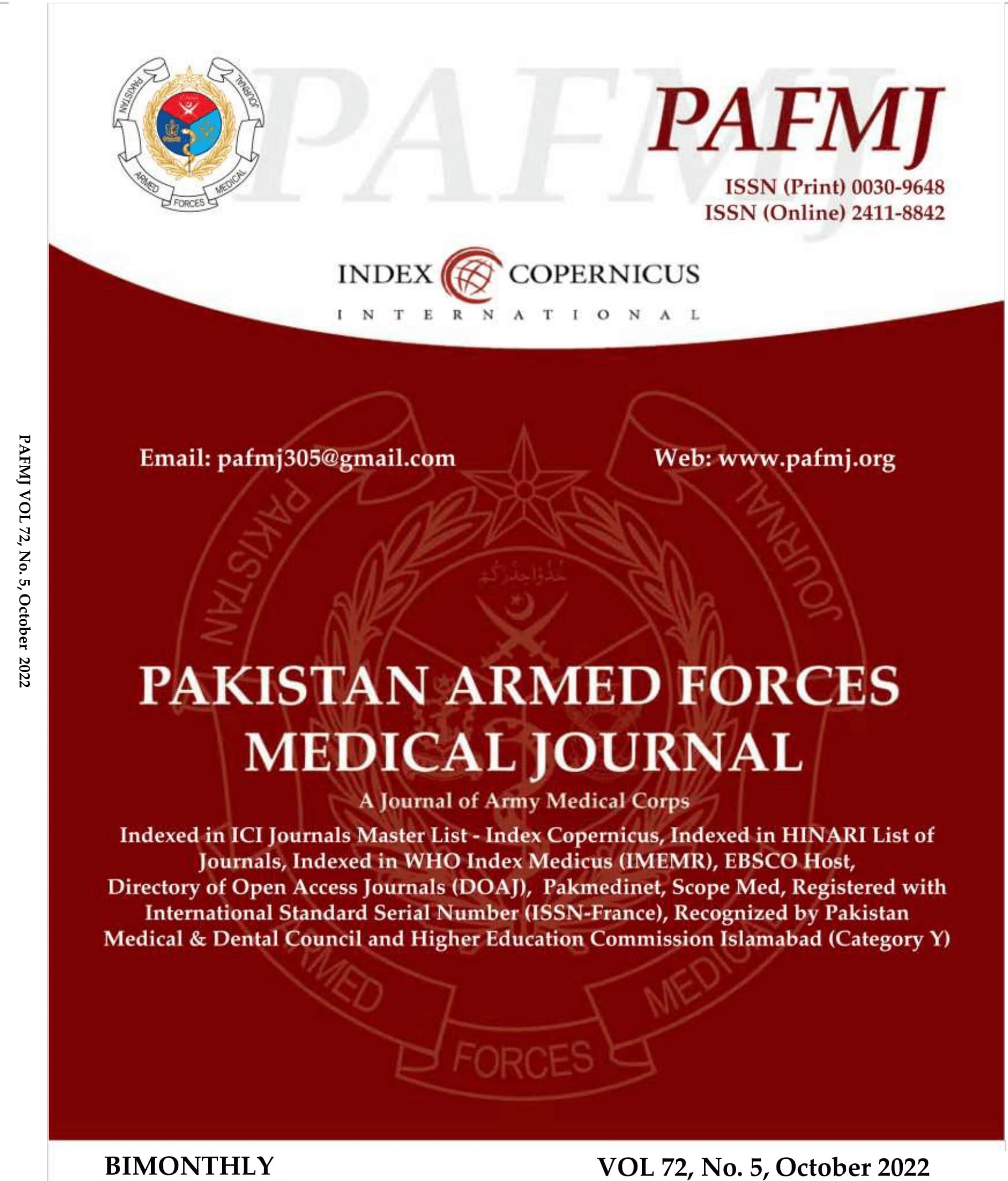 Downloads
How to Cite
Shabbir, F., Nisar, S., Ashraf, N., Khan, B., Hakim, F., & Khan, H. (2022). Comparison of Sequential and Concomitant Therapy for Eradication of Helicobacter Pylori. Pakistan Armed Forces Medical Journal, 72(5), 1787–90. https://doi.org/10.51253/pafmj.v72i5.7963
Section
Original Articles