Association of Various Factors with the Presence of Urinary Tract Infections Among Patients Suffering from Stroke
Faisal Shabbir

Pak Emirates Military Hospital/National University of Medical Sciences (NUMS) Rawalpindi Pakistan

Shazia Nisar

Pak Emirates Military Hospital/National University of Medical Sciences (NUMS) Rawalpindi Pakista

Babar Ashraf

Pak Emirates Military Hospital/National University of Medical Sciences (NUMS) Rawalpindi Pakistan

Imran Ahmed

Pak Emirates Military Hospital/National University of Medical Sciences (NUMS) Rawalpindi Pakistan

Hammad Khan

Pak Emirates Military Hospital/National University of Medical Sciences (NUMS) Rawalpindi Pakistan
Keywords:
Severity, Stroke, Urinary tract infection
Abstract
Objective: To assess the association of various factors with the presence of urinary tract infections among patients suffering from stroke.
Study Design: Comparative cross-sectional study.
Place and Duration of Study: Department of Medicine, Pak Emirates Military Hospital, Rawalpindi Pakistan, from Jun to Sep 2021.
Methodology: A total of 130 patients with ischemic or hemorrhagic stroke diagnosed by the consultant medical specialist or neurologist based on clinical and neuro-radiological findings were included in this study. Urinary tract infection was diagnosed based on urine culture and sensitivity test. Age, gender, type of stroke and severity of stroke was associated with the presence of urinary tract infection among the study participants.
Results: Out of 130 patients with acute stroke included in the study, 81(62.3%) were males, while 49(37.3%) were females. The mean age of the stroke patients included in the study was 56.823±8.737 years. In addition, 33(25.4%) patients had urinary tract infections confirmed on the culture and sensitivity report, while 97(74.6%) had no evidence of urinary tract infection.Statistical analysis revealed that female gender and stroke severity had a statistically significant relationship (p-value <0.05) with the presence of urinary tract infection among patients suffering from acute stroke.
Conclusion: Around one-fourth of our patients presenting with acute stroke had urinary tract infections in our study participants. Female patients and patients with severe stroke symptoms were more at risk of urinary tract infctions than male patients and patients with less severe symptoms.
Downloads
Download data is not yet available.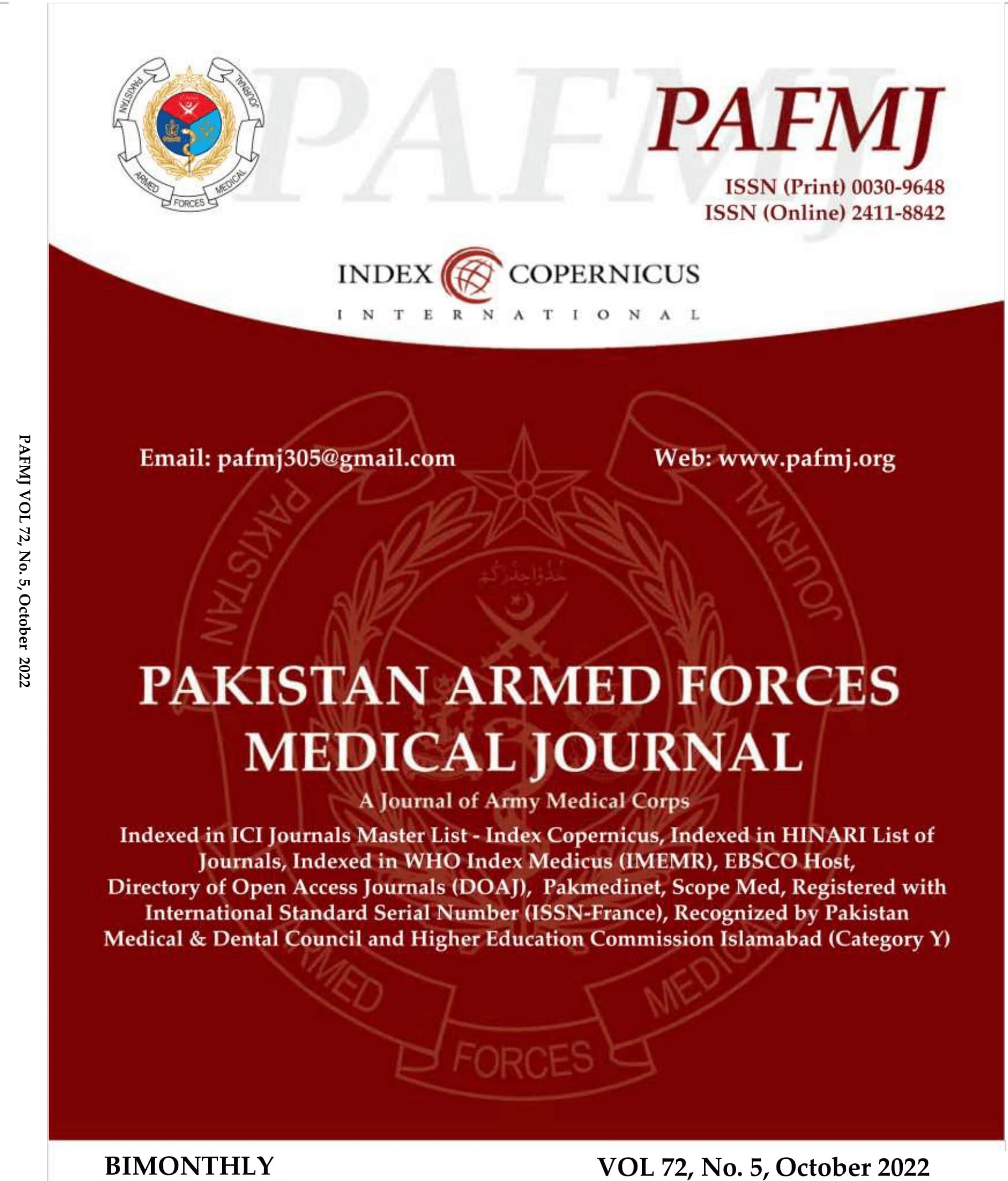 How to Cite
Shabbir, F., Nisar, S., Ashraf, B., Ahmed, I., & Khan, H. (2022). Association of Various Factors with the Presence of Urinary Tract Infections Among Patients Suffering from Stroke. Pakistan Armed Forces Medical Journal, 72(5), 1522-25. https://doi.org/10.51253/pafmj.v72i5.7962
Section
Original Articles