MANAGEMENT OF COTTON BUD INDUCED OTITIS EXTERNA BY UNIQUE METHOD
Syed Muhammad Asad Shabbir Bukhari

Pakistan Naval Ship Shifa Hospital, Karachi Pakistan

Sohail Aslam

Pakistan Naval Ship Shifa Hospital, Karachi Pakistan

Naeem Riaz

Pakistan Naval Ship Shifa Hospital, Karachi Pakistan

Muhammad Waqas Ayub

Combined Military Hospital Okara/National University of Medical Sciences (NUMS) Pakistan

Irfan Saeed

Combined Military Hospital Abbottabad/National University of Medical Sciences (NUMS) Pakistan

Adnan Asghar

Pakistan Naval Ship Shifa Hospital, Karachi Pakistan

Muhammad Fahad Wasim Khan

Pakistan Naval Ship Shifa Hospital, Karachi Pakistan
Keywords:
Cotton bud induced otitis externa, Management, Strict advice, Unique method
Abstract
Objective: To compare the recovery of patients in both groups having acute otitis externa induced by cotton buds/various objects. One group by old method and second group by unique method.
Study Design: Quasi-experimental study.
Place and Duration of Study: Pakistan Naval Ship Shifa Karachi, from Jan to Dec 2020.
Methodology: Non-probability convenience sampling technique was applied. Out of 50 cases were selected for group 1 management. Fifty cases were selected for group 2 management. A chi-square test was applied to compare the recovery of two groups of patients on the 14th day and 42nd day of follow-up. p-value was kept 0.05 as significant.
Results: A total of 100 cases were treated in 2 groups. The gender distribution of the study was 54 females and 46 males. The mean age of the study population was 33.09 ± 12.93 years. p-value was calculated on the 14th day and 42nd days. A 2x2 table of 14th follow up day showed recovery by both groups with a p-value of 0.041 which is <0.05. This showed that group 2 management was statistically better than group 1 management.
Conclusion: The second group was managed with eardrops containing Betamethasone and Neomycin. This management protocol is unique and better than conventional management as done in the first group.
Downloads
Download data is not yet available.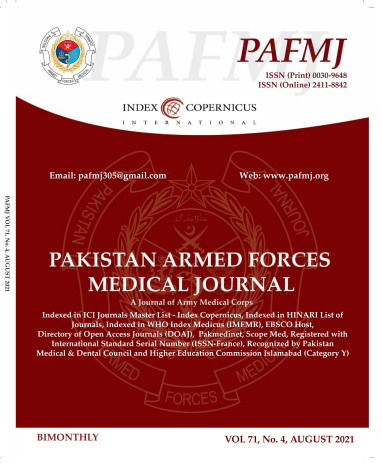 How to Cite
Bukhari, S. M., Aslam, S., Riaz, N., Ayub, M., Saeed, I., Asghar, A., & Khan, M. F. (2021). MANAGEMENT OF COTTON BUD INDUCED OTITIS EXTERNA BY UNIQUE METHOD. Pakistan Armed Forces Medical Journal, 71(Suppl-3), S448-51. https://doi.org/10.51253/pafmj.v1i1.7943
Section
Original Articles