DISAPPEARANCE OF ANTIBODIES IN COVID-19 MYTHS ORREALITY
Keywords:
Antibodies, COVID-19, Disappearance, Myths, Reality
Abstract
Objective: To explore the disappearance of neutralizing antibodies from patients, their myths, and facts.
Study Design: Cross-sectional study.
Place and Duration of Study: Combined Military Hospital Multan Pakistan, from Jul 2021 to Aug 2021.
Methodology: A total of 100 blood samples were collected from 100 COVID-19 patients. These 100 patients were followed up for a period of 3 months. Antibodies were determined with the modified neutralization assay method and enzyme-linked immuno-sorbent assay (ELISA).
Results: The antibody level by NA and ELISA peaked on days 30-35 then decreased slightly. In multivariate analysis, patients aged 25-35, 36-56, and 57-84 years had a higher neutralizing antibody level than those aged 10-21 years. The patient with the worst clinical manifestation had a higher neutralizing antibody titer. In serum samples, IgG was undetectable at 18.3% and 11% and the geographical mean reciprocal titers dropped from 244 at 3-month period and neutralizing antibodies, the geographical mean reciprocal titers dropped from 874 at 3 months.
Conclusion: All COVID-19 patients were seropositive and significantly neutralizing antibody response. Neutralizing antibody levels depend on the time after the onset of symptoms, age, and severity of the disease.
Downloads
Download data is not yet available.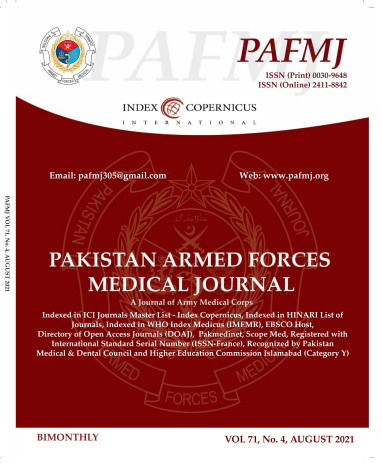 Downloads
How to Cite
Raza, M., Raza, M. A., Cheema, D. E. A., Cheema, M. A., Rafique, A., & Khan, S. W. (2021). DISAPPEARANCE OF ANTIBODIES IN COVID-19 MYTHS ORREALITY. Pakistan Armed Forces Medical Journal, 71(Suppl-3), S530–33. https://doi.org/10.51253/pafmj.v1i1.7940
Section
Original Articles