TYMPANOPLASTY TYPE-1: DIFFERENT APPROACHES AND THEIR SURGICAL OUTCOMES
Fazal I Wahid

Teaching Institute, Lady Reading Hospital, Peshawar Pakistan

Abdul Manan

Bolan Medical College, Quetta Pakistan

Muhammad Saleem

KMU Institute of Medical and Dental Sciences, Kohat Pakistan

Bakht Zada

Teaching Institute, Lady Reading Hospital, Peshawar Pakistan

Habib -Ur- Rehman

Teaching Institute, Lady Reading Hospital, Peshawar Pakistan

Naseem Ul Haq

Teaching Institute, Lady Reading Hospital, Peshawar Pakistan

Muhammad Javaid

Teaching Institute, Lady Reading Hospital, Peshawar Pakistan
Keywords:
Tympanic membrane, Perforation, Surgical outcome, Tympanoplasty
Abstract
Objective: To calculate the surgical outcomes of different approaches of tympanoplasty type 1 in terms of air bone gap closure, wound healing, and postoperative pain.
Study Design: Prospective cross-sectional study.
Place and Duration of Study: Department of ENT, Head and Neck Surgery, Medical Teaching Institute (MTI), Lady Reading Hospital (LRH), Peshawar, Pakistan from Jun 2018 to May 2020.
Methodology: Size of sample was 75 patients divided into three groups. Consent was obtained from all the patients included in study. After proper evaluation and relevant investigation pre- and post-operative PTA was performed. Tympanoplasty type-1 was performed by the same surgeon by the three approaches following established otological surgical protocol. Collected data was entered in SPSS-25 for analysis.
Results: All 75 patients were divided into three equal groups. Male were 55 (73.3%), females were 20 (26.7%). Male: female ratio was 2.7:1. Majority of patients presented in 2nd and 3rd decades of life 31 (41.33%) and 28 (37.33%) respectively. Preoperative mean ± SD, ABG in groups A, B and C were 37.60 ± 11.28 dB, 37 ± 9.68 dB and 31.80 ± 12.40 dB, respectively. No significant difference was found amongst the three groups regarding pre-operative and post-operative ABG (p=0.85 and p=0.4), respectively. Mean ± SD, wound healing time in Groups A, B and C were 1.00 ± 0.00, 1.80 ± 0.40 and 1.76 ± 0.43 respectively with p=0.0001 and similarly postoperative pain with p=0.001. The wound healing time and post-operative was statistically better (p<0.05) in group A (Transmeatal approach) than other groups........
Downloads
Download data is not yet available.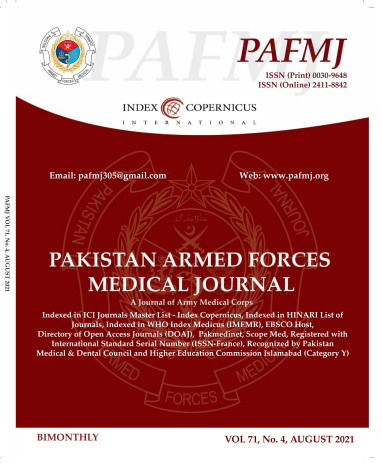 How to Cite
Wahid, F., Manan, A., Saleem, M., Zada, B., Rehman, H., Haq, N., & Javaid, M. (2021). TYMPANOPLASTY TYPE-1: DIFFERENT APPROACHES AND THEIR SURGICAL OUTCOMES. Pakistan Armed Forces Medical Journal, 71(Suppl-3), S495-99. https://doi.org/10.51253/pafmj.v1i1.7938
Section
Original Articles