TOTAL ENDOSCOPIC STAPES SURGERY. OUR TECHNIQUE AND EXPERIENCE OF 45 CASES
Muhammad Atif Najam

Combined Military Hospital Kharian Medical College, Kharian/National University of Medical Sciences (NUMS) Pakistan

Urwa Sarwar

Combined Military Hospital Kharian Medical College, Kharian/National University of Medical Sciences (NUMS) Pakistan

Maqbool Raza

Combined Military Hospital Multan/ National University of Medical Sciences (NUMS) Pakistan

Khalid Azam Khan

Combined Military Hospital Lahore/National University of Medical Sciences (NUMS) Pakistan

Humaira Saleem

Combined Military Hospital Kharian Medical College, Kharian/National University of Medical Sciences (NUMS) Pakistan

Najam-Us-Saqib Niazi

Combined Military Hospital Kharian Medical College, Kharian/National University of Medical Sciences (NUMS) Pakistan

Muhammad Rashid

Combined Military Hospital Kharian Medical College, Kharian/National University of Medical Sciences (NUMS) Pakistan

Naeem Riaz

Pakistan Naval Ship Hafeez, Islamabad Pakistan
Keywords:
Endoscopic ear surgery, hearing loss, otosclerosis, Stapedotomy
Abstract
Objective: To assess the hearing results of transcanal endoscopic stapedotomy
Study Design: Descriptive study.
Place and Duration of Study: Pakistan Naval Ship Hafeez Islamabad Pakistan, from Jun 2016 to Jun 2020.
Methodology: All patients with surgically confirmed otosclerosis were included in the study. All patients were operated with 0-degree 3mm, 14cm rigid endoscope under general anesthesia. Preoperative and post operative air bone gap was noted along with demographic data, middle ear anomalies (persistent stapedial artery, dehiscent facial nerve, anteriorly placed facial nerve, floating foot plate) and injury to chorda tympani. Postoperative air bone gap (A-B Gap) was documented 12 weeks after surgery. All patients were followed up for 6-12 months
Results: Mean age of patients was, 37 years and standard deviation was 12.34 (range 27-52 years). Out of total 45 cases 13 were males (29%) and 32 females (71.%). Four (8.8%) patients had dehiscent facial canal and 1 (2.2%) patient had persistent stapedial artery. Average preoperative A-B gap was 35 db and Average Postoperative A-B Gap was 7 db. Chorda tympani was preserved in all cases. One patient (2.2%) complained of altered taste which resolved after 3 months. Four patients had Postoperative vertigo that lasted 2 days on average.
Conclusion: Endoscopic trans canal Stapes surgery is scarless safe effective procedure demonstrable hearing benefits in all patients with minimum complications. The Technique is single handed and has steep learning curve.
Downloads
Download data is not yet available.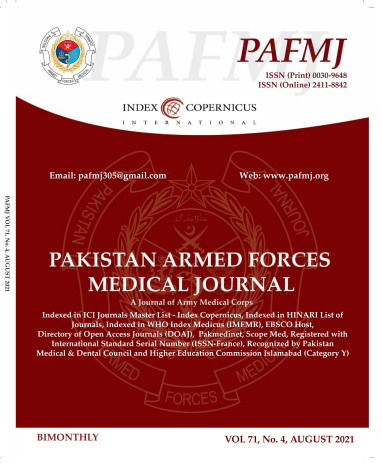 How to Cite
Najam, M., Sarwar, U., Raza, M., Khan, K., Saleem, H., Niazi, N.-U.-S., Rashid, M., & Riaz, N. (2021). TOTAL ENDOSCOPIC STAPES SURGERY. OUR TECHNIQUE AND EXPERIENCE OF 45 CASES. Pakistan Armed Forces Medical Journal, 71(Suppl-3), S491-94. https://doi.org/10.51253/pafmj.v1i1.7936
Section
Original Articles