CAVITY PROBLEMS AND THEIR MANAGEMENT IN POST MODIFIED RADICAL MASTOIDECTOMY IN PEDIATRIC POPULATION - A CLINICAL AUDIT
Habih Ur Rahman Afridi

Lady Reading Hospital MTI, Peshawar Pakistan

Bakht Zada

Lady Reading Hospital MTI, Peshawar Pakistan

Fazal -I- Wahid

Lady Reading Hospital MTI, Peshawar Pakistan

Hamid Mashreqi

Lady Reading Hospital MTI, Peshawar Pakistan
Keywords:
Atticoantral disease, Cholesteatoma, Modified radical mastoidectomy
Abstract
Objective: To find out the intensity and frequency of cavity problems of persistent and recurrent ear discharge in young children and their management in post Modified Radical Mastoidectomy (MRM).
Study Design: Cross sectional study.
Place and Duration of Study: Department of ENT Head & Neck Surgery, Lady Reading Hospital MTI Peshawar Pakistan, from Jan 2015 to Dec 2019.
Methodology: Fifty-four patients with cavity problems of persistent and recurrent ear discharge needing treatment were included in the study (out of the total patients 234 operated upon). Patients were followed up for one year for any discharge of the mastoid cavity. Patients of both gender of age 15 years or younger were included in the study.
Results: In this study the cavity problems were found in 23.1% (54 out of 234) of the post modified radical mastoidectomy in pediatric population. There were no surgery related problems in 61.1% patients. In 38.9% (21 out of 54) percent patients repeat mastoidectomy was performed. Where as in 37% (20 out of 54) excision of granulation and conservative management was sufficient in curing the disease. High facial ridge was found to be the most common cause of persistent/recurrent discharge 9 out of 54 (16.7%). The independent variables (Indications for repeat mastoidectomy, Factors causing discharge, Surgery related problems) support the dependent variable treatment outcome. The sig/p-value was zero therefore the result was significant.
Conclusion: In post Modified Radical Mastoidectomy, the cavity can be dry provided meticulous care is given to complete exenteration of disease from all areas........
Downloads
Download data is not yet available.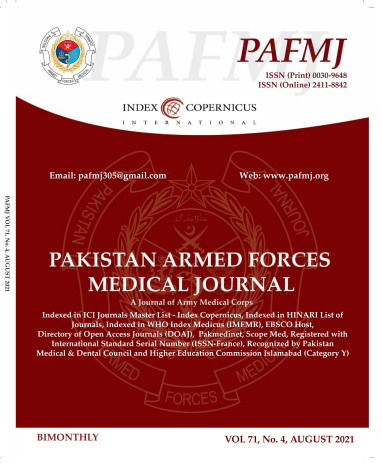 How to Cite
Afridi, H. U., Zada, B., Wahid, F., & Mashreqi, H. (2021). CAVITY PROBLEMS AND THEIR MANAGEMENT IN POST MODIFIED RADICAL MASTOIDECTOMY IN PEDIATRIC POPULATION - A CLINICAL AUDIT. Pakistan Armed Forces Medical Journal, 71(Suppl-3), S542-45. https://doi.org/10.51253/pafmj.v1i1.7930
Section
Original Articles