FREQUENCY OF INTRA OCULAR PRESSURE CHANGE AFTER LOW ENERGY AND HIHG ENERGY ND: YAG LASER POSTERIOR CAPSULOTOMY
Laser Capsulotomy And Intra Ocular Pressure
Keywords:
High energy, Intraocular pressure, Low energy, Nd: YAG laser Posterior capsulotomy
Abstract
Objective: To compare frequency of rise in Intra Ocular Pressure (IOP) in patients undergoing low energy and high energy Nd: YAG laser posterior capsulotomy.
Study Design: Comparative, cross-sectional study.
Place and Duration of Study: Armed Forces Institute of Ophthalmology (AFIO), Rawalpindi from January 2013 to August 2013.
Material and Methods: One hundred and twenty patients fulfilling the inclusion criteria were enrolled in the study. Base line IOP was measured with the help of Goldman applanation tonometer. After dilating pupil, Nd: YAG laser posterior capsulotomy was performed, using minimum possible pulses of Nd: YAG laser. The total amount of energy used in the procedure was recorded. IOP was measured 4 hours after the procedure. Post laser frequency of change in IOP (5 mm of Hg from baseline) was calculated in low energy and high energy groups. Chi square test was applied to compare the frequency of raised IOP in both groups.
Results: Raised IOP was noted in 33 (27.50%) cases and this was more common in high energy group occurring in 22 (46.8 % ) as compared to low energy group 11 ( 15.1 % ).The p-value was found to be <0.05 and was statistically significant.
Conclusion: The results suggested that high energy levels used during Nd: YAG laser posterior capsulotomy had significantly more chances of raised IOP.
Downloads
Download data is not yet available.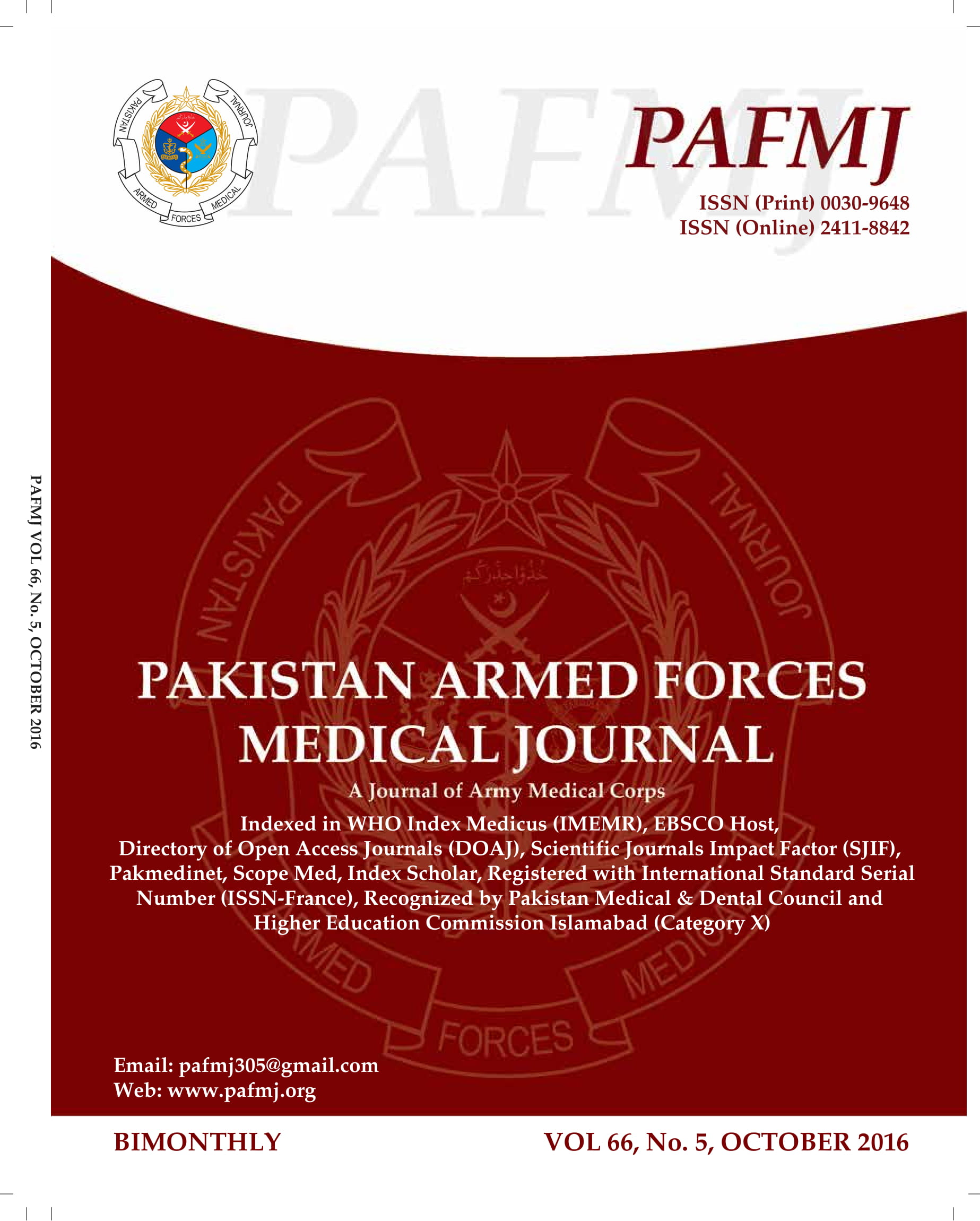 Downloads
How to Cite
Hassan, N. ul, Yaqub, A., Fawad, A., Mashhadi, S. F., & Hakim, B. (2016). FREQUENCY OF INTRA OCULAR PRESSURE CHANGE AFTER LOW ENERGY AND HIHG ENERGY ND: YAG LASER POSTERIOR CAPSULOTOMY: Laser Capsulotomy And Intra Ocular Pressure. Pakistan Armed Forces Medical Journal, 66(5), 694–98. Retrieved from https://pafmj.org/index.php/PAFMJ/article/view/793
Section
Original Articles