COMPARISON OF EFFICACY OF EPLEY MANOEUVRE AND VESTIBULAR SEDDATIVE IN POSITIONAL VERTIGO
Muhammad Sohail Babar Niazi

Combined Military Hospital Peshawar/National University of Medical Sciences (NUMS) Pakistan

Khawar Kamal

Combined Military Hospital Gujranwala

Zaheer Ul Hassan

Combined Military Hospital Peshawar/National University of Medical Sciences (NUMS) Pakistan

Aisha Qaiser

Fauji Foundation Hospital, Peshawar Pakistan

Shahid Farooq Khattak

Combined Military Hospital Peshawar/National University of Medical Sciences (NUMS) Pakistan

Muhammad Tahir

Combined Military Hospital Malir/National University of Medical Sciences (NUMS) Pakistan
Keywords:
Benign Paroxysmal Positional Vertigo, Epleys Manoeuvre, Vestibular sedative
Abstract
Objective: To carry out the comparison of the effectiveness of Epleys manoeuvre and Vestibular Sedative in the management of benign paroxysmal positional vertigo.
Study Design: Quasi experimental study.
Place and Duration of Study: Department of ENT, Combined Military Hospital Peshawar, from Jul 2019 to Dec 2020.
Methodology: The study was conducted on 60 patients who were diagnosed Benign Paroxysmal Positional Vertigo by Dix Hallpike test. The patients were divided into 2 groups of 30 each. Group A was treated with vestibular sedative and group B was treated with Epleys manoeuvre. The examination of all patients was done on day 3, day 7 and day 14 and the results were documented.
Results: The study revealed that the 30 cases which were managed by Epleys manoeuvre, 27 cases were completely symptom free after 14 days. Meanwhile from the 30 patients who were treated by oral vestibular sedation, only 5 patients had total recovery on 14th day. Chi square test was used to compare the results. The results showed that Epleys manoeuvre has greater efficacy in the treatment of Epleys man oeuvre than vestibular sedative.
Conclusion: Epleys manoeuvre is more effective for the management of benign paroxysmal positional vertigo than vestibular sedative.
Downloads
Download data is not yet available.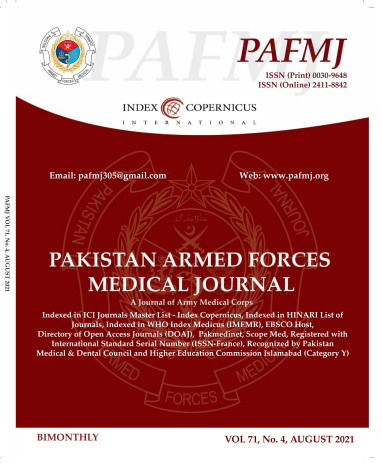 How to Cite
Niazi, M. S., Kamal, K., Hassan, Z., Qaiser, A., Khattak, S., & Tahir, M. (2021). COMPARISON OF EFFICACY OF EPLEY MANOEUVRE AND VESTIBULAR SEDDATIVE IN POSITIONAL VERTIGO. Pakistan Armed Forces Medical Journal, 71(Suppl-3), S437-39. https://doi.org/10.51253/pafmj.v1i1.7927
Section
Original Articles