NASOPHARYNGEAL SPECIMEN COLLECTION FROM SUSPECTED COVID-19 CASES, MAKING THE PROCEDURE SAFE
Sohail Aslam

Pakistan Naval Ship Shifa, Karachi Pakistan

Syed Muhammad Asad Shabbir Bukhari

Pakistan Naval Ship Shifa, Karachi Pakistan

Adnan Asghar

Pakistan Naval Ship Rahat, Karachi Pakistan

Naeem Riaz

Pakistan Naval Ship Hafeez, Karachi Pakistan

Iftekhar Yousaf

Pakistan Naval Ship Shifa, Karachi Pakistan

Sana Sadiq

Niazi Medical and Dental College, Sargodha Pakistan

Muhammad Fahd Waseem

Pakistan Naval Ship Shifa, Karachi Pakistan
Keywords:
COVID-19, Nasopharyngeal sampling, safe procedure
Abstract
Objective: To comparison was made between standard (control group) nasopharyngeal sample collection technique for RTPCR and modified technique and the outcome was compared in terms of the proportion of positive results of Rt-PCR tests.
Study Design: Double blinded randomized clinical trial.
Place and Duration of Study: Pakistan Naval Ship Shifa Hospital Karachi Pakistan, from June and July 2020.
Methodology: This study was a newly developed modified technique for nasopharyngeal sampling for RT-PCR tests of COVID-19 suspects. Target population included all patients who developed COVID-19 related symptoms and/or also had history of recent travel or closed contact with Covid-19 patients. Total 1500 nasopharyngeal PCR tests were done by a team of trained technicians. Systemetic probability sampling technique was utilized. Subjects were divided into two groups by using even and odd serial numbers. Proportion of positive test results were compared between two groups by using chi square test.
Results: Results were collected for 3000 nasopharyngeal swab sample for RT-PCR testing. Mean age was 31.68 ± 11.89 years. In study group with modified technique, 470 tests were found positive for a total of 1500 samples while only 297 out of 1500 samples were detected positive in control group with standard technique. Chi square test applied to assess the difference between this proportion and it proved that the difference was highly statistically significant (p-value <0.00).
Conclusion: we interpret that modified samples collection technique is relatively safe for sample collector of Covid-19 PCR which has got potential benefits to get more genuine results of these......
Downloads
Download data is not yet available.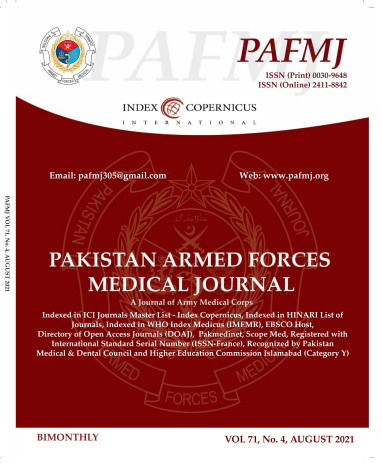 How to Cite
Aslam, S., Bukhari, S. M., Asghar, A., Riaz, N., Yousaf, I., Sadiq, S., & Waseem, M. (2021). NASOPHARYNGEAL SPECIMEN COLLECTION FROM SUSPECTED COVID-19 CASES, MAKING THE PROCEDURE SAFE. Pakistan Armed Forces Medical Journal, 71(Suppl-3), S432-36. https://doi.org/10.51253/pafmj.v1i1.7925
Section
Original Articles