MYRINGOTOMY FOR THE TREATMENT OF OTITIS MEDIA WITH EFFUSION; A COMPARISON IN THE OUTCOME WITH AND WITHOUT GROMMET INSERTION
Sunarays Akhtar

PAF Hospital, Lahore Pakistan

Uzma Gul

Combined Military Hospital Lahore/National University of Medical Sciences (NUMS) Pakistan

Arfat Jawaid

Combined Military Hospital Lahore/National University of Medical Sciences (NUMS) Pakistan

Khalid Azam

Combined Military Hospital Lahore/National University of Medical Sciences (NUMS) Pakistan

Muhammad Sohail Babur Niazi

Combined Military Hospital Peshawar/National University of Medical Sciences (NUMS) Pakistan

Atif Najam

Combined Military Hospital Kharian/ National University of Medical Sciences (NUMS) Pakistan
Keywords:
Adenoidectomy, Eustachian tube, Hearing loss conductive, Middle ear ventilation, Otitis Media with effusion
Abstract
Objective: To compare the outcome of myringotomy with and without grommet insertion in the patients of otitis media with effusion in terms of improvement of hearing in a one-month follow-up.
Study Design: Quasi experimental study.
Place and Duration of Study: Pakistan Airforce Hospital Jacobabad and Combined Military Hospital Lahore Pakistan, from Jan to Dec 2020.
Methodology: A total of 28 patients aged 4-12 years diagnosed to have conductive hearing loss due to otitis media with effusion not responding to medical treatment were included. Non probability convenience sampling was done. Children aged less than 4 years and above 12 years were not included in the study. They were randomly divided into two groups of 14 patients each using lottery method. Group A underwent myringotomy alone whereas group B underwent myringotomy with grommet insertion. Patients in both groups also underwent adenoidectomy on case-to-case basis. Both groups were compared in terms of improvement in hearing post operatively in a one-month follow-up.
Results: There was statistically significant reduction in air bone gap at the end of follow up period as compared to preoperative air bone gap in group B (p=0.007). In group A there was statistically significant reduction in air bone gap at one week (p=0.002) however this improvement was not maintained at 4 weeks (p=0.386).
Conclusion: Myringotomy with grommet insertion had significantly more patients with improved hearing as compared to myringotomy alone after one month.
Downloads
Download data is not yet available.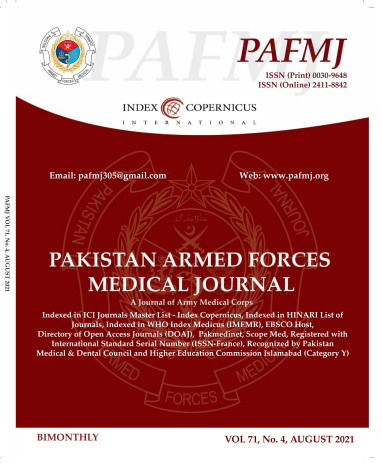 How to Cite
Akhtar, S., Gul, U., Jawaid, A., Azam, K., Niazi, M. S., & Najam, A. (2021). MYRINGOTOMY FOR THE TREATMENT OF OTITIS MEDIA WITH EFFUSION; A COMPARISON IN THE OUTCOME WITH AND WITHOUT GROMMET INSERTION. Pakistan Armed Forces Medical Journal, 71(Suppl-3), S521-25. https://doi.org/10.51253/pafmj.v71iSuppl-3.7920
Section
Original Articles