AUDIOMETRIC ASSESSMENT IN POST COVID-19 PATIENTS: A CROSS-SECTIONAL STUDY IN A TERTIARY CARE HOSPITAL OF KARACHI - PAKISTAN
Shanila Feroz

United Medical & Dental College, Creek General Hospital, Karachi Pakistan

Kausar Mahmood

United Medical & Dental College, Creek General Hospital, Karachi Pakistan

Iqbal Hussain Udaipurwala

Bahria University Medical & Dental College, Karachi Pakistan

Syeda Zain

United Medical & Dental College, Creek General Hospital, Karachi Pakistan

Mahveen Iqbal

United Medical & Dental College, Creek General Hospital, Karachi Pakistan

Muhammad Abdul Azeem

United Medical & Dental College, Creek General Hospital, Karachi Pakistan
Keywords:
Hearing loss, coronavirus, COVID-19, tinnitus, vertigo, Deafness
Abstract
Objective: To assess audiometry investigations in patients having complaint of tinnitus, vertigo or hearing impairment after recovery from COVID-19 disease, having no external or middle ear diseases.
Study Design: Cross-sectional study.
Place and Duration of Study: United Medical and Dental College, Creek General hospital, Korangi, Karachi Pakistan, from March to May 2021.
Methodology: A total of 60 patients were included in this study who had recovered from the primary COVID-19 infection and reported with the complaints of tinnitus, vertigo and hearing loss. Pure tone audiogram was assessed for sensorineural deafness, its severity and frequencies affected. Pearson Chi square test was used to see the relation of symptoms with severity of hearing loss.
Results: There were 42 (70%) males and 18 (30%) female patients with age range from 18-50 years with mean age of 28.4 ± 8.1 years. Tinnitus was the most common complaint (83.3%) followed by hearing loss (28.3%) and vertigo (23.3%) patients. None of the patients with complaint of hearing loss had normal pure tone audiogram in either right or left ear (p=0.000). Patients with all the three complaints had more hearing impairment where majority had moderate or severe hearing loss (p=0.000). All patients with isolated complaint of vertigo (9 patients) had normal audiogram in both ears (p=0.000).
Conclusion: Auditory and vestibular system involvement in reasonably common in COVID-19 patients. Tinnitus is the most frequent symptom and it should be investigated with full audiological investigations.
Downloads
Download data is not yet available.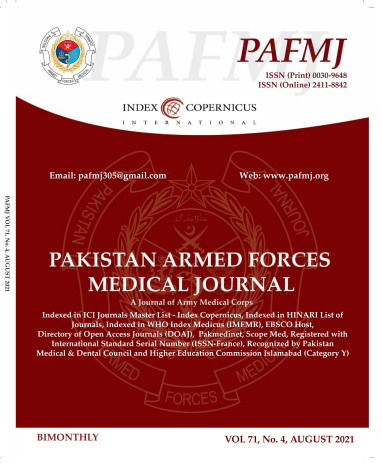 How to Cite
Feroz, S., Mahmood, K., Udaipurwala, I., Zain, S., Iqbal, M., & Azeem, M. (2021). AUDIOMETRIC ASSESSMENT IN POST COVID-19 PATIENTS: A CROSS-SECTIONAL STUDY IN A TERTIARY CARE HOSPITAL OF KARACHI - PAKISTAN. Pakistan Armed Forces Medical Journal, 71(Suppl-3), S479-83. https://doi.org/10.51253/pafmj.v1i1.7916
Section
Original Articles