Outcomes of Vaginoplasty Using Pudendal Thigh Flap in a Tertiary Care Hospital
Farwa Shabbir

Shifa International Hospital, Islamabad Pakistan

Mamoon Rashid

Shifa International Hospital, Islamabad Pakistan

Muhammad Ibrahim Khan

Shifa International Hospital, Islamabad Pakistan

Haroon ur Rashid

Shifa International Hospital, Islamabad Pakistan

Sakina Malik

Shifa International Hospital, Islamabad Pakistan

Maimoona Goher

Shifa International Hospital, Islamabad Pakistan
Keywords:
Mayer rokitansky kuster hauser syndrome, Pudendal thigh flap, Vaginoplasty
Abstract
Objective: To evaluate the outcomes following vaginoplasty by pudendal thigh flap.
Study Design: Retrospective longitudinal study.
Place and Duration of the Study: Plastic surgery Department, Shifa International Hospital, Islamabad Pakistan, from Jan 2010 to Dec 2021.
Methodology: Vaginal reconstruction was done using bilateral pudendal thigh flap in 20 patients with vaginal defects during eleven years, 2010-2021.
Results: All patients were adults with an age range from 18 to 41 years. Five were married, and 15 were unmarried patients at the time of surgery. Out of the 20 patients, 10(50%) were diagnosed with Mayer Rokitansky Kuster Hauser syndrome, 9(45%) with isolated vaginal atresia and 1(5%) with s/p resection angiosarcoma. The mean vaginal length was 9.0±0.46cm, one year post-operatively. Two patients (10%) developed necrosis of the distal part of the unilateral flap followed by infection, which was managed conservatively, and the other was managed with the McIndoe technique. One patient developed a cutaneous
fistula which was excised. All flaps survived completely in the rest of the 19(95%) patients.
Conclusion: Vaginoplasty using pudendal thigh flap was a safe and reliable method for vaginal reconstruction and showed adequate functional and aesthetic results.
Downloads
Download data is not yet available.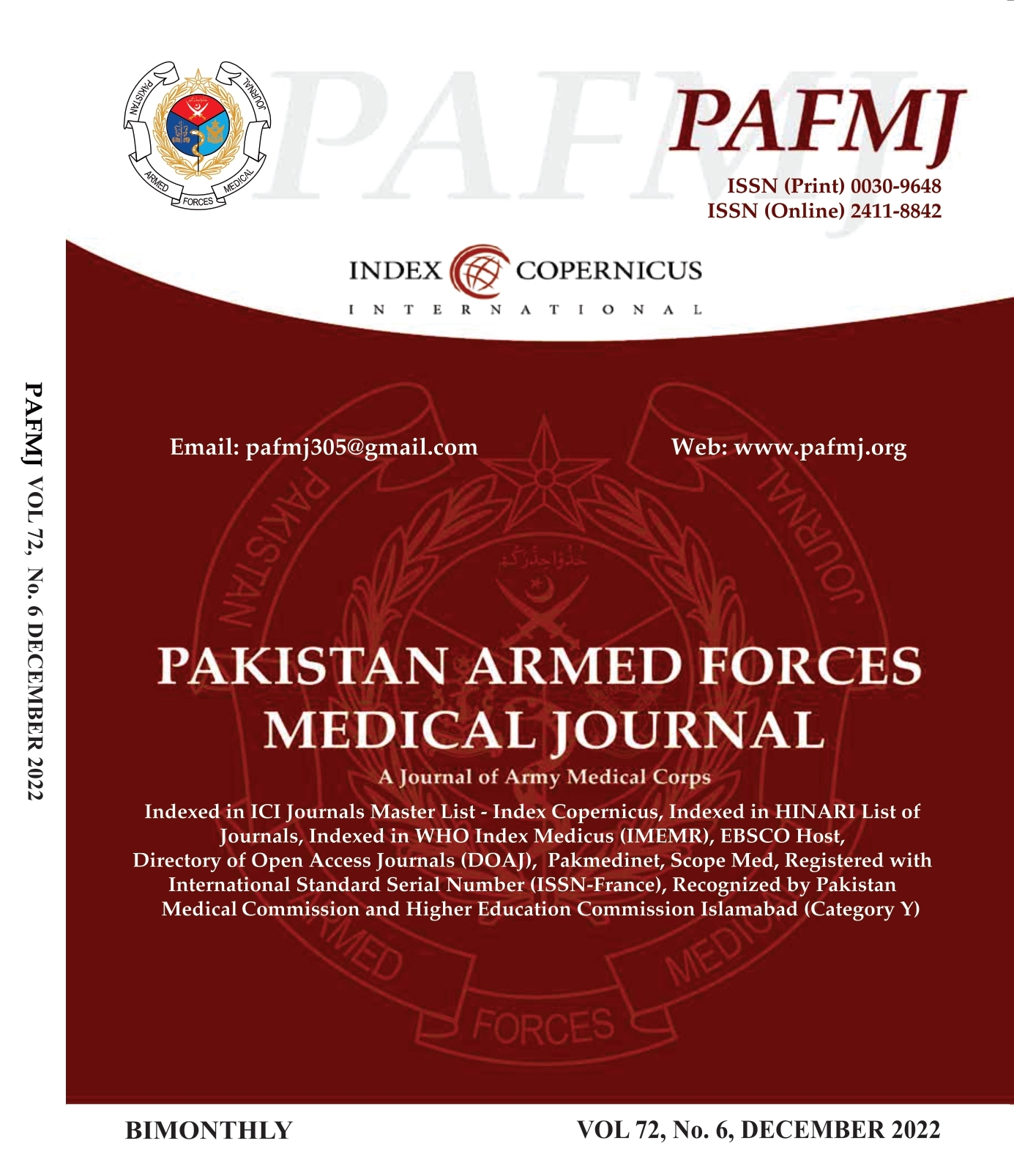 How to Cite
Shabbir, F., Rashid, M., Khan, M. I., Rashid, H. ur, Malik, S., & Goher, M. (2023). Outcomes of Vaginoplasty Using Pudendal Thigh Flap in a Tertiary Care Hospital. Pakistan Armed Forces Medical Journal, 72(6), 2067-70. https://doi.org/10.51253/pafmj.v72i6.7893
Section
Original Articles