ASSESSMENT OF OLFACTORY FUNCTION BEFORE AND AFTER FUNCTIONAL ENDOSCOPIC SINUS SURGERY IN CHRONIC RHINOSINUSITIS
Tayyab Hassan Raza

Combined Military Hospital/National University of Medical Sciences (NUMS) Rawalpindi Pakistan

Abdul Hakim

Combined Military Hospital/National University of Medical Sciences (NUMS) Rawalpindi Pakistan

Muhammad Ali

Combined Military Hospital/National University of Medical Sciences (NUMS) Rawalpindi Pakistan

Maqbool Raza

CMH Institute of Medical Sciences, Multan/National University of Medical Sciences (NUMS) Pakistan

Muhammad Junaid

*CMH Institute of Medical Sciences, Multan/National University of Medical Sciences (NUMS) Pakistan

Saleem Asif Niazi

Pak Emirates Military Hospital/National University of Medical Sciences (NUMS) Rawalpindi Pakistan
Keywords:
Chronic Rhinosinusitis, Functional Endoscopic Sinus Surgery, Olfactory Dysfunction
Abstract
Objective: To evaluate the olfactory function in patients with chronic rhinosinusitis before and after functional endoscopic sinus surgery.
Study Design: Descriptive cross-sectional study.
Place and Duration of Study: Department of ENT, Combined Military Hospital, Rawalpindi, from Aug 2020 to Jul 2021.
Methodology: We studied a total of 59 patients suffering from chronic rhinosinusitis. Patients with previous sinus surgery and immunosuppressed states were excluded. All participants underwent evaluation with a 5-point Likert scale and the Connecti- cut odor identification test both pre- and post-Functional endoscopic sinus surgery at 3 months post-procedure. Data were analyzed in SPSS version 26.
Results: Our sample had a male to female ratio of 1.19:1. The mean age was 45.37 ± 14.25 years. A total of 37 (62.7%) patients reported an improvement of 19.2% in olfactory function post-FESS while 22 (37.2%) reported no difference or worsening ofolfaction.
Conclusion: Functional endoscopic sinus surgery performed for chronic rhinosinusitis is associated with an improvement in olfactory function.
Downloads
Download data is not yet available.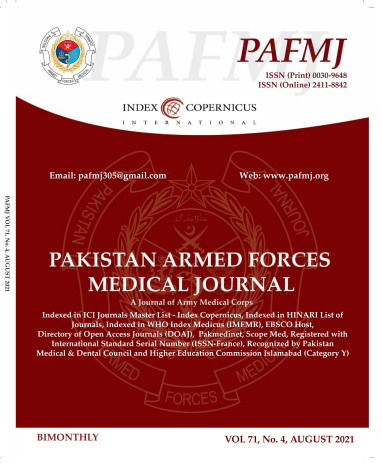 How to Cite
Raza, T., Hakim, A., Ali, M., Raza, M., Junaid, M., & Niazi, S. (2022). ASSESSMENT OF OLFACTORY FUNCTION BEFORE AND AFTER FUNCTIONAL ENDOSCOPIC SINUS SURGERY IN CHRONIC RHINOSINUSITIS. Pakistan Armed Forces Medical Journal, 71(Suppl-3), S637-40. https://doi.org/10.51253/pafmj.v71iSuppl-3.7862
Section
Original Articles