The Ever-Worsening Antimicrobial Resistance in Enterobacterales; A wakeup call
Fatima Ali

Armed Forces Institute of Pathology/National University of Medical Sciences (NUMS) Rawalpindi Pakistan

Irfan Mirza

Armed Forces Institute of Pathology/National University of Medical Sciences (NUMS) Rawalpindi Pakistan

Hafsa Waseem

Army Medical College/National University of Medical Sciences (NUMS) Rawalpindi Pakistan

Humaira Zafar

Al-Nafees Medical College & Hospital, Islamabad Pakistan
Keywords:
Enterobacterales, Carbapenems, Klebsiella pneumonia
Abstract
Objective: To determine the comprehensive antibiotic susceptibility profile of carbapenem-resistant Enterobacterales among clinical samples received at the Armed Forces Institute of Pathology (AFIP), Rawalpindi.
Study Design: Cross-sectional study.
Place and Duration of Study: Department of Microbiology, Armed Forces Institute of Pathology (AFIP), Rawalpindi Pakistan, from Apr to Sep 2020
Methodology: Over six months, 150 carbapenem-resistant Enterobacterales were isolated at the Armed Forces Institute ofPathology, Rawalpindi Pakistan. The antimicrobial susceptibility testing was performed using the Kirby-Bauer Disk-Diffusion technique, and their susceptibility was interpreted according to the CLSI 2020 and EUCAST 2020 guidelines.
Results: Out of 150 clinical isolates resistant to Carbapenems, 99(66%) were identified as Klebsiella Pneumoniae, followed by Escherichia Coli 38(25.7%), Proteus Mirabilis 7(4.6%), Enterobacter Cloacae, Serratia Marcescens, Citrobacter Freundii, Providencia retgerii 1(0.6%) each. The isolates were highly resistant to the following categories of antibiotics tested. For Penicillins/Cephalosporins and their combinations, the resistance range was between 94 to 100%, and it was and >79% for Aminoglycosides, >97% for Fluoroquinolones and >48% for Tetracyclines. Isolates showed the highest susceptibility to Colistin, 94(92%) out of 102 then to Tigecycline 81(81%) out of 100, followed by Fosfomycin 60(78.9%) out of 76, Minocycline 41(52%) out of 79 and Doxycycline 33(50%) out of 66.
Conclusion: Extensively drug-resistant Enterobacterales 'Superbugs' with ever-worsening antimicrobial resistance threaten the human race back to the pre-antibiotic era. This real menace cautions against the lack of antimicrobials for treating lethal and hazardous infections caused by such difficult-to-treat bacteria in times to come.
Downloads
Download data is not yet available.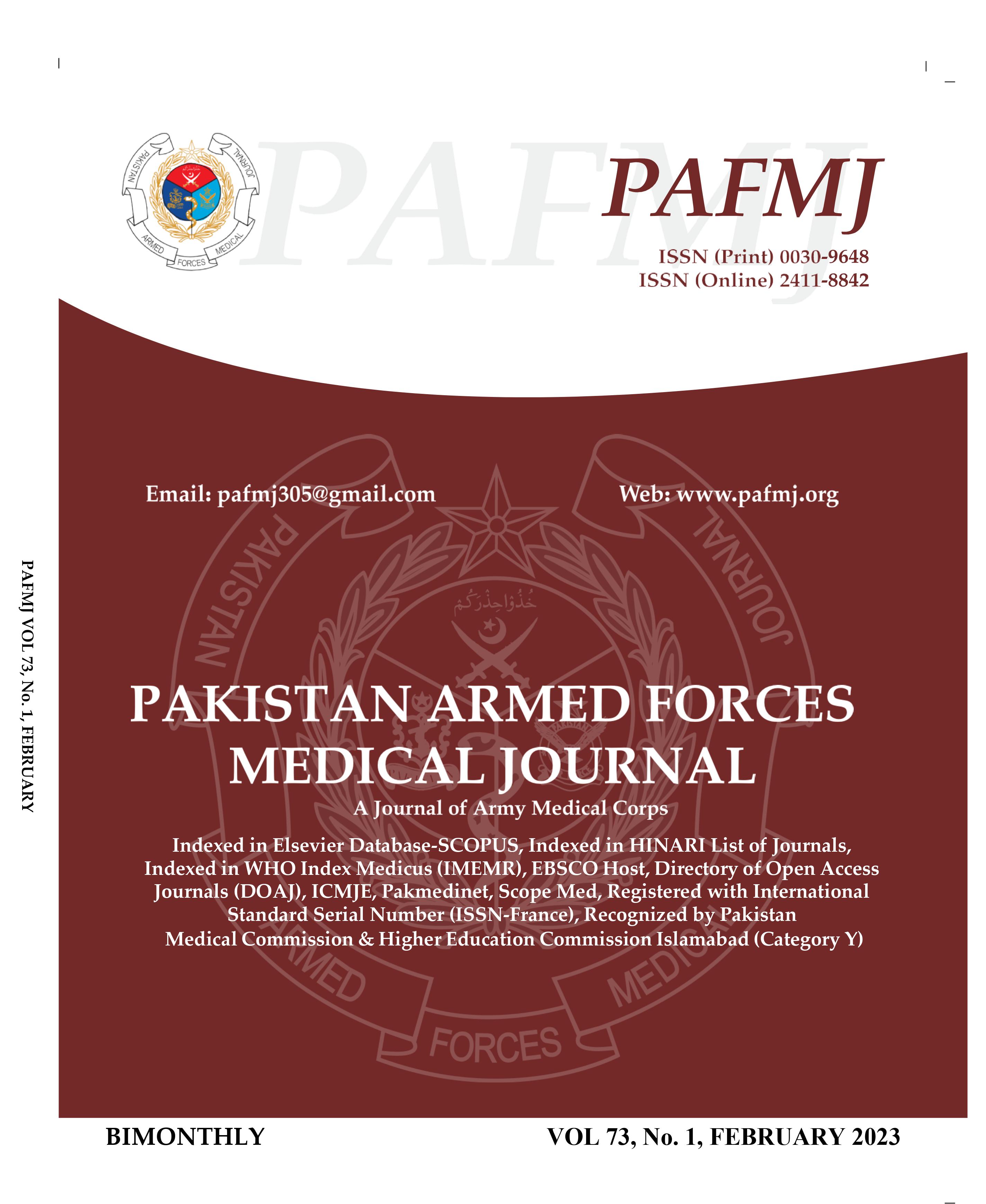 How to Cite
Ali, F., Mirza, I., Waseem, H., & Zafar, H. (2023). The Ever-Worsening Antimicrobial Resistance in Enterobacterales; A wakeup call. Pakistan Armed Forces Medical Journal, 73(2), 468-72. https://doi.org/10.51253/pafmj.v73i2.7832
Section
Original Articles