Effect of Levo-Carnosine on Biomarkers of Oxidative Stress and Hepatotoxicity in Cisplatin-Treated Male Sprague Dawley Rats
Keywords:
Hepatotoxicity, Levo-carnosine, Oxidative stress
Abstract
Objective: To determine the effect of Levo-Carnosine on biomarkers of oxidative stress and hepatocellular damage in cisplatin-treated rats.
Study Design: Laboratory based experimental study.
Place and Duration of Study: Army Medical College, Rawalpindi Pakistan from Jul 2015 to Jun 2016.
Methodology: This study was performed on ninety healthy male Sprague Dawley rats. Rats were separated into three groups (n=30 each), i.e., Group-I (control), Group-II (Cisplatin) and Group-III (Carnosine-Cisplatin combined) randomly. An Intraperitoneal injection of Cisplatin 2mg/kg body weight twice a week for one month was given to the rats of Group-II. In contrast, Group-III was administered a similar dose of Cisplatin as administered to Group-II plus intraperitoneal LevoCarnosine 10mg/kg body weight twice a week for one month. After blood sampling, rats were dissected, and liver tissue samples were obtained for quantitative analysis of total glutathione from liver tissue homogenate.
Results: Levo-carnosine supplementation in Group-III showed a significant (p<0.001) decrease in mean serum MDA (4.0±0.30 µmol/L), ALT (52.3±4.3 IU/L) and AST (188.2±12.43 IU/L) levels as compared to Group-II (MDA 8.1±0.51 µmol/L, ALT 87.17±6.47 IU/L and AST 357.7±19.37 IU/L) whereas a significant (p<0.001) increase in plasma Albumin (3.9±0.46 g/100 ml) and Glutathione levels (3.86±0.44 µmol/L) in the liver homogenate as compared to Group-II (albumin 3.01±0.51 g/100 ml, glutathione 2.01±0.31 µmol/L).
Conclusion: Levo-carnosine supplementation significantly attenuated Cisplatin-induced hepatotoxicity by decreasing oxidative stress.
Downloads
Download data is not yet available.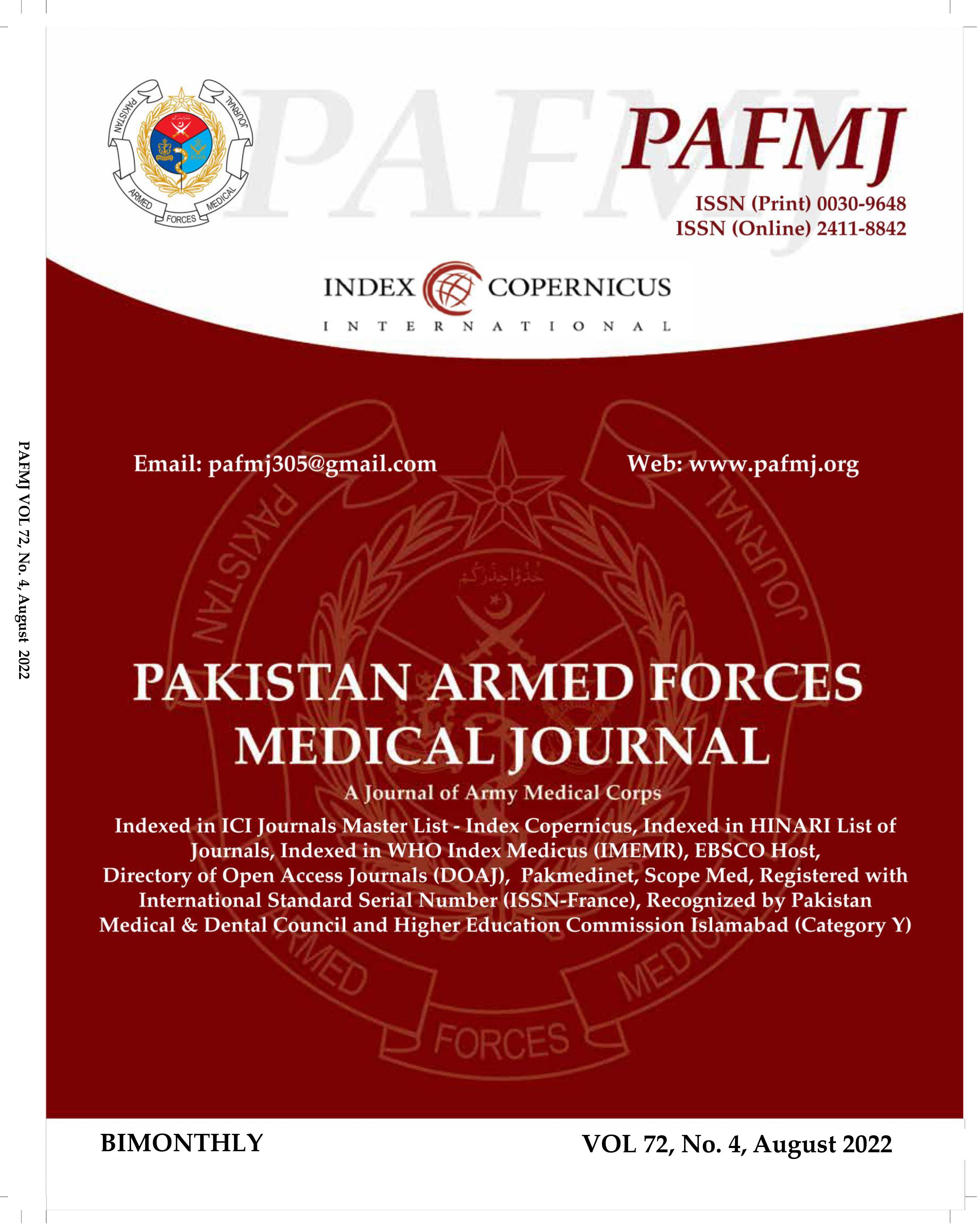 Downloads
How to Cite
Ali, S., Rasul, A., Latif, N., Bin Aleem, S., Zia, R., & Khan, B. (2022). Effect of Levo-Carnosine on Biomarkers of Oxidative Stress and Hepatotoxicity in Cisplatin-Treated Male Sprague Dawley Rats. Pakistan Armed Forces Medical Journal, 72(4), 1334–38. Retrieved from https://pafmj.org/PAFMJ/article/view/7815
Section
Original Articles