THE IMPACT OF ABCB1 (C3435T) POLYMORPHISM ON THE EFFICACY OF ONDANSETRON FOR POST-OPERATIVE NAUSEA AND VOMITING IN PAKISTANI POPULATION
Impact of ABCB1 (C3435T) Polymorphism on Ondansetron
Keywords:
Adenosine triphosphate-binding cassette subfamily B member 1 (ABCB1), Polymorphism, postoperative nausea and vomiting, P-glycoprotein (P-gp)
Abstract
Objective: To investigate the association of adenosine triphosphate-binding cassette subfamily B member 1 (ABCB1) polymorphism C3435T with anti-emetic efficacy in patients treated with ondansetron for preventing post-operative nausea and vomiting (PONV).
Study Design: A prospective, clinical trial.
Place and Duration of Study: Clinical data collection and blood sampling carried out at Combined Military Hospital, Rawalpindi and genetic analysis carried out at Institute of Biomedical and Genetic Engineering, Islamabad from Aug 2012 to Sep 2013.
Material and Methods: Ondansetron was administered in a dose of 4 mg intravenously 30 minutes before the end of surgery. Peripheral blood was withdrawn from 491 patients who had planned laparoscopic cholecystectomy under general anesthesia. A total of 249 patients with complaints of nausea and vomiting and 242 patients without nausea and vomiting were analyzed for C3435T polymorphism using polymerase chain reactionrestriction fragment length polymorphism (PCR-RFLP) method.
Results: The results showed the patients with CC and CT genotype of ABCB1 C3435T had significantly higher incidence of nausea and vomiting (p<0.05) while patients with TT genotype had significantly lower incidence of post-operative nausea and vomiting during the first two hours after surgery (p<0.05).
Conclusion: It is concluded that polymorphism of ABCB1 may be a good guide for predicting responsiveness of ondansetron and there is a role of genetics in the management of PONV.
Downloads
Download data is not yet available.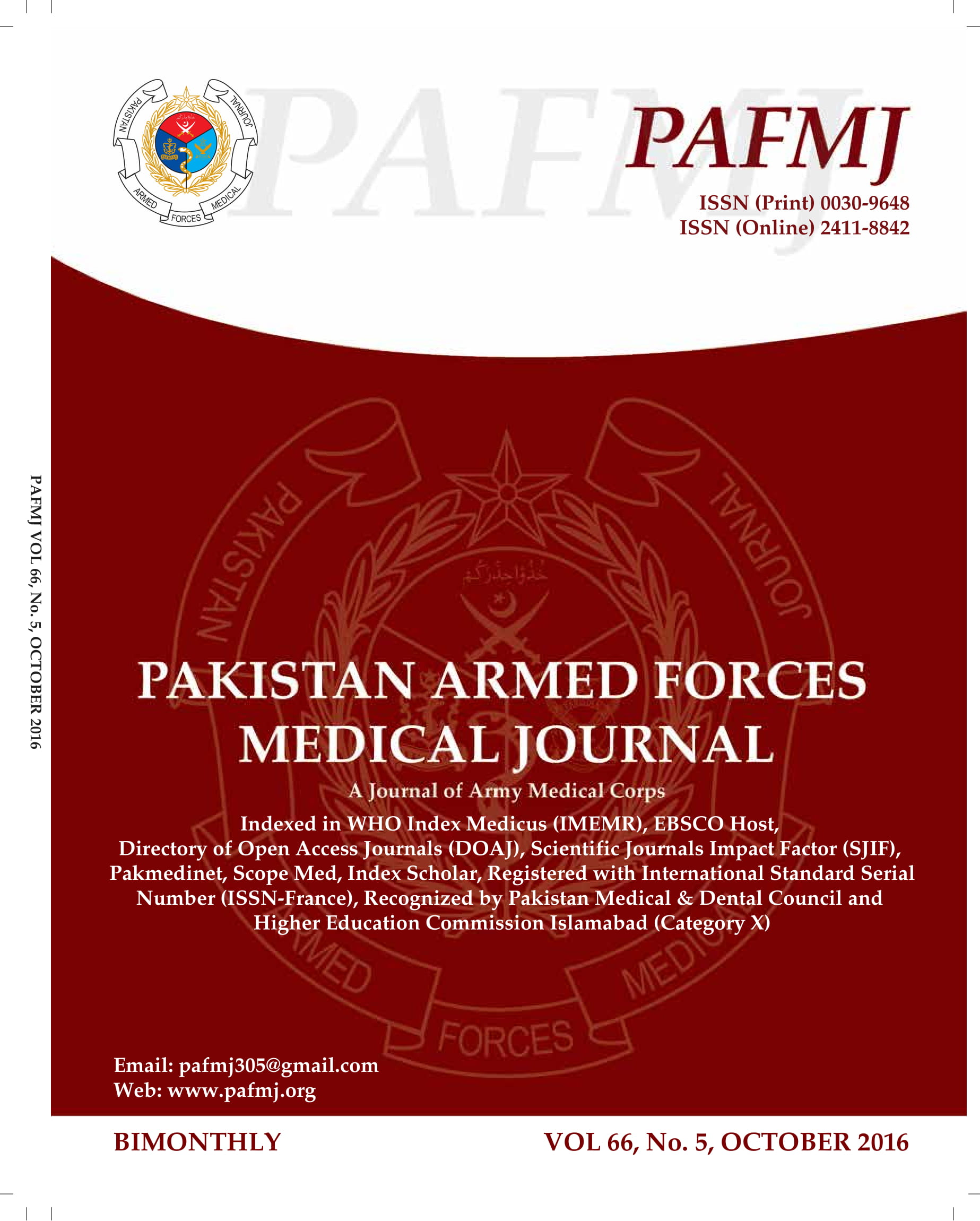 Downloads
How to Cite
Farhat, K., Waheed, A., Mashhadi, S. F., Iqbal, J., Pasha, A. K., & Ismail, M. (2016). THE IMPACT OF ABCB1 (C3435T) POLYMORPHISM ON THE EFFICACY OF ONDANSETRON FOR POST-OPERATIVE NAUSEA AND VOMITING IN PAKISTANI POPULATION: Impact of ABCB1 (C3435T) Polymorphism on Ondansetron. Pakistan Armed Forces Medical Journal, 66(5), 625–30. Retrieved from https://pafmj.org/index.php/PAFMJ/article/view/779
Section
Original Articles