Why do Patients Refuse Pre-Prosthetic Procedures? A Qualitative Study in a Private Sector Dental Teaching Institute
Keywords:
Clinical protocols, Dental prosthesis, Prosthodontics, Partial denture, Patient non-compliance, Preprosthetic
Abstract
Objective: To explore the factors leading to patient non-compliance toward pre-prosthetic mouth preparation.
Study Design: Qualitative exploratory study.
Place and Duration of Study: Prosthodontic Department of Islamabad Dental Hospital, Bara khau Islamabad Pakistan, from May to Jul 2020.
Methodology: Semi-structured interviews were conducted from purposively selected fifteen partially dentate patients who were advised but had refused to get pre-prosthetic mouth preparation. Five content experts validated interview questions. After thematic analysis, the authors developed a consensus regarding themes and subthemes of factors that cause noncompliance of patients toward pre-prosthetic mouth preparation.
Results: Eight themes emerged. Patients were afraid of extraction and scaling and were concerned about cross-infection control, and they were short of time due to busy schedules and lengthy procedures. Few diabetic patients could not go for extraction of their teeth immediately. Patients also refused due to financial constraints and lack of awareness regarding treatment protocols. Some believe myths that removing the teeth results in other diseases such as cancer. Few quoted previous bad dental experiences and were not willing for any pre-prosthetic procedure. In addition, patients were not satisfied with the treatment plan and the associated treatment cost.
Conclusion: Fear or anxiety related to extraction or scaling, time and financial constraints, fear of delayed wound healing, and improper guidance regarding treatment protocols were central factors in refusing pre-prosthetic procedures. Patient counselling must be done regardless of patient refusal, and patient concerns should be addressed.
Downloads
Download data is not yet available.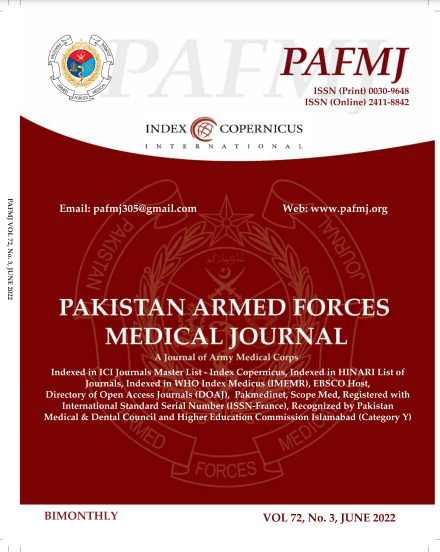 Downloads
How to Cite
Sana, A., Saleem, T., Aziz, A., & Abbas, M. (2022). Why do Patients Refuse Pre-Prosthetic Procedures? A Qualitative Study in a Private Sector Dental Teaching Institute. Pakistan Armed Forces Medical Journal, 72(3), 1032–36. https://doi.org/10.51253/pafmj.v72i3.7777
Section
Original Articles