Acceptance of COVID-19 Vaccine Among Undergraduate Students
Muhammad Ali Abid

Bahria University, Medical and Dental College, Karachi Pakistan

Muhammad Ashraf Buzdar

Bahria University, Medical and Dental College, Karachi Pakistan

Shizma Junejo

Bahria University, Medical and Dental College, Karachi Pakistan

Nasim Karim

Bahria University, Medical and Dental College, Karachi Pakistan
Keywords:
Acceptance, COVID 19, Knowledge, Non-acceptance, Students, Vaccine
Abstract
Objective: To assess the acceptance of the COVID-19 vaccine among medical and non-medical undergraduate students and compare the COVID-19 vaccine receptivity differences between medical and non-medical undergraduate students.
Study Design: Cross-sectional study.
Place and Duration of Study: Bahria University Medical & Dental College, and Bahria University Karachi Campus Pakistan, from Mar to Jun 2021.
Methodology: In this study, a total of 392 participants, were selected by non-probability convenience sampling. Students aged 19-26 years were enrolled. Participants were required to sign a voluntary consent form prior to participation. The questionnaire included 21 questions inclusive of demographic characteristics, insight regarding COVID-19 disease, prior EPI vaccine exposure, attitude towards COVID-19 vaccine, including the importance of vaccine to end the pandemic, acceptance of vaccine along with reasons and non-acceptance and sent by email as a Google form to participants.
Results: There were 171(43.6%) males and females 218(55.6%). The mean age of participants was 20.7±2.29 years. 217(55.4%) students were from the MBBS programs, and 175(44.6%) were from non-MBBS programs. COVID-19 vaccine acceptability was better amongst medical students, with 182(83.9%) considering it safe for use in contrast to 5(2.8%) non-medical students who considered it safe.
Conclusion: The comparison of knowledge and attitudes towards accepting the COVID-19 vaccine between medical students and non-medical students revealed better acceptance amongst undergraduate medical students than non-medical undergraduate students.
Downloads
Download data is not yet available.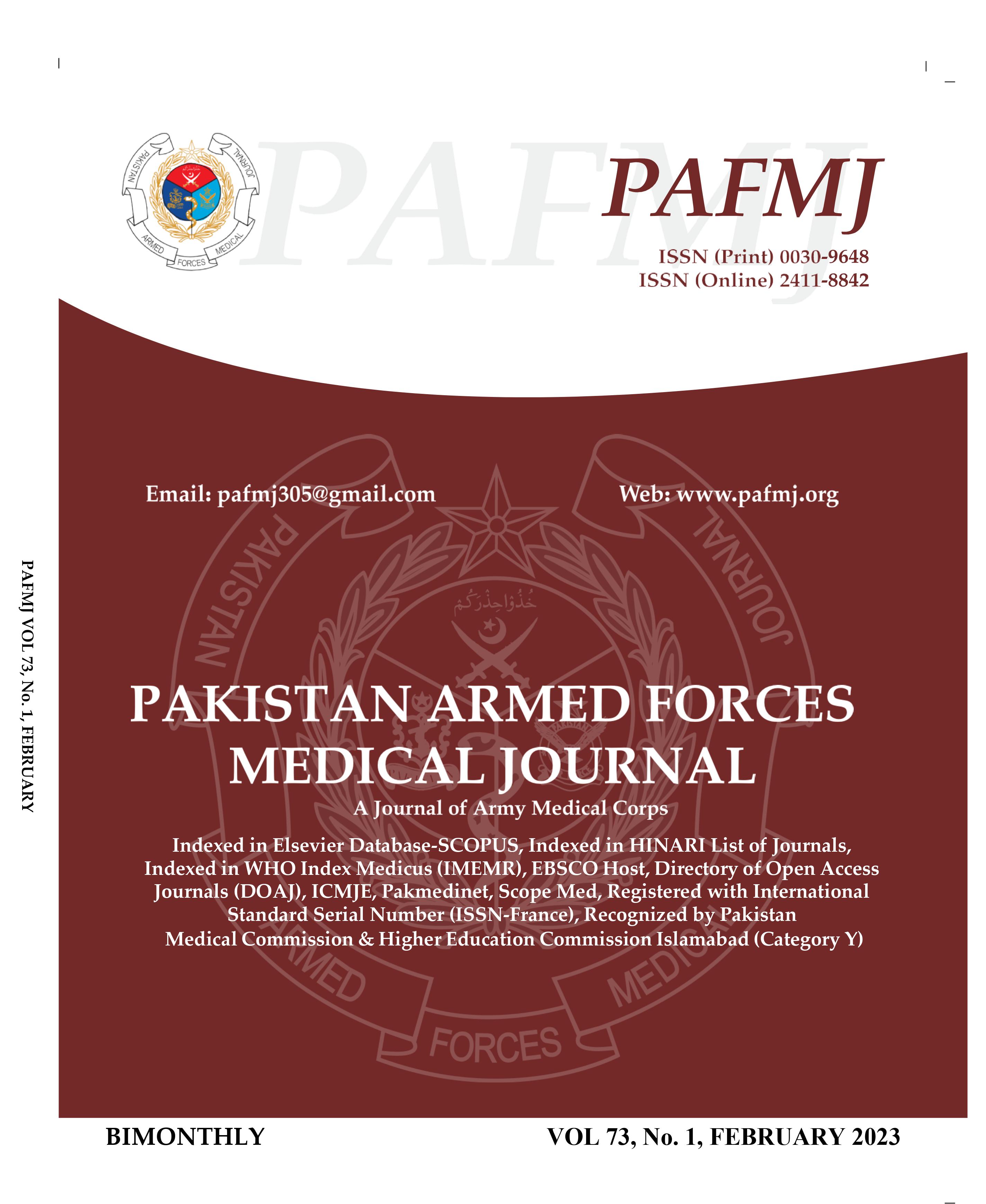 How to Cite
Abid, M., Buzdar, M., Junejo, S., & Karim, N. (2023). Acceptance of COVID-19 Vaccine Among Undergraduate Students. Pakistan Armed Forces Medical Journal, 73(2), 595-97. https://doi.org/10.51253/pafmj.v73i2.7631
Section
Original Articles