Comparison of Effectiveness of Platelet Rich Plasma (PRP) versus 30% Trichloroacetic Acid (TCA) in the Treatment of Acne Scars
Mahrukh Javed

Combined Military Hospital, Multan/National University of Medical Sciences (NUMS) Pakistan

Moizza Tahir

Combined Military Hospital, Multan/National University of Medical Sciences (NUMS) Pakistan

Sumera Hanif

Lahore Medical & Dental College, Lahore Pakistan

Muhammad Sufyan

Combined Military Hospital, Multan/National University of Medical Sciences (NUMS) Pakistan

Talha Shamshad

Nishtar Medical College and Hospital, Multan Pakistan

Fatima Aziz

Multan Medical and Dental College, Multan Pakistan
Keywords:
Acne scars, Effectiveness, Platelet-rich plasma (PRP), Trichloroacetic acid
Abstract
Objective: To compare the effectiveness of intradermal platelet-rich plasma with 30% Trichloroacetic acid in treating atrophic acne scars.
Study Design: Quasi-experimental study.
Place and Duration of Study: Tertiary Care Hospital of Multan Pakistan, from Aug 2019 to Sep 2020.
Methodology: A total of 76 patients (38 in each group), were enrolled in the study. Platelet-rich plasma treatment was given to Group-A, and 30% Trichloroacetic acid treatment was given to Group-B patients. Platelet-rich plasma was injected in the dermis with an insulin syringe while 30%Trichloracetic acid was applied with a cotton tip applicator. The effectiveness of treatment was measured by Goodman and Baron quantitative acne scar scale.
Results: A total of 76 patients with atrophic acne scars were included in the study. The mean age of patients in Plate rich plasma Group was 29.63±5.08 years and 29.92±5.85 years in the 30% Trichloroacetic acid Group. Platelet Rich Plasma was an effective treatment of atrophic acne scar (p= 0.030) with post-procedure improvement in the Goodman and Baron quantitative acne scar scale.
Conclusion: Atrophic acne scar treatment with intradermal Plate-rich plasma is more effective than 30% Trichloroacetic acid.
Downloads
Download data is not yet available.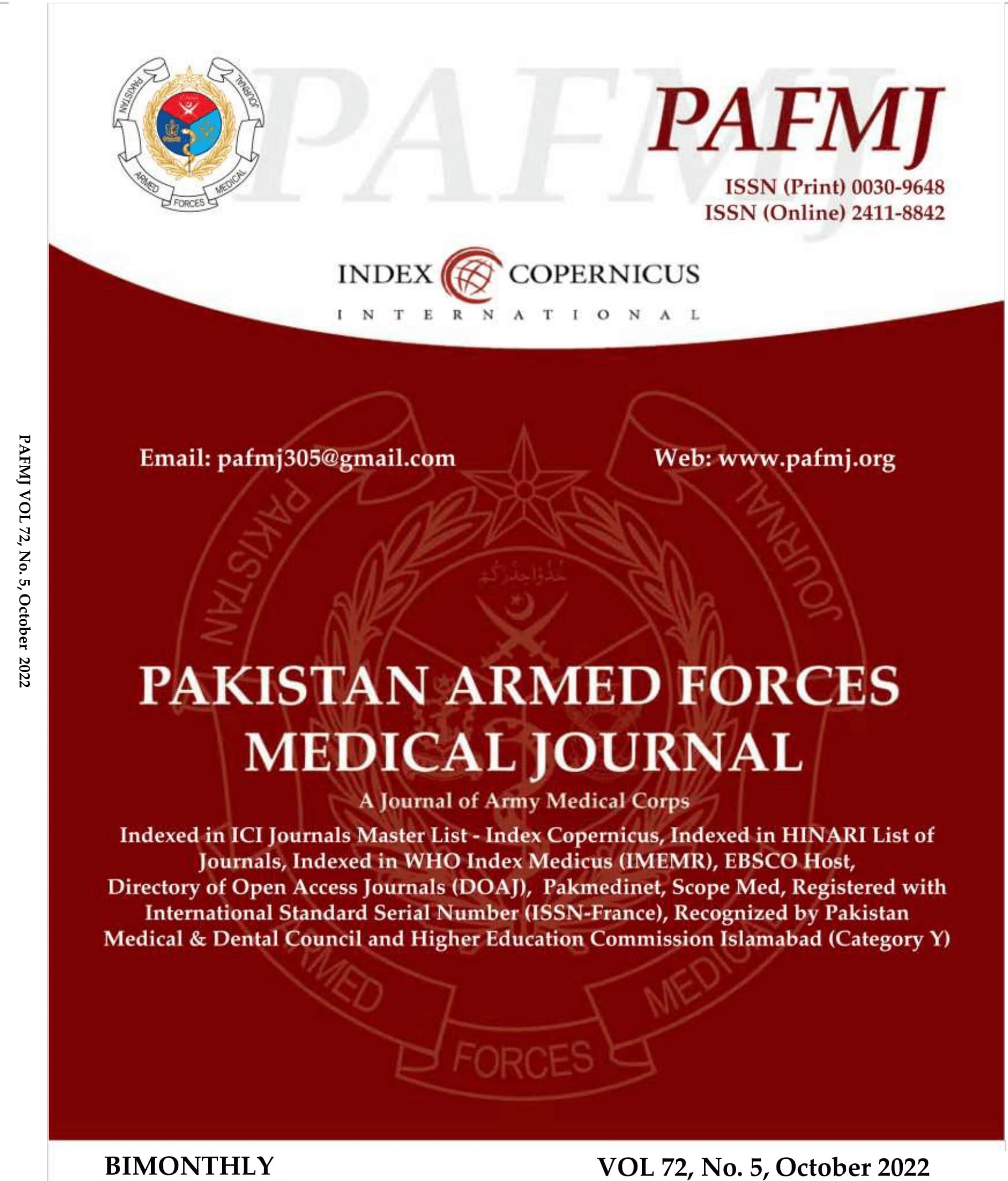 How to Cite
Javed, M., Tahir, M., Hanif, S., Sufyan, M., Shamshad, T., & Aziz, F. (2022). Comparison of Effectiveness of Platelet Rich Plasma (PRP) versus 30% Trichloroacetic Acid (TCA) in the Treatment of Acne Scars. Pakistan Armed Forces Medical Journal, 72(5), 1514-17. https://doi.org/10.51253/pafmj.v72i5.7627
Section
Original Articles