Correlation Between Resistive Index and Serum Creatinine in Patients with Diabetic Nephropathy
Amir Khan

Pakistan Institute of Medical Sciences, Islamabad Pakistan

Aliya Ahmed

Pakistan Institute of Medical Sciences, Islamabad Pakistan

Muzammil Rasheed Bhutta

Pakistan Institute of Medical Sciences, Islamabad Pakistan

Ibtesam Zafar

Pakistan Institute of Medical Sciences, Islamabad Pakistan

Muhammad Nasir Naeem Khan

Pakistan Institute of Medical Sciences, Islamabad Pakistan

Jovaria Ehsan

Pakistan Institute of Medical Sciences, Islamabad Pakistan
Keywords:
Creatinine, Diabetic Nephropathy, Resistive index(RI)
Abstract
Objective: To evaluate the renal resistive index (RI) and serum creatinine correlation in patients with diabetic nephropathy.
Study Design: Cross-sectional study
Place and Duration of Study: Department of Radiology, Pakistan Institute of Medical Sciences, Islamabad Pakistan, from Nov 2020 to Apr 2021.
Methodology: This study was conducted on 80 patients. Doppler renal artery sonography was carried out, and for all the individuals with controlled blood pressure, gender, age, urinary protein, serum creatinine and HBA1c were recorded.
Results: In our study, 42(52%) patients were females, whereas the remaining 38(48%) were males. The mean age was observed to be 49.15±11.91 years. A significant positive correlation (r=0.53) was found between Resistive Index and Serum Creatinine.The correlation co-efficient values between Resistive Index and Serum Creatinine in female and male patients were r=0.58 and r=0.47, respectively.
Conclusion: The present study concluded that RI had no significant statistical correlation with albuminuria, proteinuria and HbA1c levels. However, a statistical correlation between RI and creatinine level was reported.
Downloads
Download data is not yet available.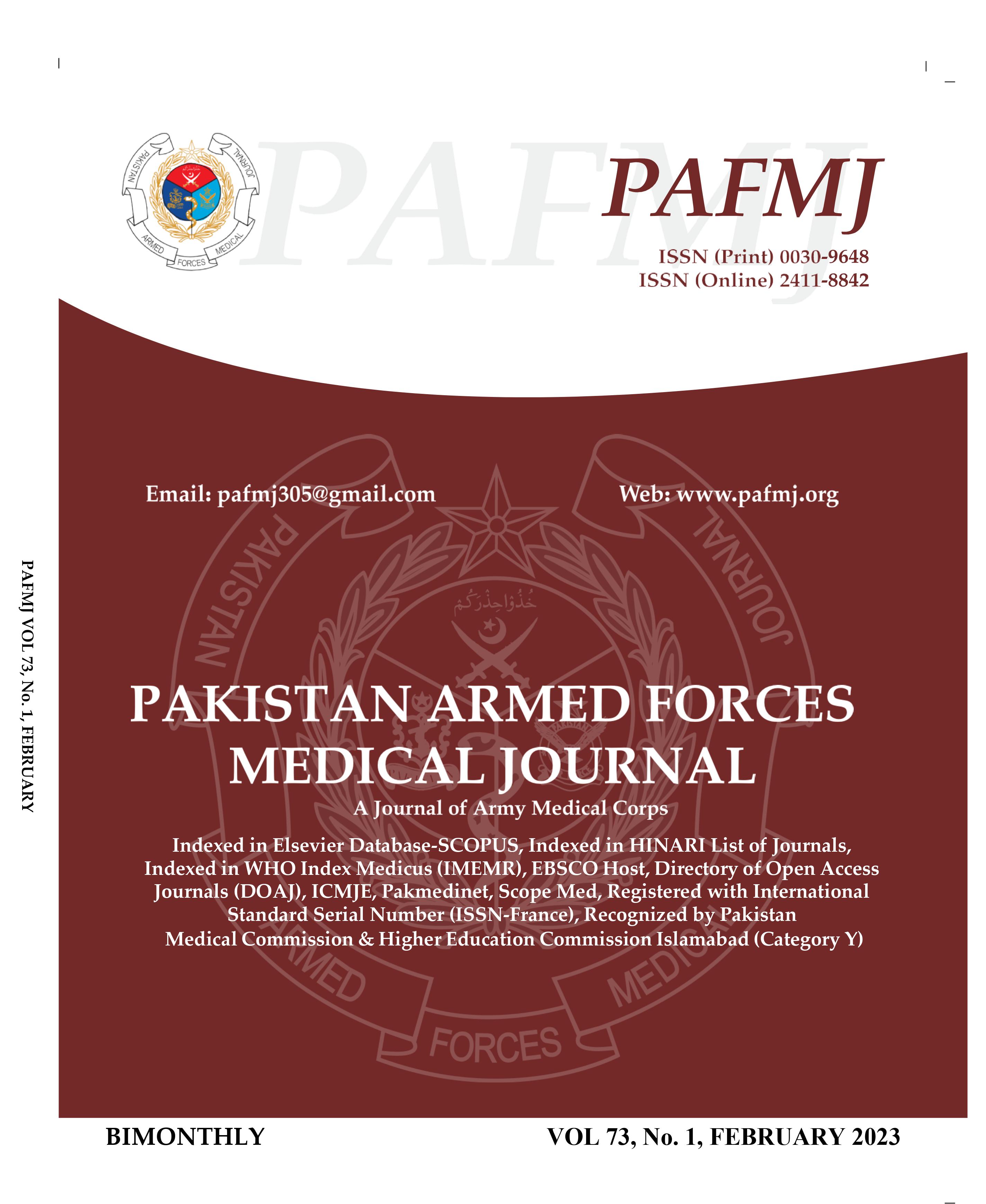 How to Cite
Khan, A., Ahmed, A., Bhutta, M., Zafar, I., Khan, M., & Ehsan, J. (2023). Correlation Between Resistive Index and Serum Creatinine in Patients with Diabetic Nephropathy. Pakistan Armed Forces Medical Journal, 73(2), 435-38. https://doi.org/10.51253/pafmj.v73i2.7625
Section
Original Articles