Intravenous Versus Subcutaneous Insulin in Management of Hyperglycaemia in Intensive Care Unit
Hafiz Waleed Khan

Combined Military Hospital Malir/National University of Medical Sciences (NUMS) Pakistan

Khurram Mansoor

Combined Military Hospital Malir/National University of Medical Sciences (NUMS) Pakistan

Muhammad Irfan Khattak

Pakistan Naval Ship Shifa Hospital, Karachi Pakistan

Shagufta Yousaf

Combined Military Hospital Malir/National University of Medical Sciences (NUMS) Pakistan

Ayesha Khan

Combined Military Hospital Malir/National University of Medical Sciences (NUMS) Pakistan

Maria Altaf

Combined Military Hospital Malir/National University of Medical Sciences (NUMS) Pakistan
Keywords:
Intravenous Insulin, Subcutaneous Insulin, Hypoglycaemia, Intensive care
Abstract
Objective: To compare the efficacy and safety of intravenous Insulin infusion versus subcutaneous Insulin in the management of hyperglycaemia in intensive care.
Study Design: Quasi-experimental study.
Place and Duration of Study: Medical Intensive Care Unit of Combined Military Hospital Malir, from Jul to Sep 2021.
Methodology: 68 individuals admitted to the Medical ICU with the blood sugar levels of more than 180 mg/dl were included. Patients on one side of Intensive Care Unit were administered intravenous Insulin infusion, and on the other side were administered subcutaneous Insulin to control blood sugars. Age, gender, previous history of diabetes and use of Insulin and glycosylated haemoglobin were recorded. Efficacy of regimen was judged based on ability to achieve target glucose levels, mean blood glucose levels and total days of ICU stay. Adverse events like hypoglycaemia and hypokalaemia were recorded.
Results: Out of 68 individuals, 27 (39.70%) were administered intravenous Insulin infusion, and 41 (60.29%) were administered subcutaneous Insulin. In the intravenous Insulin group, 22 (81.5%) individuals achieved target blood glucose compared to 29 (70.7%) in the subcutaneous Insulin group. The mean blood sugars in the intravenous group were 157.11 ± 25.54 mg/dl, whereas 168.32 ± 30.49 mg/dl in the subcutaneous group (p-value=0.164). The frequency of hypoglycaemia and hypokalaemia was more in the intravenous group than in the subcutaneous group.
Conclusion: Optimal blood sugar levels were better achieved with intravenous Insulin than with subcutaneous Insulin. However, the frequency of adverse effects was also more with intravenous Insulin, so better monitoring and management are..............
Downloads
Download data is not yet available.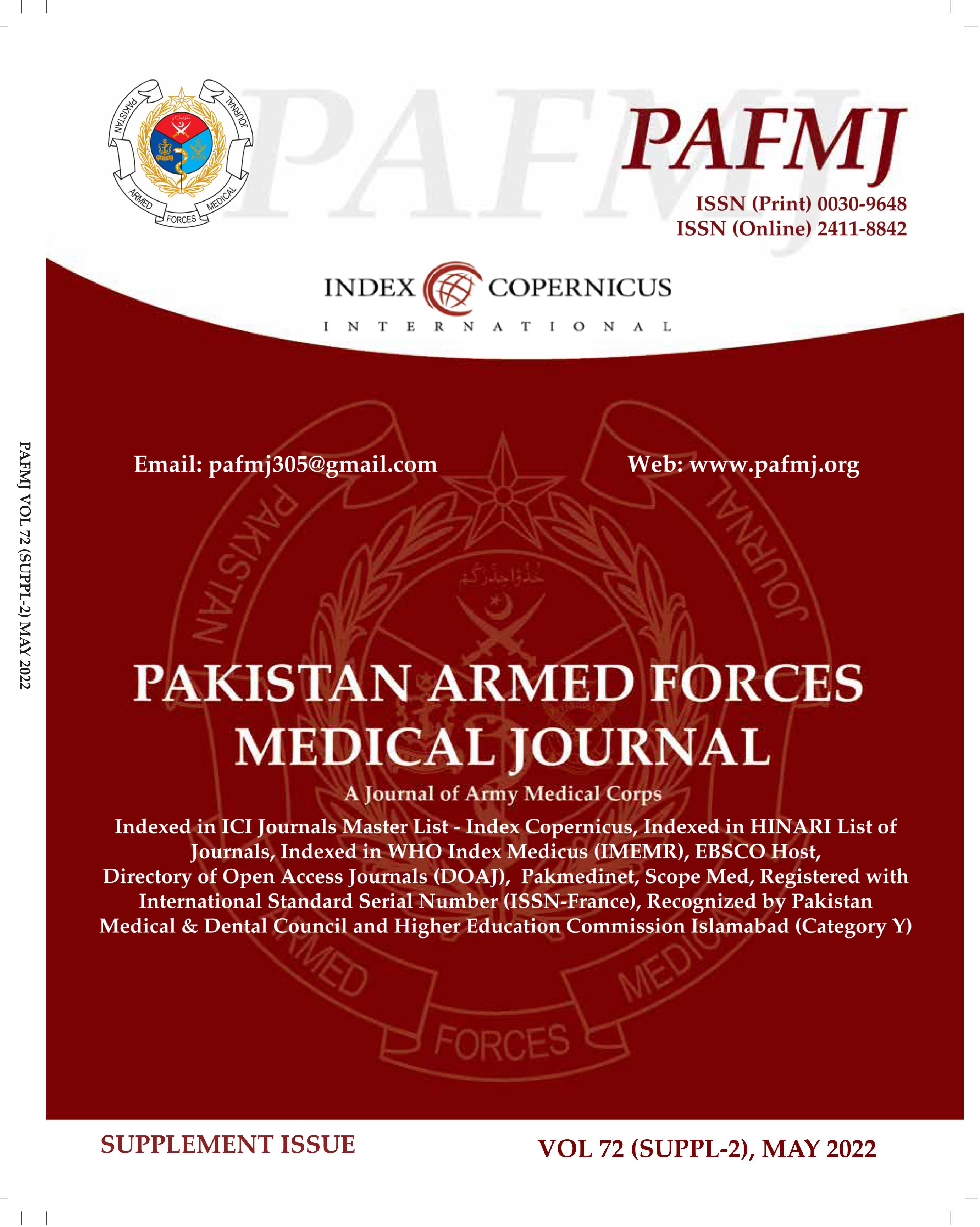 How to Cite
Khan, H., Mansoor, K., Khattak, M. I., Yousaf, S., Khan, A., & Altaf, M. (2022). Intravenous Versus Subcutaneous Insulin in Management of Hyperglycaemia in Intensive Care Unit. Pakistan Armed Forces Medical Journal, 72(SUPPL-2), S259-63. https://doi.org/10.51253/pafmj.v72iSUPPL-2.7615
Section
Original Articles