Association Between Oct-Based Microangiography Perfusion Indices and Diabetic Retinopathy Severity in Patients with Diabetes in Pakistan
Keywords:
Optical coherence tomography angiography, Diabetes, Perfusion index, Retinopathy
Abstract
Objective: To assess the relationship between capillary perfusion of retinal vessels and severity of diabetic retinopathy with the help of Optical Coherence Tomography angiography.
Study Design: Cross-sectional study.
Place and Duration of Study: Armed Forces Institute of Ophthalmology, Rawalpindi Pakistan, from Feb 2020 to Apr 2021.
Methodology: Seventy-three eyes of 37 subjects suffering from diabetes had their imaging done with Rtvue Avanti OCT angio system. Socio-demographic and clinical data was gathered. Subjects were divided into three groups depending upon the severity of diabetes. The perfusion index (PI) was taken as percent area coverage by retinal vessels with the flow.
Results: Out of a total of 73 eyes, 31 (42.5%) had none to mild Non-Proliferative Diabetic Retinopathy, 19 (26%) with moderate to severe Non-Proliferative Diabetic Retinopathy and 23 (31.5%) with Proliferative Diabetic Retinopathy. The mean age of the participants was 58.09 ± 10.32 years, with best corrected visual acuity as 0.35 ± 0.35 and Blood Sugar Random as 200.46 ± 70.71. BCVA showed a significant positive correlation with Perfusion Index (p=0.026). No significant association/relationship was found between the severity of diabetic retinopathy and perfusion index in this data (p=0.26).
Conclusion: No statistically significant relationship was found between Perfusion Index (PI) and severity of diabetic retinopathy.
Downloads
Download data is not yet available.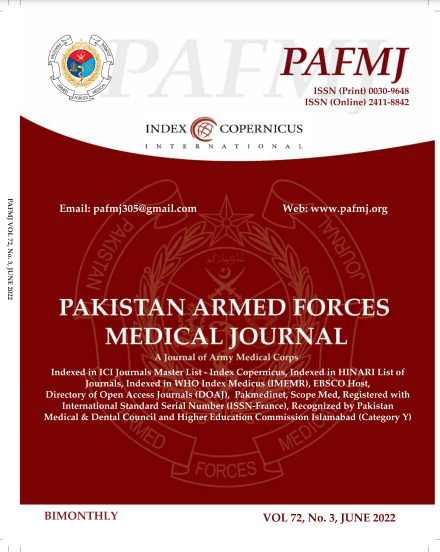 Downloads
How to Cite
Tahir, T. B., Muzaffar, W., & Ashraf, A. (2022). Association Between Oct-Based Microangiography Perfusion Indices and Diabetic Retinopathy Severity in Patients with Diabetes in Pakistan. Pakistan Armed Forces Medical Journal, 72(3), 787–91. https://doi.org/10.51253/pafmj.v72i3.7598
Section
Original Articles