Efficacy and Safety of Intralesional Vitamin D3 in the Treatment of Plantar Warts
Mahrukh Javed

Combined Military Hospital, Multan/National University of Medical Sciences (NUMS) Pakistan

Moizza Tahir

Combined Military Hospital, Multan/National University of Medical Sciences (NUMS) Pakistan

Sumera Hanif

Lahore Medical & Dental College, Lahore Pakistan

Muhammad Sufyan

Combined Military Hospital, Multan/National University of Medical Sciences (NUMS) Pakistan

Najia Ahmed

Pakistan Naval Ship Shifa Hospital, Karachi Pakistan

Atiya Rahman

Combined Military Hospital, Lahore/National University of Medical Sciences (NUMS) Pakistan
Keywords:
Immunotherapy, Intralesional, Recalcitrant warts, Vitamin D3
Abstract
Objective: To explore the effectiveness and safety of intralesional cholecalciferol (vitamin D3) for the treatment of plantar warts.
Study Design: Prospective longitudinal study.
Place and Duration of Study: Tertiary Care Hospital, Multan Pakistan, from Sep 2019 to Aug 2020.
Methodology: Sixty-two patients with warts of varying sizes and duration were included in the study. Intralesional lignocaine was used to anaesthetize the skin. About 0.2ml injection of cholecalciferol (vitamin D3) solution (600,000 IU, 15mg/mL) was injected with a 30-gauge needle to the base of the wart under aseptic measures. A maximum of 4 warts were injected per session at 3-week intervals until resolution or for amaximum of 6 treatments. Patients were followed up for six months after the last injection for recurrence.
Results: Sixty-two patients completed the study, including 45(72.58%), patients who had complete clearance of warts following injection 14(22.5%) which showed partial response and 3(4%) cases had no response.
Conclusions: Intralesional vitamin D3 is a safe and effective treatment for plantar warts.
Downloads
Download data is not yet available.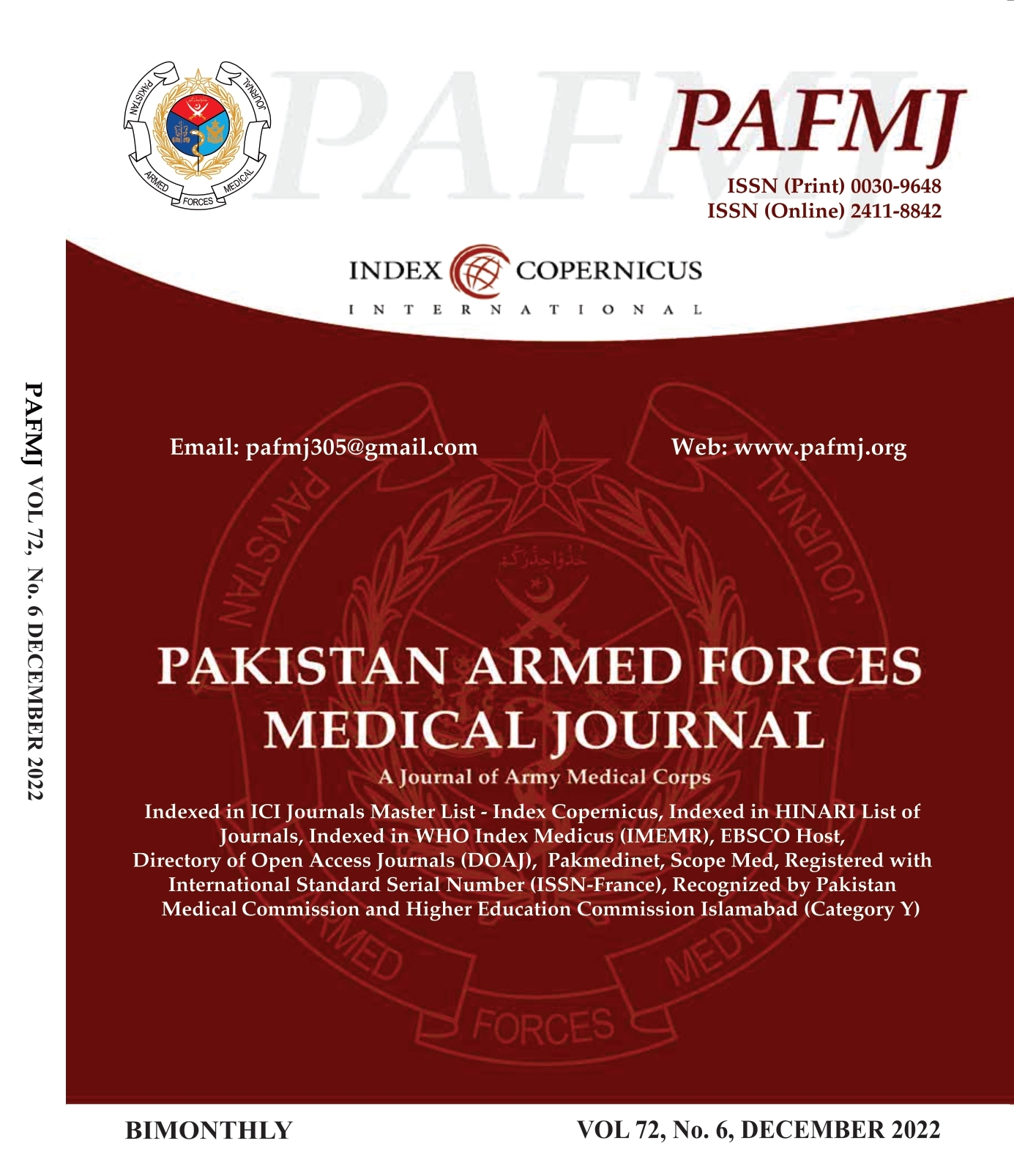 How to Cite
Javed, M., Tahir, M., Hanif, S., Sufyan, M., Ahmed, N., & Rahman, A. (2022). Efficacy and Safety of Intralesional Vitamin D3 in the Treatment of Plantar Warts. Pakistan Armed Forces Medical Journal, 72(6), 2055-58. https://doi.org/10.51253/pafmj.v72i6.7559
Section
Original Articles