NON-COMMUNICABLE DISEASES AND PAKISTAN'S SEHAT SAHULAT PROGRAM: A SNAPSHOT ANALYSIS OF READMISSIONS IN ISLAMABAD CAPITAL TERRITORY
NCD Readmissions and Pakistan's Sehat Sahulat Program
Syed Fawad Mashhadi

Army Medical College, National University of Medical Sciences (NUMS) Rawalpindi, Pakistan

Saira Maroof

Army Medical College, National University of Medical Sciences (NUMS) Rawalpindi, Pakistan

Aliya Hisam

Army Medical College, National University of Medical Sciences (NUMS) Rawalpindi, Pakistan

Sumaira Masood

Armed Forces Post Graduate Medical Institute, National University of Medical Sciences (NUMS) Rawalpindi, Pakistan

Sonia Riaz

Sehat Sahulat Program, Islamabad, Pakistan

Asmara Ahmed Malik

Army Medical College, National University of Medical Sciences (NUMS) Rawalpindi, Pakistan

Faisal Rifaq

Sehat Sahulat Program, Islamabad, Pakistan

Shahzad Ali Khan

Health Services Academy, Islamabad, Pakistan

Assad Hafeez

Health Services Academy, Islamabad, Pakistan
Keywords:
Readmission, Health expenditure, non-communicable diseases, Snapshot analysis
Abstract
Objective: To examine the impact of 30-day hospital readmission for non-communicable diseases on limited health-care resources of a low-income country like Pakistan in the light of available data from Pakistan's Sehat Sahulat Program.
Study Design: Retrospective analytical cross-sectional study.
Place and Duration of Study: Health Services Academy, Islamabad Pakistan, from Jan 2016 to Jul 2020.
Methodology: Secondary data of patients readmitted with non-communicable diseases in Sehat Sahulat Program, Islamabad, Pakistan. Universal sampling technique was utilized. Data was analyzed using SPSS version 27.
Results: Islamabad (ICT) stands second highest for readmissions (n=1270) in which the 30-days readmission rate was 13.69%. Maximum number of readmissions were found in 50-59 years (344, 27.12%). Of 1270 ICT readmissions, 559 (44%) cases were readmitted with non-communicable diseases while rest of 711 (56%) cases were readmitted for acute infectious diseases or surgical procedures. Of 559 non-communicable diseases cases, 236 (42.21%) readmissions were having one non-communicable disease, 63 (11.27%) readmissions exhibited two or more non-communicable diseases and 260 (46.51%) were readmitted because of cancers (CA). Among males, the most common malignancy was CA lungs/ bronchus 24 (19.8%) while among females, CA Breast 80 (56.3%).
Conclusion: Non-communicable diseases represent a significant burden on resource constrained, low-income countries. In view of the recurrent admissions that these chronic diseases inevitably incur, better resource allocation may help lessen this burden on fragile health systems creating better clinical outcomes for the penurious strata of Pakistan's population.
Downloads
Download data is not yet available.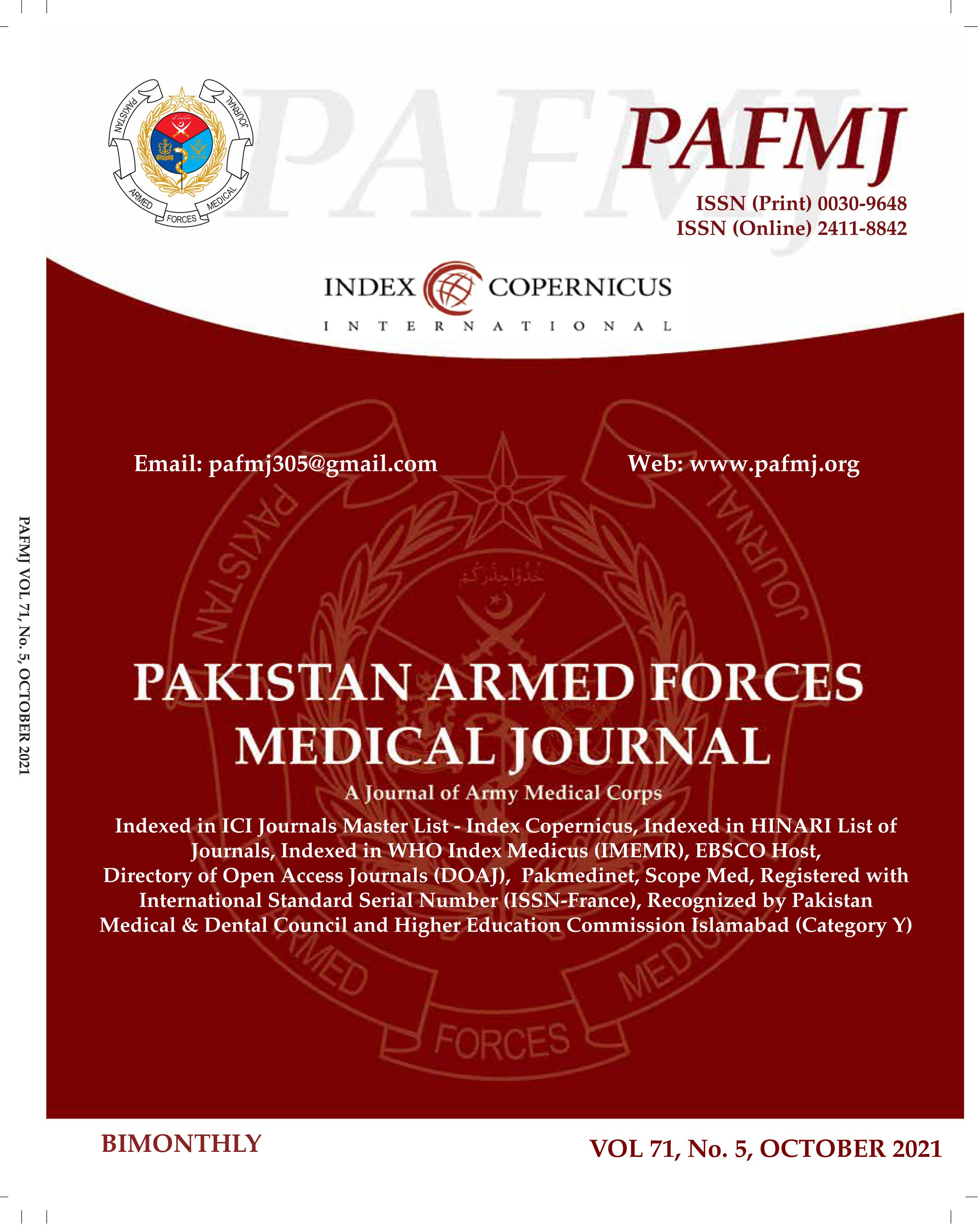 How to Cite
Mashhadi, S. F., Maroof, S., Hisam, A., Masood, S., Riaz, S., Malik, A., Rifaq, F., Khan, S., & Hafeez, A. (2021). NON-COMMUNICABLE DISEASES AND PAKISTAN'S SEHAT SAHULAT PROGRAM: A SNAPSHOT ANALYSIS OF READMISSIONS IN ISLAMABAD CAPITAL TERRITORY. PAFMJ, 71(5), 1534-38. https://doi.org/10.51253/pafmj.v71i5.7470
Section
Original Articles