Impact of General Anaesthesia Versus Combined Epidural and General Anesthesia on Postoperative Complications and Mortality in Elective Abdominal Aortic Aneurysm Surgeries
Khan Muhammad Yaqub

Combined Military Hospital/National University of Medical Sciences (NUMS) Rawalpindi Pakistan

Muhammad Saeed

Combined Military Hospital/National University of Medical Sciences (NUMS) Rawalpindi Pakistan

Bilal Yasin

Combined Military Hospital/National University of Medical Sciences (NUMS) Rawalpindi Pakistan

Khalid Ameer

Combined Military Hospital/National University of Medical Sciences (NUMS) Rawalpindi Pakistan

Nusrat Noor

Combined Military Hospital/National University of Medical Sciences (NUMS) Rawalpindi Pakistan
Keywords:
Abdominal aortic aneurysm, Anaesthesia, Complications, Epidural anaesthesia
Abstract
Objective: To determine the impact of general anaesthesia versus combined epidural and general anaesthesia on postoperative complications in elective abdominal aortic aneurysm surgeries.
Study Design: Quasi-experimental study.
Place and Duration of Study: Combined Military Hospital, Rawalpindi Pakistan, from Jun 2018 to Sep 2020.
Methodology: A total of 100 patients from both genders undergoing elective open abdominal aortic aneurysm surgery under general anaesthesia enrolled in the study after random distribution to drug and control groups in equal proportions. The primary determinants were postoperative complications. Additionally, it determined the impact on postoperative mortality rate.
Results: Of 100 participants, 54% of patients were from ASA status II, and 46% were from ASA status III. Among
postoperative complications, bowel ischemia was recorded in 16% and 2% among Group-A and Group-B, respectively (pvalue 0.01). Postoperative dialysis was required in 18% of patients in Group-A, whereas among Group-B, only 4%went through it (p-value 0.02). Pulmonary complications variation was not statistically different between the two groups, with 54%  and 46% (p-value 0.42) frequencies in Group-A and Group-B, respectively. However, surgical reintervention within 30 days was notable, 36% in Group-A and 14% in Group-B (p-value 0.01).
Conclusion: Combined general and epidural anaesthesia, when compared with general anaesthesia alone, significantly impacts the reduction of postoperative complications after elective open abdominal aortic aneurysm surgeries without increasing morbidity and mortality.
Downloads
Download data is not yet available.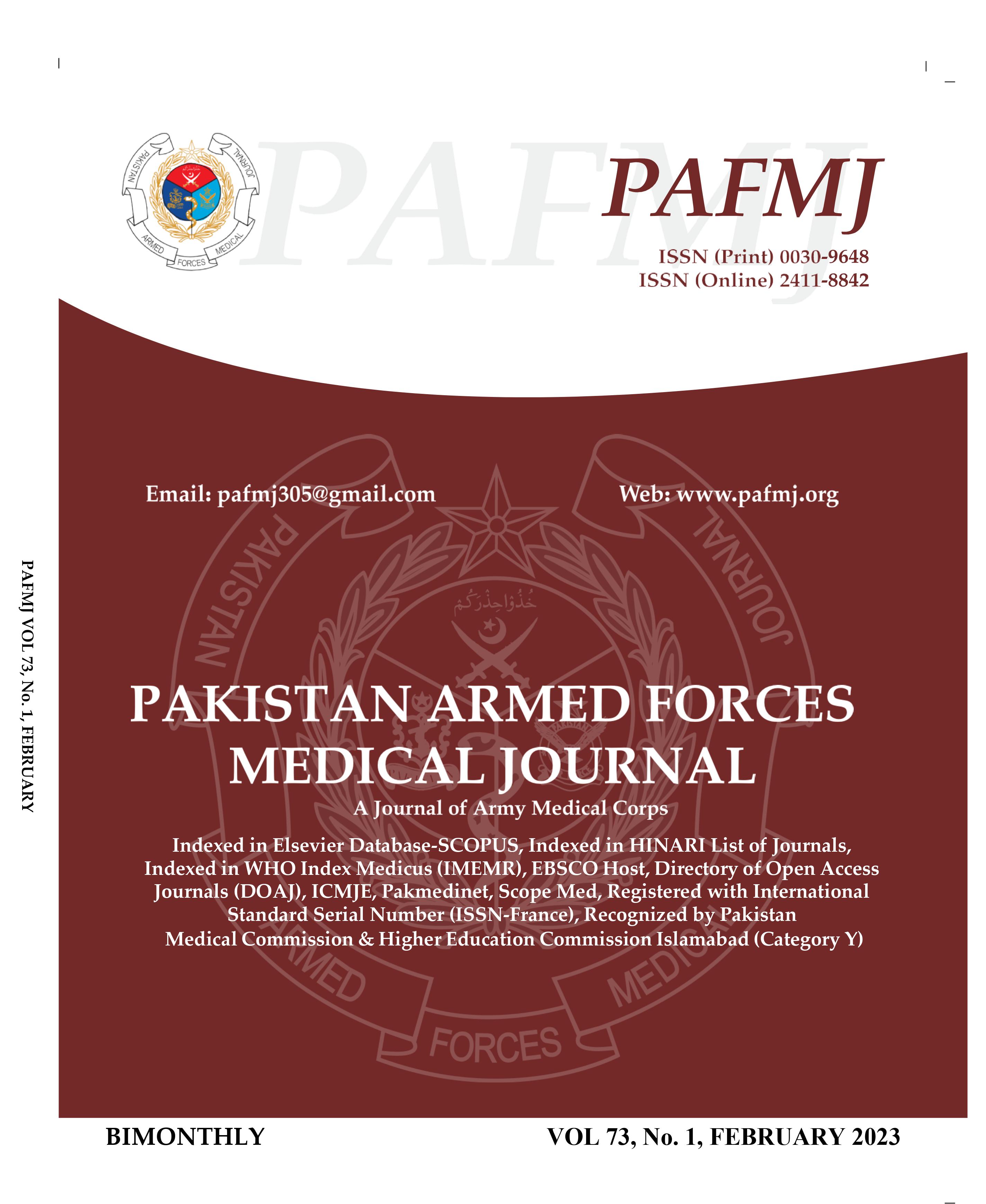 How to Cite
Yaqub, K., Saeed, M., Yasin, B., Ameer, K., & Noor, N. (2023). Impact of General Anaesthesia Versus Combined Epidural and General Anesthesia on Postoperative Complications and Mortality in Elective Abdominal Aortic Aneurysm Surgeries. Pakistan Armed Forces Medical Journal, 73(2), 405-08. https://doi.org/10.51253/pafmj.v73i2.7422
Section
Original Articles