Quality of Life of Melasma Patients in Pakistan
Atiya Rahman

Combined Military Hospital Lahore/National University of Medical Sciences (NUMS) Pakistan

Anam Basit

Wapda Teaching Hospital Complex, Lahore Pakistan

Sadia Mohsin

Combined Military Hospital Lahore/National University of Medical Sciences (NUMS) Pakistan

Najia Ahmed

Pak Naval Ship Shifa Hospital Karachi

Moizza Tahir

Combined Military Hospital Gujranwala/National University of Medical Sciences (NUMS) Pakistan

Asim Ishfaq

Combined Military Hospital Lahore/National University of Medical Sciences (NUMS) Pakistan
Keywords:
Dermatology life quality index (DLQI), DLQI-Urdu version, Impairment, quality of life, Melasma, Melasma area severity index (MASI)
Abstract
Objective: To assess the quality of life in Pakistani melasma patients.
Study Design: Cross-sectional study.
Place and Duration of Study: Department of Dermatology, Combined Military Hospital Lahore, from Oct 2020 to May 2021.
Methodology: The study was conducted on 126 adult patients of both genders by non-probability, consecutive sampling technique. Melasma severity was assessed by 'melasma area severity index (MASI) and quality of life impairment by 'dermatology life quality index (DLQI).
Results: A total of 126 patients participated in the study, out of which 85.7% were females, and 14.3% were males. Mean MASI score was 12.21 ± 6.87, and mean DLQI score was 8.22 ± 7.46. Male patients had higher MASI scores and statistically signifycant DLQI than female patients (p=0.016). Employed people and those from the higher socio-economic group showed a more significant impairment of their quality of life.
Conclusion: There was moderate impairment of quality of life in melasma patients. Healthcare givers need to recognize the effect of melasma on mental health while counselling patients and devising management strategies.
Downloads
Download data is not yet available.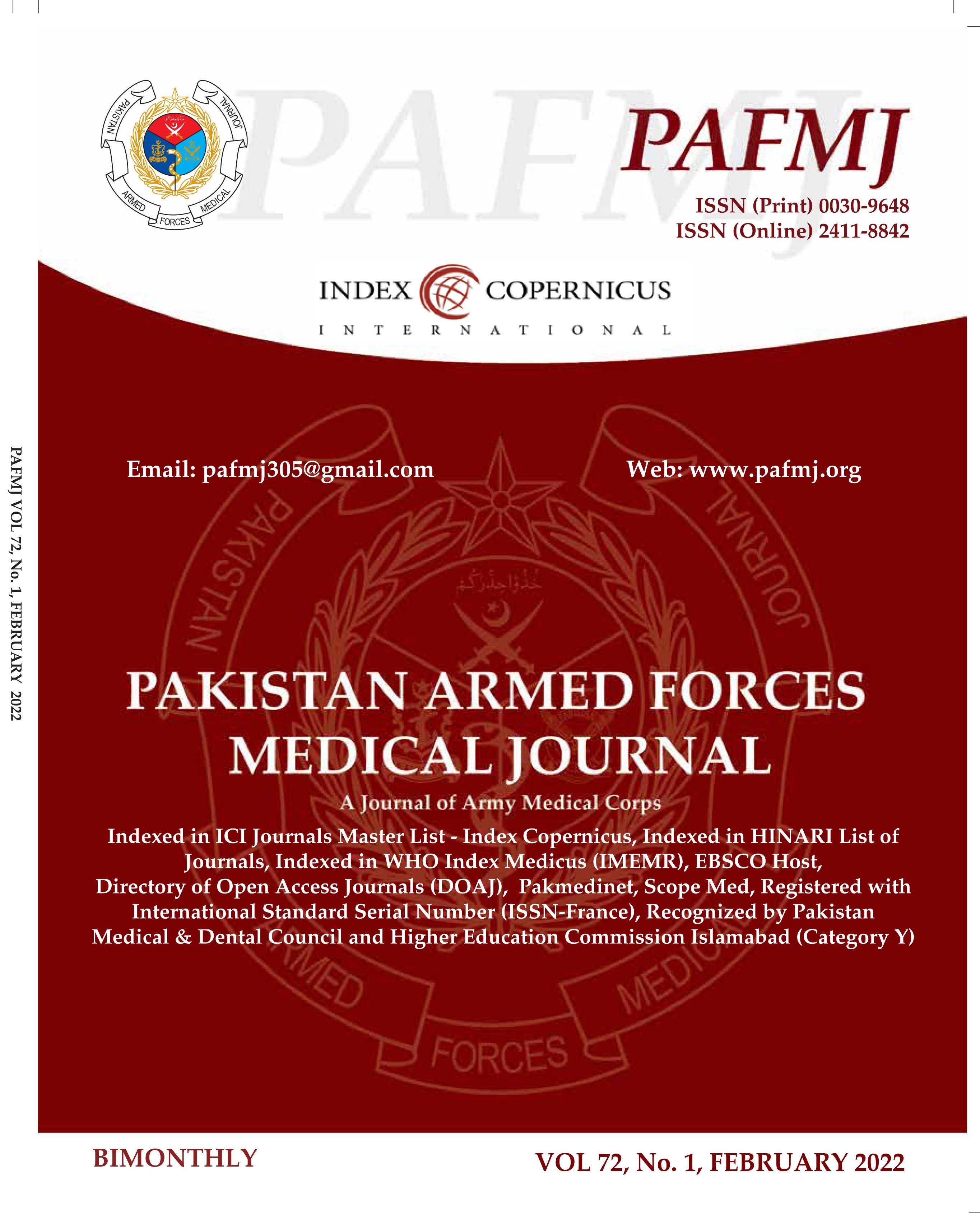 How to Cite
Rahman, A., Basit, A., Mohsin, S., Ahmed, N., Tahir, M., & Ishfaq, A. (2022). Quality of Life of Melasma Patients in Pakistan. PAFMJ, 72(1), 307-10. https://doi.org/10.51253/pafmj.v72i1.7401
Section
Original Articles