The Impact of Knowledge, Perception on the Major Amputation in People with Diabetic Foot Ulcers
Anum Arif

Combined Military Hospital, Lahore/National University of Medical Sciences (NUMS) Pakistan

Nayab Munir Malik

Combined Military Hospital, Lahore/National University of Medical Sciences (NUMS) Pakistan

Ahsin Manzoor Bhatti

Combined Military Hospital, Lahore/National University of Medical Sciences (NUMS) Pakistan

Aima Sohail

Combined Military Hospital, Lahore/National University of Medical Sciences (NUMS) Pakistan

Bismah Riaz

Combined Military Hospital, Lahore/National University of Medical Sciences (NUMS) Pakistan

Mohammad Salman Imtiaz

Combined Military Hospital, Lahore/National University of Medical Sciences (NUMS) Pakistan
Keywords:
Amputation, Diabetes mellitus, Diabetic foot, Limb loss, Revascularization
Abstract
Objective: to evaluate the knowledge and practice of diabetic patients in terms of the diabetic foot and correlate it with the severity of diabetic foot and limb loss.
Study Design: Cross-sectional study
Place and Duration of Study: Department of Vascular Surgery, Combined military hospital, Lahore Pakistan, from Jan 2020 to Jan 2021.
Methodology: Data was recorded in terms of demographics, knowledge and practice of control of blood sugars and foot care of the patients. SINDBAD scoring was used to assess the severity of diabetic foot and compare it with their knowledge and practice and ultimately as an outcome of their limb salvage.
Results: Most patients 171(88.6%) already had a diabetic foot ulcer. Hypertension alone 72(37.3%) was the most common comorbid condition. A large percentage of patients, 108(63%), ultimately ended up with a limb amputation. A higher age and longer duration of diabetes were associated with an adverse outcome of diabetic foot disease. According to the SINDBAD scoring, the assessment of the foot showed the majority 142(73.6%), had lost protective sensation, with the ulcer being greater
than 1cm2 in a large number 147(76.2%) of feet.
Conclusion: While steps are made for patient awareness related to diabetes and its complications, there is a need to address the decreased applicability of this knowledge by the patients, especially with regard to diabetic foot disease.
Downloads
Download data is not yet available.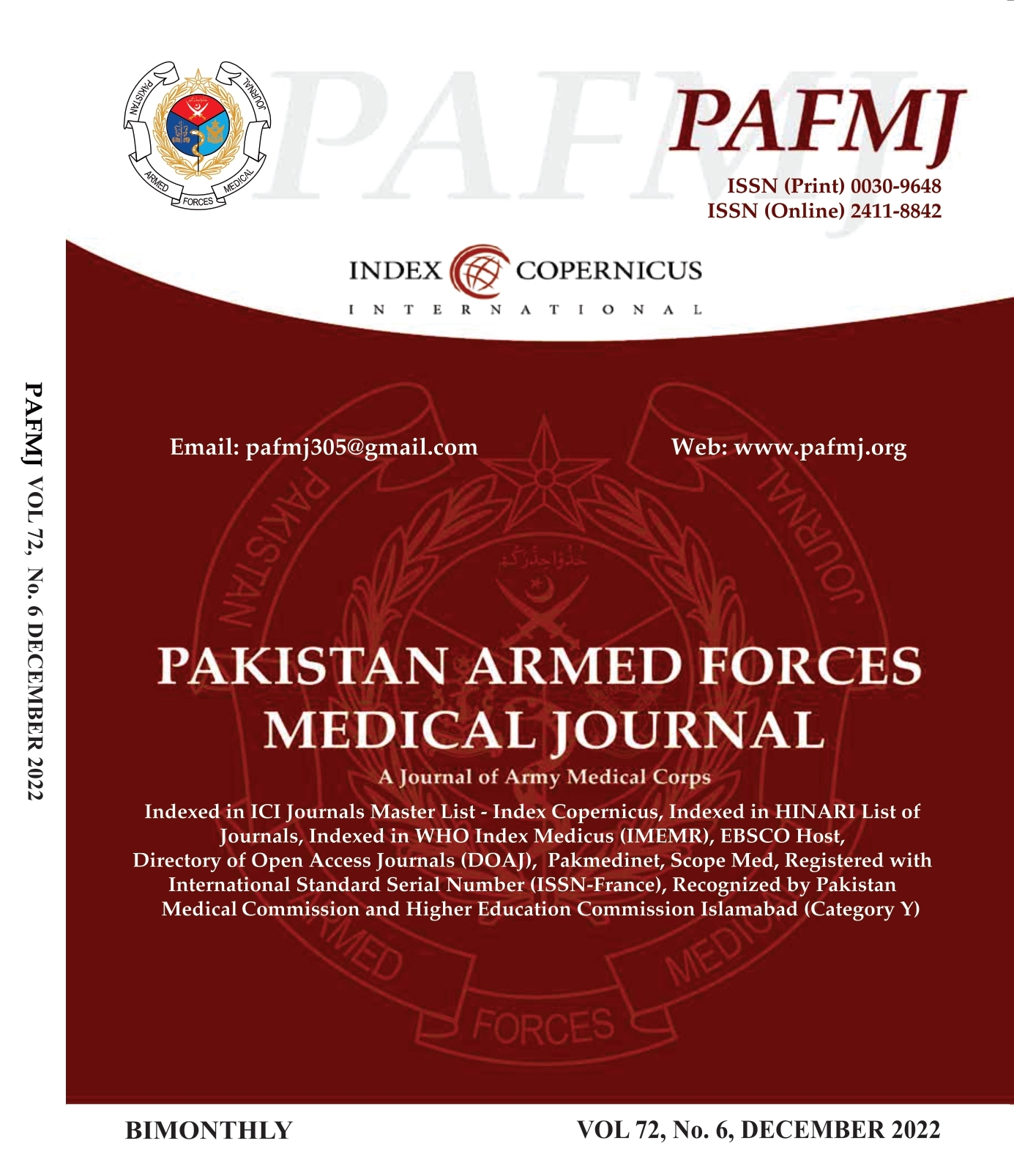 How to Cite
Arif, A., Malik, N. M., Bhatti, A. M., Sohail, A., Riaz, B., & Imtiaz, M. S. (2023). The Impact of Knowledge, Perception on the Major Amputation in People with Diabetic Foot Ulcers. Pakistan Armed Forces Medical Journal, 72(6), 2126-29. https://doi.org/10.51253/pafmj.v72i6.7398
Section
Original Articles