Urinary Sodium and Pregnancy Induced Hypertension; A Unsolved Mystery
Keywords:
Blood pressure, Pregnancy, Sodium, Urinary sodium excretion
Abstract
Objective: to know the connection between Sodium intake/urinary Sodium excretion and the tendency to develop hypertension during pregnancy.
Study design: Prospective longitudinal study.
Place and Duration of Study: Combined Military Hospital Kharian, District Gujrat Pakistan from Jul 2019 to Dec 2020.
Methodology: The included population was divided into two equal Groups (Normotensive and hypertensive). Blood pressure was measured at a pre-determined interval starting from the initial prenatal visit before 18 weeks of pregnancy to the 36th week of gestation. Urinary Sodium secretion was determined in 24-hours urine accumulated at three stages between 18 and 36 weeks of gestation. The main outcome actions were the implication of the difference in mean between urinary Sodium and alterations in maternal BP.
Results: The mean age of our study population was 32 years ± 6.96 years, and it ranged from 31 to 48 years. The mean urinary sodium was 141.00 ± 24.879, 140.00 ± 29.73 and 139.00±15.17 mEq/day in the normotensive group, which was 142.00 ± 21.90, 143.00 ± 32.03 and 139.00 ± 14.27 mEq/dl in the hypertensive group. In the hypertensive group, systolic Blood pressure was also high with mean systolic BP of 143.00±12.10, 141.00±12.47 and 148.00±16.82 respectively during the three trimesters. As expected, it was normal in the second group.
Conclusion: There was no significant association between sodium intake and pregnancy-induced hypertension.
Downloads
Download data is not yet available.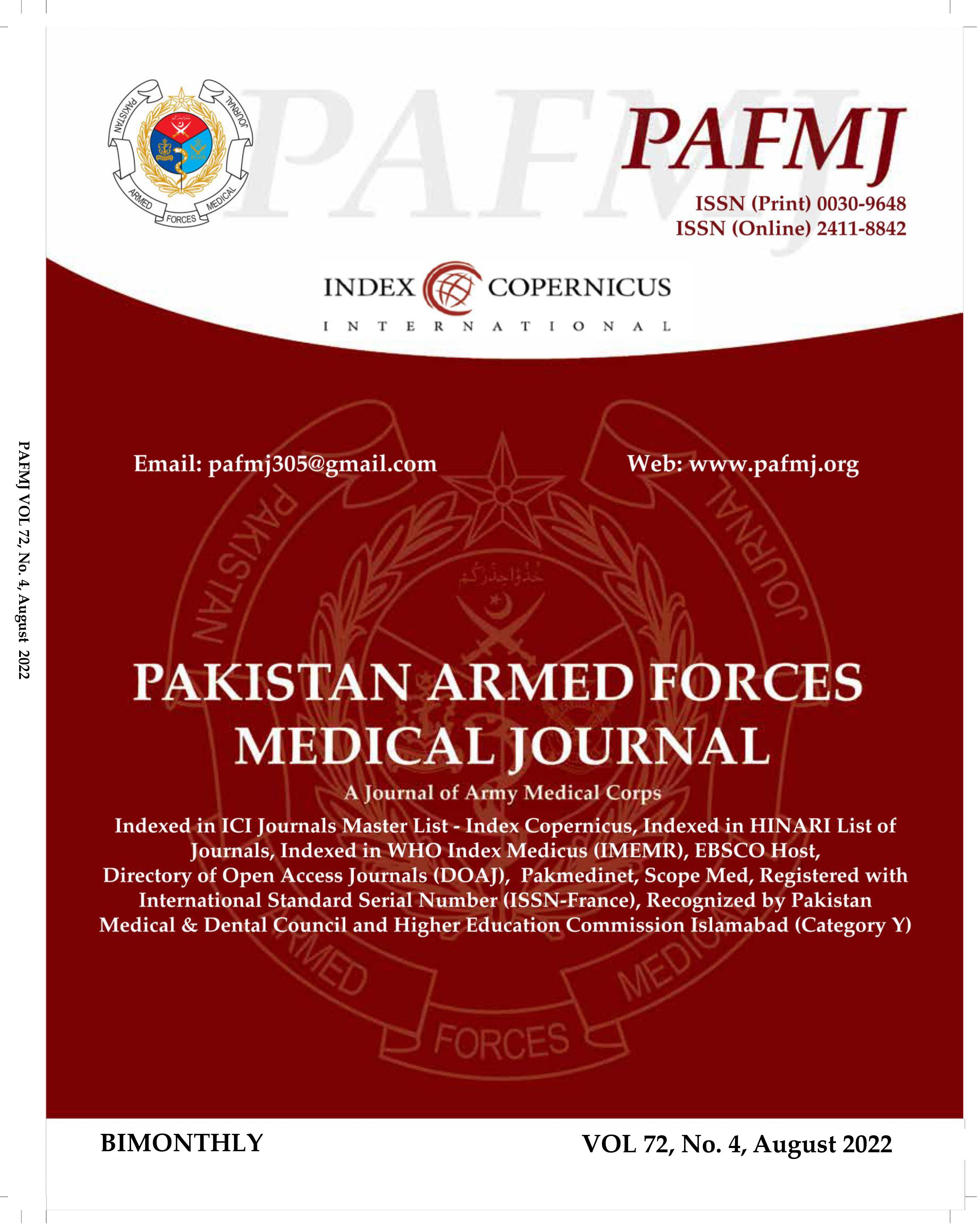 Downloads
How to Cite
Khattak, M. I., Shahid, R., Khattak, S. N., Khan, J. A., Naveed, A., & Akram, U. (2022). Urinary Sodium and Pregnancy Induced Hypertension; A Unsolved Mystery. Pakistan Armed Forces Medical Journal, 72(4), 1406–10. https://doi.org/10.51253/pafmj.v72i4.7363
Section
Original Articles