Clinical Characteristics of Novel Coronavirus Disease in the Pediatric Population
Keywords:
COVID-19, Fever, Pediatric population, MIS-C
Abstract
Objectives: To assess the clinical characteristics of COVID-19 Virus disease in the pediatric population in Pakistan.
Study Design: Cross-sectional study.
Place and Duration of Study: Pak Emirates Military Hospital, Rawalpindi Pakistan, from Mar 2020 to Jan 2021.
Methodology: All children presenting to the department with symptoms consistent with COVID-19 disease were tested for the virus. Patients who tested positive on the PCR were included in the study. Patients with non-consistent symptoms of COVID-19 and those who tested negative on the PCR were excluded from the study. All clinical data, including the age of the child, the onset of symptoms, the gap between the onset of symptoms and presentation as well as clinical symptoms, were documented on a predefined proforma.
Results: A total of 106 patients were enrolled on the study. The mean age of patients was 5.6±2.5 years. The most frequent symptoms were fever (63, 59.6%) and cough (49, 46.2%). There were 3(2.9%) cases with severe or critical illness. The most frequent abnormal laboratory findings were leukopenia (29, 27.4%) and increased creatine kinase (38, 36.0%). Ground-glass opacities were observed in the HRCT chest of 17(65.3%) cases, out of 26 children diagnosed with pneumonia. The majority (70, 66%), had a positive exposure history. 88(83%) cases did not abide by the precautionary measures against the COVID-19 disease.
Conclusions: The current study indicates that children usually present with mild symptoms but can present as severe diseases, as observed in this study.
Downloads
Download data is not yet available.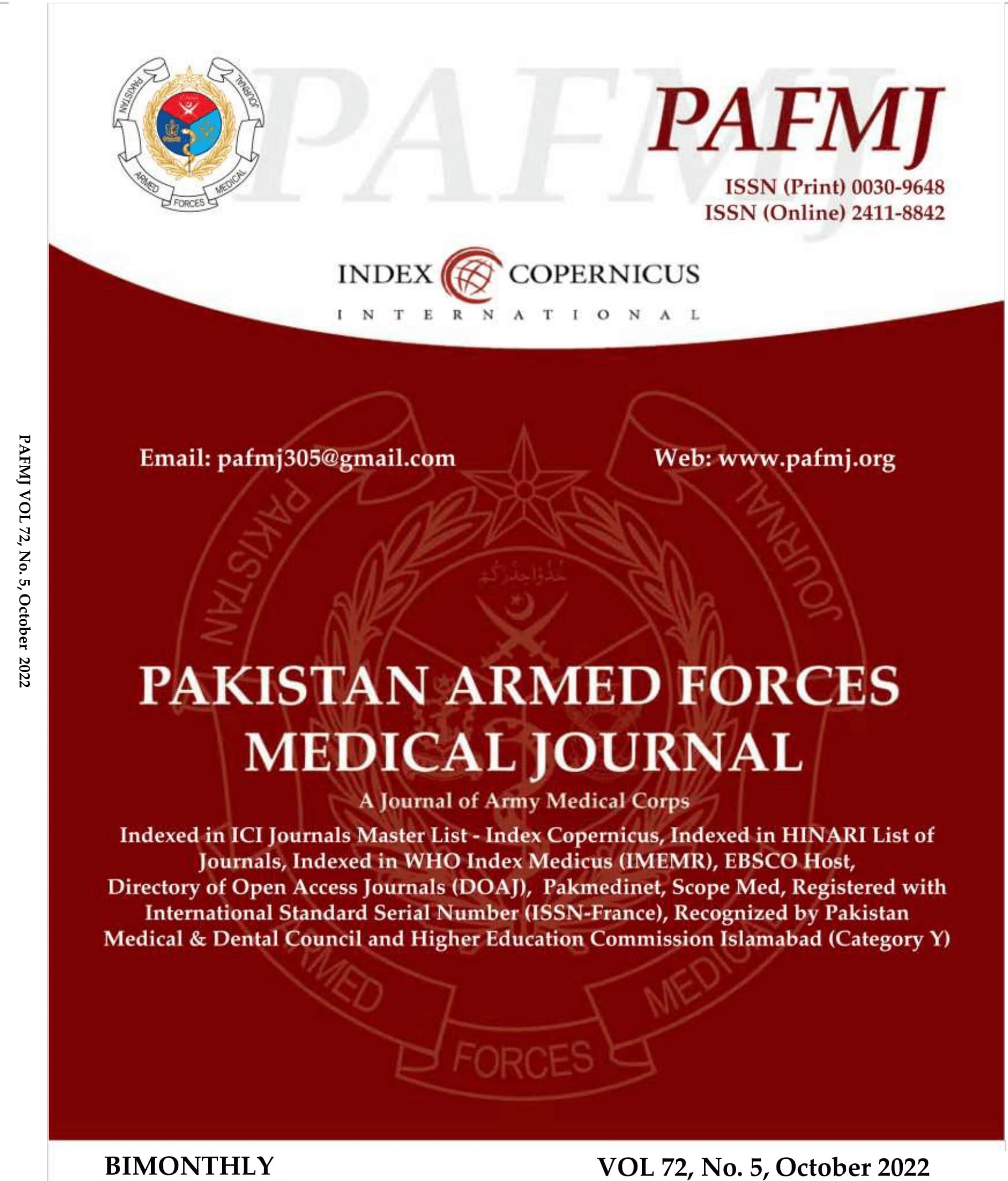 Downloads
How to Cite
Babar, M. W., Malik, Q. U., Ikram, F., Nadeem, M. T., Bashir, J., & Ghaffor, M. (2022). Clinical Characteristics of Novel Coronavirus Disease in the Pediatric Population. Pakistan Armed Forces Medical Journal, 72(5), 1716–20. https://doi.org/10.51253/pafmj.v72i5.7354
Section
Original Articles