ASSESSMENT OF MEAN DISTANCE OF MANDIBULAR INCISIVE CANAL USING CONE BEAM COMPUTERIZED TOMOGRAPHY; A CROSS-SECTIONAL STUDY
Mandibular Incisive Canal Mean Distance
Mubashir Sharif

21 MDC, Quetta Pakistan

Nighat Haroon

Lahore General Hospital, Lahore Pakistan

Muhammad Anwaar Alam

Azra Naheed Dental College, Lahore Pakistan

Adil Umar Durrani

Foundation University College of Dentistry & Hospital, Rawalpindi Pakistan

Talib Hussain

Women Dental College, Abbottabad Pakistan

Khawar Anwar

Frontier Medical College, Abbottabad Pakistan
Keywords:
Cone-beam computerized tomography, Dental implant, Mental foramen
Abstract
Objective: To determine the mean distance of mandibular incisive canal from the mental foramen in patients reporting to a tertiary care centre using Cone Beam Computerized Tomography for placement of dental implants in the anterior/interforaminal region.
Study Design: Cross-sectional study.
Place and Duration of Study: Department of Prosthodontics, Foundation University College of Dentistry Rawalpindi, Jun to Nov 2019.
Methodology: A total of 70 patients participated between the age of 20-45 years. Cone Beam Computerized Tomography (the investigation was carried out and measurements of the mandibular incisive canal from mental foramen were recorded with the help of measuring tools in the software and noted down on the proforma. Data were analyzed using SPSS-20.
Results: The number of patients selected for this study was 70. Out of these 70 patients, 33 (47.1%) were males and 37 (52.9%) were females. The mean age of patients in this study was 36.31 ± 6.38 years. The mean distance/extension of the mandibular incisive canal from left mental foramen and right mental foramen in all patients was recorded to be 14.49 ± 6.31 mm and 14.97 ± 7.10 mm respectively.
Conclusion: Within the limitations of this study, it is concluded that a maximum distance of 22mm of the incisive canal from the mental foramen was observed using cone-beam computerized tomography.
Downloads
Download data is not yet available.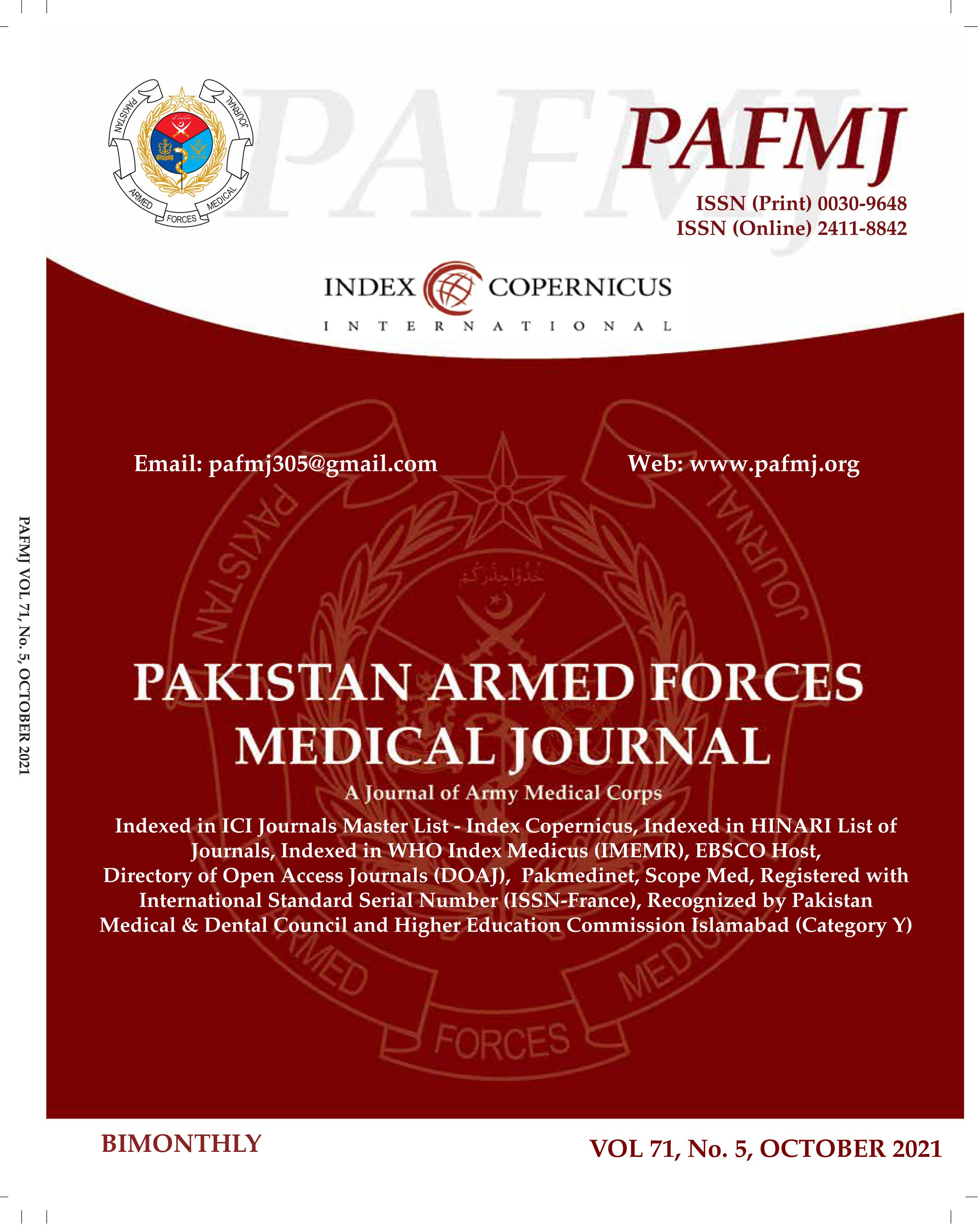 How to Cite
Sharif, M., Haroon, N., Alam, M., Durrani, A., Hussain, T., & Anwar, K. (2021). ASSESSMENT OF MEAN DISTANCE OF MANDIBULAR INCISIVE CANAL USING CONE BEAM COMPUTERIZED TOMOGRAPHY; A CROSS-SECTIONAL STUDY. Pakistan Armed Forces Medical Journal, 71(5), 1801-05. https://doi.org/10.51253/pafmj.v71i5.7287
Section
Original Articles