COMPARISON OF NUTRITIONAL STATUS OF DOCTORS IN SERVICES HOSPITALS WITH THAT OF EQUIVALENT SOCIAL STRATA IN RELATION TO THEIR EATING HABITS AND PHYSICAL ACTIVITY
Asif Mumtaz Sukhera

Margalla Institute of Health Sciences Rawalpindi Pakistan

Rukhsana Roshan

Margalla Institute of Health Sciences Rawalpindi Pakistan

Sadia Sajjad

Margalla Institute of Health Sciences Rawalpindi Pakistan

Sarah Tanvir

Margalla Institute of Health Sciences Rawalpindi Pakistan

Syed Fawad Mashhadi

Army Medical College/National University of Medical Sciences (NMUS) Rawalpindi Pakistan
Keywords:
Body mass index (BMI), Dietary habits, Physical activity
Abstract
Objective: To compare the nutritional status of doctors and non-doctors in relation to their eating habits and physical activity
Study Design: Cross sectional study.
Place and Duration of Study: Combined Military Hospital/Military Hospital Rawalpindi, from Sep 2018 to Mar 2019.
Methodology: Anthropometric measurements like weight for age, height for age, weight according to height along with BMI were used as indicators of nutritional status. Data collection tool was built upon food frequency questionnaire and comprised of sociodemographic variables followed by major portions related to general health of respondents, nutritional assessment, dietary patterns and physical activity.
Results: Out of 200 respondents, 100 were physicians working in services hospitals of Army while rest hundred were serving officers non-doctors of similar social status. Mean age of the participants was 35.00 ± 7.57 years. There was no significant difference between self-perceived health status of both groups (p>0.05). Dietary habits of physicians were significantly healthy as compared to their counterparts (p=0.01) while physical activity patterns were better amongst non-doctors (p=0.001). Physicians had unhealthy dietary habits, but intake was bit less and cautious as compared to their counterpart group.
Conclusion: Doctors have better dietary patterns, but worse physical activity practices as compared to individuals with similar social strata. Risk factors and nutritional indicators were not different for both groups.
Downloads
Download data is not yet available.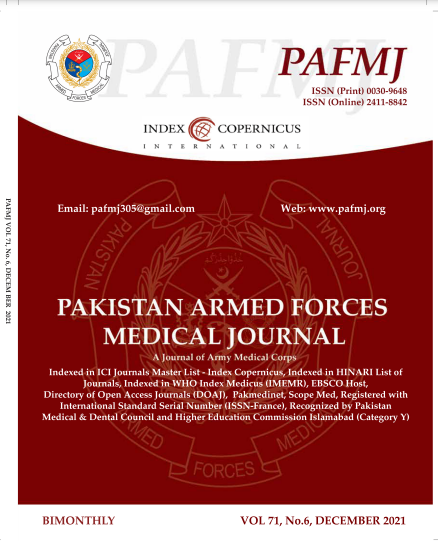 How to Cite
Sukhera, A., Roshan, R., Sajjad, S., Tanvir, S., & Mashhadi, S. (2021). COMPARISON OF NUTRITIONAL STATUS OF DOCTORS IN SERVICES HOSPITALS WITH THAT OF EQUIVALENT SOCIAL STRATA IN RELATION TO THEIR EATING HABITS AND PHYSICAL ACTIVITY. PAFMJ, 71(6), 2015-18. https://doi.org/10.51253/pafmj.v6i6.7224
Section
Original Articles