Celiac Disease Investigation with Marsh Classification in Paediatric Population
Muzammal Ghafoor

Combined Military Hospital/National University of Medical Sciences (NUMS), Rawalpindi Pakistan

Farooq Ikram

Combined Military Hospital/National University of Medical Sciences (NUMS), Rawalpindi Pakistan

Saeed Zaman

Combined Military Hospital Kharian/National University of Medical Sciences (NUMS) Pakistan

Junaid Bashir

Combined Military Hospital/National University of Medical Sciences (NUMS), Rawalpindi Pakistan

Samina Tabassum

Combined Military Hospital Bahawalpur/National University of Medical Sciences (NUMS), Pakistan

Muhammad Waleed Babar

Combined Military Hospital/National University of Medical Sciences (NUMS), Rawalpindi Pakistan
Keywords:
Celiac disease, Histopathology, Marsh classification
Abstract
Objective: To determine the celiac disease using Marsh classification in the paediatric population at the Pak Emirates Military Hospital.
Study Design: Cross-sectional study.
Place and Duration of Study: Department of Paediatrics, Pak Emirates Military Hospital Rawalpindi Pakistan, from Aug 2020 till Mar 2021.
Methodology: Patients of either gender aged 1 to 14 years with three or more clinical features of celiac disease such as chronic diarrhoea, any degree of malnutrition, short stature, abdominal distension, anaemia, and clubbing at the time of admission, were included in this study.
Results: There were 97 patients in this study. Among them, 61 (62.9%) were males, and 36 (37.1%) were females. There were 56 (57.7%) patients who were histology positive and 41 (42.3%) patients who were histology negative. There were 37 (38.1%) patients in Marsh III a, 15 (15.5%) were in Marsh III b, and 4 (4.1%) patients were in the Marsh III c category. Gender distribution showed that 33 (58.9%) males were positive compared to 23 (41.1%) females. Even though the frequency was higher among males, the difference was not statistically significant (p-value=0.23).
Conclusion: Celiac disease is a possible reason for anaemia among patients with iron deficiency anaemia of unknown origin. Therefore, the histopathological diagnosis should be completed when celiac disease is suspected.
Downloads
Download data is not yet available.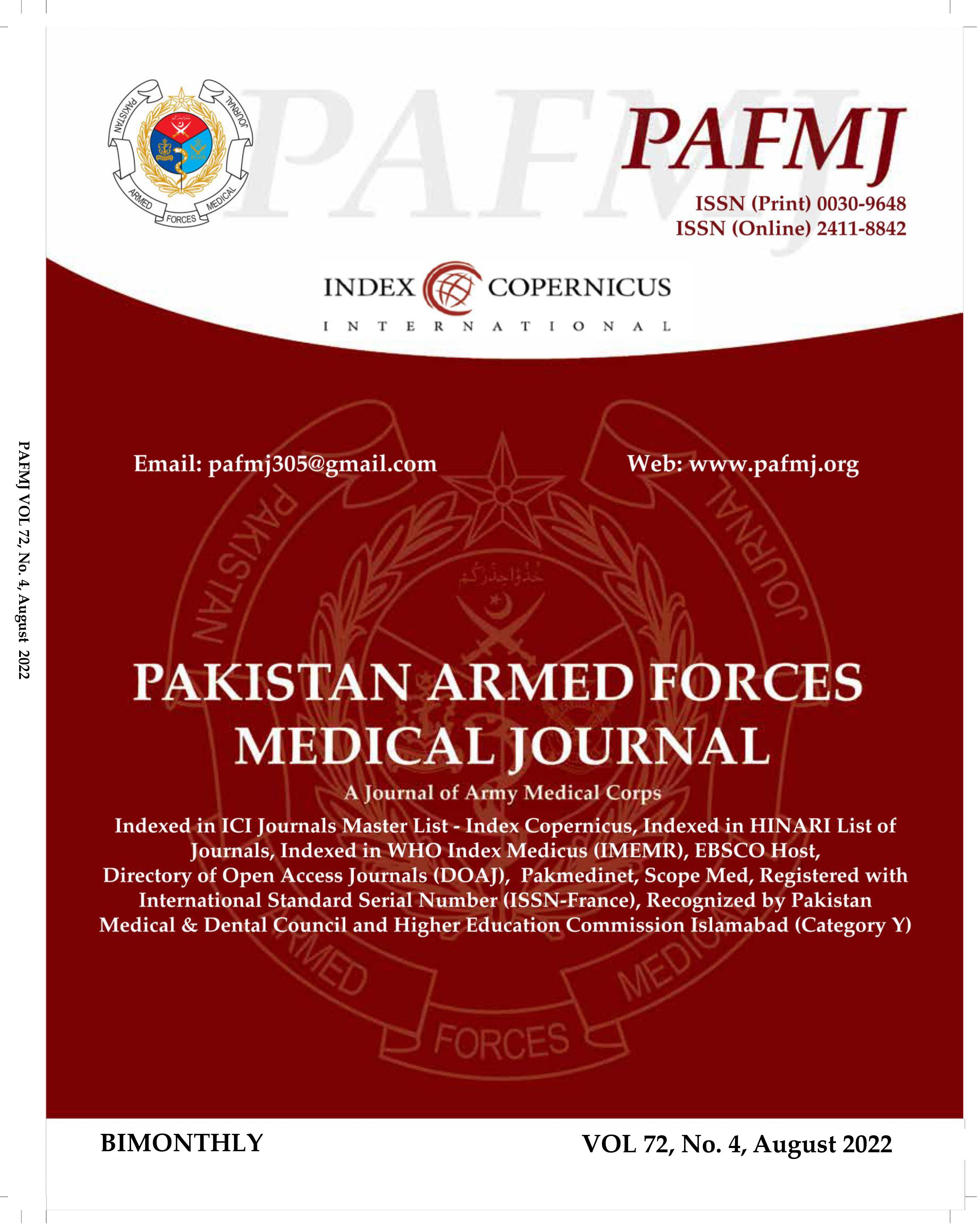 How to Cite
Ghafoor, M., Ikram, F., Zaman, S., Bashir, J., Tabassum, S., & Babar, M. (2022). Celiac Disease Investigation with Marsh Classification in Paediatric Population. Pakistan Armed Forces Medical Journal, 72(4), 1164-67. https://doi.org/10.51253/pafmj.v72i4.7212
Section
Original Articles