Comparison of Intramuscular Versus Rectal Diclofenac Sodium in Post Caesarean Pain Relief
Beenish Altaf

Frontier Crops Hospital, Quetta Pakistan

Sanum Kashif

frontier corps hospital quetta

Shagufta Saeed Sial

Holy Family Hospital, Rawalpindi Pakistan

Humera Noreen

Benazir Bhutto Hospital, Rawalpindi Pakistan

Erum Pervaiz

Frontier Crops Hospital, Quetta Pakistan

Shazia Mahmood Awan

Combined Military Hospital Quetta/National University of Medical Sciences (NUMS) Pakistan
Keywords:
Caesarean section, Diclofenac Sodium, Post-operative pain
Abstract
Objective: To compare the mean post-operative pain after intramuscular versus rectal Diclofenac Sodium in post-caesarean patients.
Study Design: Quasi-experimental study.
Place and Duration of Study: Department of Obstetrics & Gynaecology, Benazir Bhutto Hospital, Rawalpindi Pakistan, from May to Nov 2017.
Methodology: A total of 60 women, aged 18-45years, undergoing elective caesarean section were selected. Patients in Group-A were given, Diclofenac 75mg intramuscularly in the gluteal area every 8 hours, while patients in Group-B received a Diclofenac Sodium suppository every 8 hours post-operatively. All patients were followed for pain post-operatively, and final post-caesarean pain was noted at 24 hours post-operatively using a visual analogue scale.
Results: The mean age of patients in the Group-A was 29.27±4.68 years, and in Group-B was 30.57±4.80years. The range of gestational age in the study was from 37 to 41 weeks, with an average age of 39.07±1.26 weeks. Mean post-operative pain in Group-A (Intramuscular Diclofenac Sodium-Group) was 1.13±0.43 minutes, whereas in Group-B (Rectal Diclofenac SodiumGroup), was 2.16±0.83 (p-value = 0.001).
Conclusion: Mean post-operative pain after using intramuscular Diclofenac sodium is less than Diclofenac Sodium administered rectally in post-operative patients in caesarean sections.
Downloads
Download data is not yet available.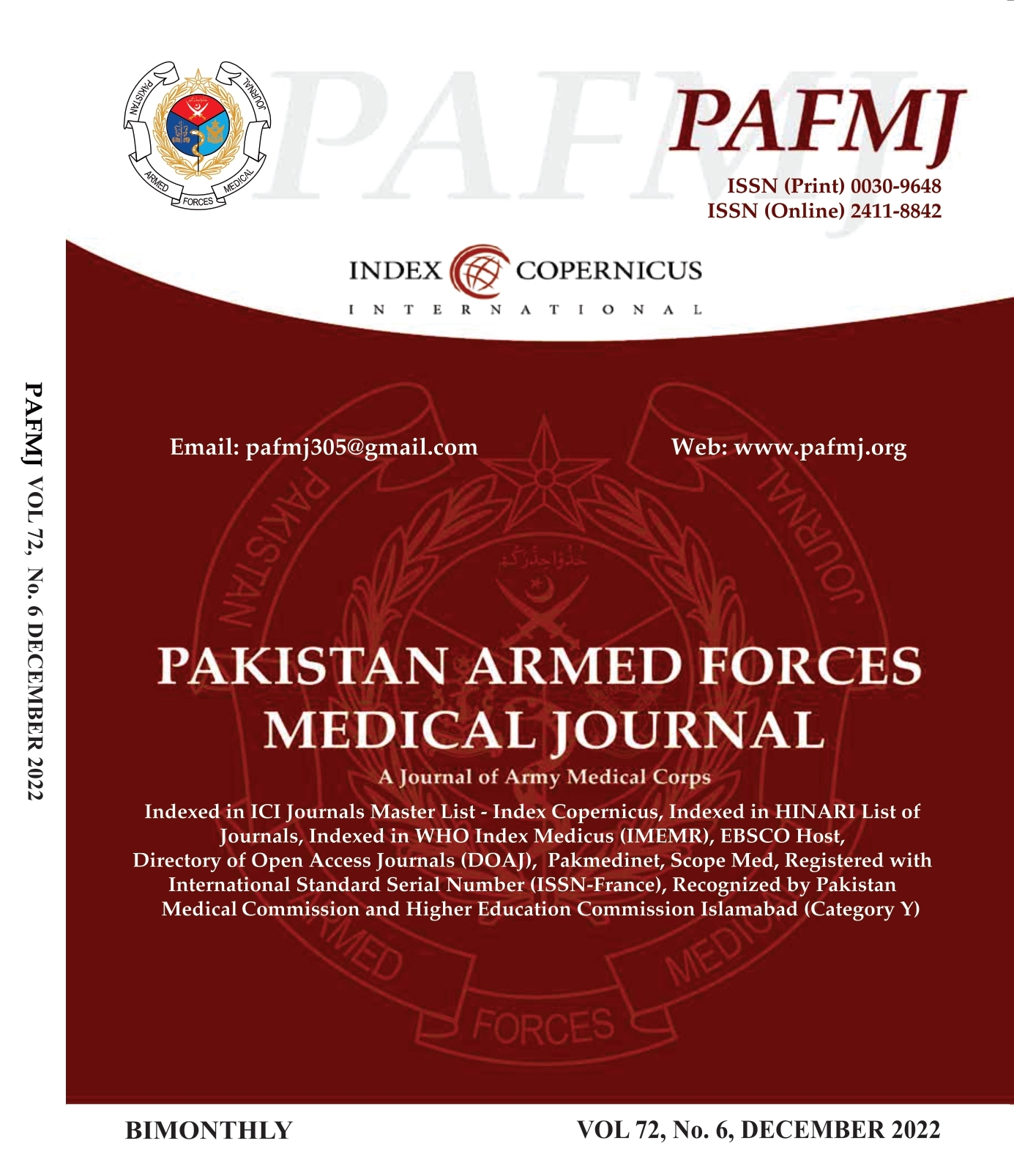 How to Cite
Altaf, B., Kashif, S., Sial, S. S., Noreen, H., Pervaiz, E., & Awan, S. M. (2022). Comparison of Intramuscular Versus Rectal Diclofenac Sodium in Post Caesarean Pain Relief. Pakistan Armed Forces Medical Journal, 72(6), 1982-85. https://doi.org/10.51253/pafmj.v72i6.7153
Section
Original Articles