PRIMARY CNS LYMPHOMA MIMICKING TUBERCULOSIS INFECTION - A CASE REPORT
Hassan Mumtaz

Shifa International Hospital, Islamabad Pakistan

Shahzaib Ahmad

King Edward Medical University, Lahore Pakistan

Fatima Yasin

King Edward Medical University, Lahore Pakistan

Muhammad Ahsan Shafiq

Holy Family Hospital, Rawalpindi Pakistan
Keywords:
KI67, Non-Hodgkin lymphoma, Primary CNS lymphoma (PCNSL), Tuberculosis
Abstract
Primary central nervous system lymphoma (PCNSL) is a rare variety of extra nodal non-Hodgkin lymphoma that reportedly involves leptomeninges, the brain, spinal cord, eyes, or may involve other organs systemically. We present a case of 46-yearold woman with complaints of headache and fever for three weeks, associated with right-sided weakness & altered state of consciousness for one week. The most common presentation of primary central nervous lymphoma is diffuse or multifocal supratentorial masses causing cognitive deterioration and involvement of vitreous, retina, and optic nerve. Most cases of
PCNSL are left undiagnosed due to uncommon
Downloads
Download data is not yet available.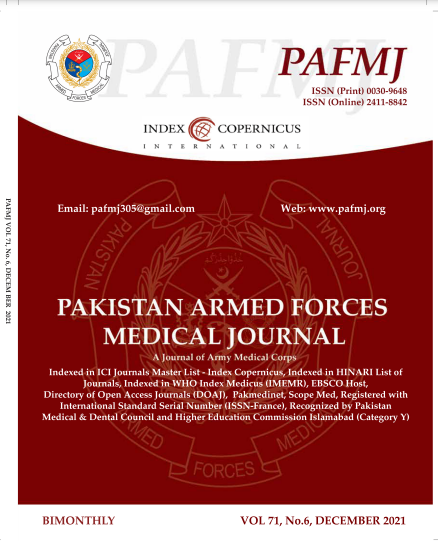 How to Cite
Mumtaz, H., Ahmad, S., Yasin, F., & Shafiq, M. (2022). PRIMARY CNS LYMPHOMA MIMICKING TUBERCULOSIS INFECTION - A CASE REPORT. PAFMJ, 71(6), 2253-54. https://doi.org/10.51253/pafmj.v71i6.7116