MAGNITUDE OF DIABETES MELLITUS IN PATIENTS OF SUDDEN SENSORINEURAL HEARING LOSS AND ITS EFFECT ON CORTICOSTEROID THERAPY
Keywords:
Corticosteroid therapy, Diabetes mellitus, Sudden sensorineural hearing loss
Abstract
Objective: To determine the magnitude and effects of diabetes mellitus in patients of sudden sensorineural hearing loss and on the final outcome of therapy.
Study Design: Cross sectional study.
Place and Duration of Study: ENT unit of Medical Teaching Institution Abbottabad, from Jul 2018 to Jun 2020.
Methodology: A total of 84 patients presented who had idiopathic sudden sensorineural hearing loss by using non probability consecutive sampling enrolled in the study. Basic parameters, age, diabetes mellitus and hearing loss were used for data collection. The data was analyzed by using SPSS version 23.
Results: Out of total 52 (61.9%) were male and 32 (38.1%) were female, mean age was 45.62 ± 14.12 years from 14-85 years. A large number of patients presented within one week of onset of hearing loss 57 (67.86%). In our patient group 18 patients (21.4%) had diabetes mellitus and 66 patients (78.6%) did not have diabetes mellitus at presentation. Initial Hearing loss at presentation was significantly more in patients who had diabetes mellitus p=0.006 and there was statistically strong association between the final hearing improvement and diabetes mellitus p<0.001.
Conclusion: Diabetes mellitus is associated with more severe hearing loss at initial presentation and poorer final outcome in patients with Idiopathic sudden sensorineural hearing loss. As glycemic control does not affect the result so corticosteroid therapy must be given to all patients of sudden sensorineural hearing loss with diabetes mellitus.
Downloads
Download data is not yet available.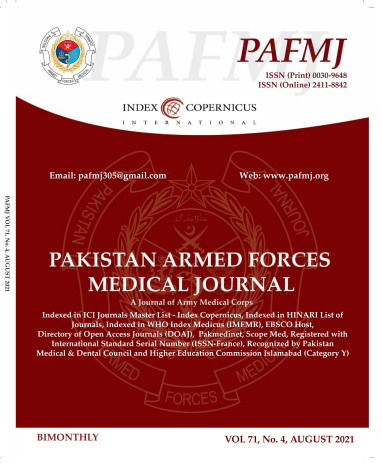 Downloads
How to Cite
Sajid, T., Sajid, F., Sajid, Z., Naqvi, S. R. Q., Ali, S. M., & Shah, M. I. (2021). MAGNITUDE OF DIABETES MELLITUS IN PATIENTS OF SUDDEN SENSORINEURAL HEARING LOSS AND ITS EFFECT ON CORTICOSTEROID THERAPY. Pakistan Armed Forces Medical Journal, 71(Suppl-3), S626–29. https://doi.org/10.51253/pafmj.v71iSuppl-3.7109
Section
Original Articles