Effectiveness of Flipped Classroom and Team-Based Learning in Teaching Biochemistry to Medical Students
Atteaya Zaman

Federal Medical college, Islamabad Pakistan

Raheela Yasmeen

Islamic International Medical College, Islamabad Pakistan

Lubna Rani Faysal

Railway Hospital Rawalpindi Pakistan

Rafia Minhas

Central Pak Medical College, Lahore Pakistan

Rizwan Taj

Pakistan Institute of Medical Sciences, Islamabad

Saima Mumtaz

Federal Medical college, Islamabad Pakistan
Keywords:
Flipped classroom, Learning methods, Medical education, Team-based learning, Test scores
Abstract
Objective: To compare the effectiveness of Team-based learning and flipped classrooms in terms of test scores in undergraduate medical education.
Study Design: Quasi-experimental study.
Place and Duration of Study: Federal Medical College, Islamabad Pakistan, from Mar to Jun 2020.
Methodology: A total of 100 first-year MBBS students were randomly equally allocated to either team-based learning or flipped classroom for biochemistry class. In the former technique, students were assigned a topic from the textbook as prereading material. In contrast, in the latter technique, they were given an audio-based power-point lecture before class. Then, students were asked to review the material and prepare at least three questions to ask during class in the flipped classroom while they followed a modified team-based learning class. In the first session, there were (n=43) and (n=39) students in the Team-based Learning and Flipped Classroom group, whereas in the second session, 40 students each attended class. However, in the third and fourth sessions, attendance was 100.0%. Each session was given pre and post-test based on 20 Multiple Choice Questions.
Results: Females were in the majority (57%), and most students (72%) were 17 years of age. Team-based learning scored better than Flipped Classroom in each session. For example, in session 1, the mean scores were 67.0 ± 10.4 in Team-Based Learning and 48.3 ± 8.4 in Flipped Classroom group (p-value <0.001). The difference in marks obtained continued in sessions 2, 3 and 4.
Conclusion: Team-Based Learning is more effective than Flipped classrooms in teaching biochemistry to medical students.
Downloads
Download data is not yet available.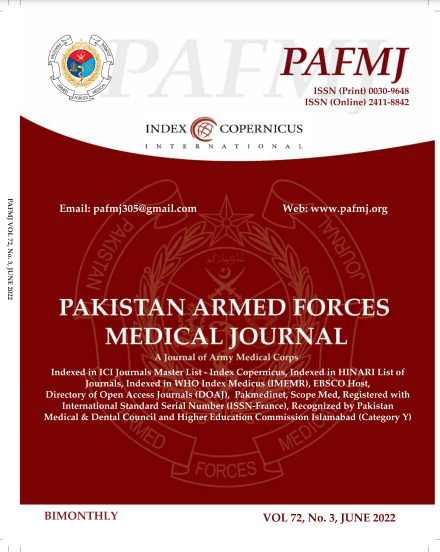 How to Cite
Zaman, A., Yasmeen, R., Faysal, L., Minhas, R., Taj, R., & Mumtaz, S. (2022). Effectiveness of Flipped Classroom and Team-Based Learning in Teaching Biochemistry to Medical Students. Pakistan Armed Forces Medical Journal (PAFMJ), 72(3), 1018-22. https://doi.org/10.51253/pafmj.v72i3.7091
Section
Original Articles