Molecular Detection of Chlamydia Trachomatis in Patients with Pelvic Inflammatory Disease Visiting a Tertiary Care Hospital in Pakistan
Keywords:
Chlamydia trachomatis, Pelvic inflammatory disease, Polymerase chain reaction, Sexually transmitted infections
Abstract
Objective: To detect the frequency of Chlamydia trachomatis in urine samples of women with Pelvic Inflammatory Disease visiting a tertiary care hospital using a Polymerase Chain Reaction assay and find an association between different risk factors.
Study Design: Cross-sectional study.
Place and Duration of Study: Department of Microbiology, Army Medical College/National University of Medical Sciences Rawalpindi Pakistan, from Mar 2018 to Jan 2019.
Methodology: Over eleven months, 60 diagnosed urine samples of married females with pelvic inflammatory disease between the ages of 14-49 years were included in the study. DNA of Chlamydia trachomatis from urine samples was extracted manually using the commercially available kit. It was detected by performing a real-time Polymerase Chain Reaction assay using a forward primer (5'-CATGAAAACTCGTTCCGAAATAGAA-3') and a reverse primer (5'-TCAGAGCTTTACCTAACAACGCATA-3') of sequence mentioned above for amplification of target sequences, of the Chlamydia trachomatis.
Results: Out of sixty cases included in this study, Chlamydia trachomatis DNA was detected in 12 cases (20%), and 48 cases (80%) were negative. So, the frequency of Chlamydia trachomatis in our study population was estimated at 20%. In addition, age, socioeconomic status, education and no of sexual partners were all risk factors were evaluated for their role in acquiring infection.
Conclusion: Females having Chlamydia trachomatis infection and other sexually transmitted infections are at an increased risk of developing Pelvic Inflammatory disease due to the presence of risk factors and the asymptomatic nature of the disease.
Downloads
Download data is not yet available.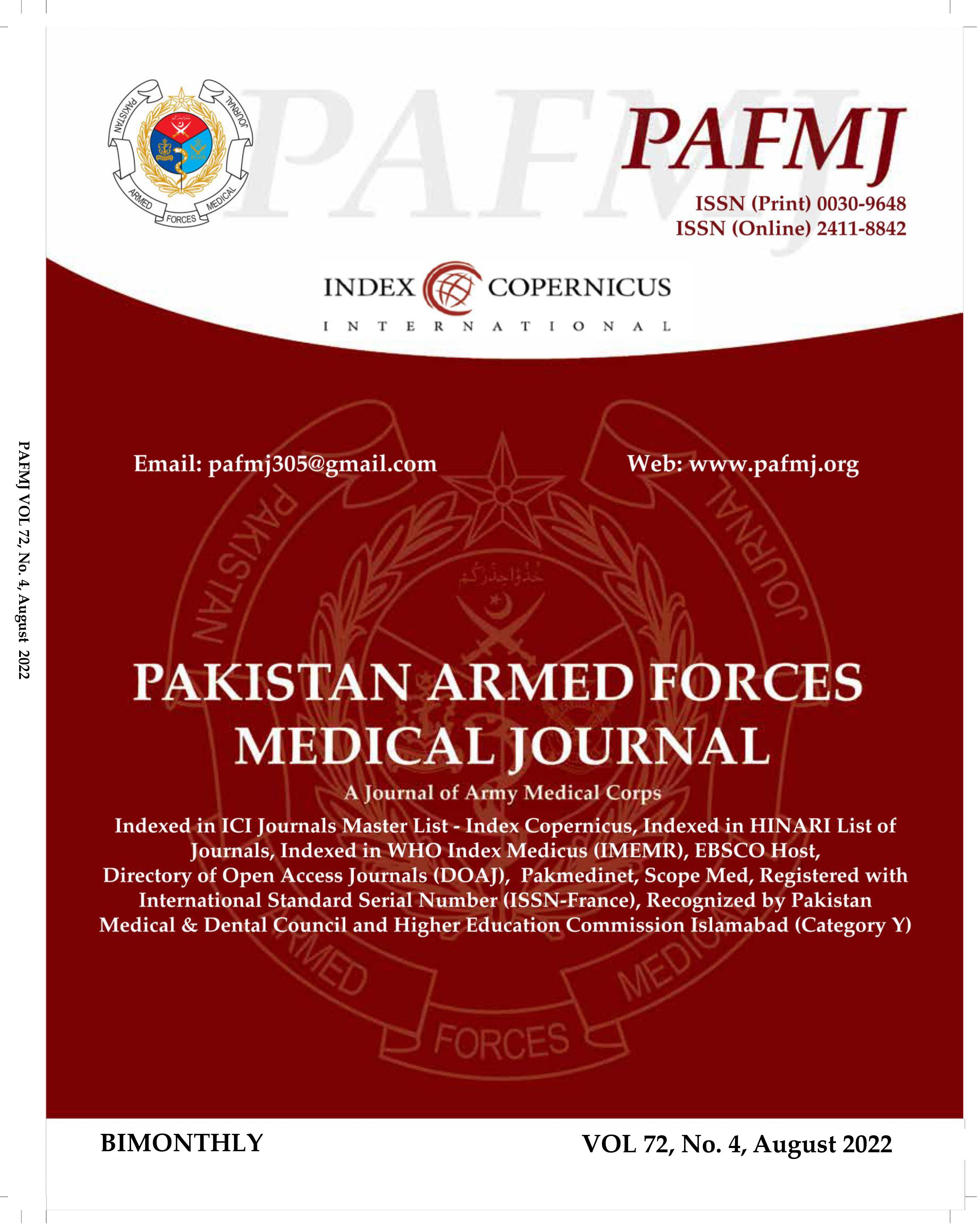 Downloads
How to Cite
Naeem, A., Waseem, H., Ali, S., Usman, J., Gilani, M., & Javed, A. (2022). Molecular Detection of Chlamydia Trachomatis in Patients with Pelvic Inflammatory Disease Visiting a Tertiary Care Hospital in Pakistan. Pakistan Armed Forces Medical Journal, 72(4), 1253–57. https://doi.org/10.51253/pafmj.v72i4.7047
Section
Original Articles