AWARENESS IN CIRRHOTIC PATIENTS REGARDING SURVEILLANCE OF HEPATOCELLULAR CARCINOMA
Anum Abbas

Pak Emirates Military Hospital/National University of Medical Sciences (NUMS) Rawalpindi Pakistan

Rabia Tariq

Pak Emirates Military Hospital/National University of Medical Sciences (NUMS) Rawalpindi Pakistan

Ehtesham Haider

Pak Emirates Military Hospital/National University of Medical Sciences (NUMS) Rawalpindi Pakistan

Aimen Abbas

Holy Family Hospital, Rawalpindi Pakistan

Mehdi Naqvi

Pak Emirates Military Hospital/National University of Medical Sciences (NUMS) Rawalpindi Pakistan

Farrukh Saeed

Pak Emirates Military Hospital/National University of Medical Sciences (NUMS) Rawalpindi Pakistan

Zafar Ali Qureshi

Pak Emirates Military Hospital/National University of Medical Sciences (NUMS) Rawalpindi Pakistan
Keywords:
Hepatocellular carcinoma, Hepatitis C virus, Surveillance
Abstract
Objective: To assess the awareness and correlate factors among cirrhotic patients for the surveillance of Hepatocellular Carcinoma (HCC).
Study Design: Prospective correlational study.
Place and Duration of Study: Gastroenterology Outpatient Department, Pak Emirates Military Hospital, from Nov 2017 to Jun 2018.
Methodology: An aggregate of 300 patients within the age range of 16-80 years, diagnosed with liver cirrhosis were included in the study through non-probability consecutive sampling. The data was collected by the self-administered questionnaire including age, gender, educational level, socio-economic status, cause of cirrhosis, Child Pugh Class, awareness regarding method and interval of surveillance and source of information. Effectiveness of the procedures was noted on a pre-designed Performa. Data was analyzed by using SPSS version 19.
Results: Of total participants, 194 (64.7%) were males while 106 (35.3%) were females with mean age of 38 ± 2.5 years with no statistical difference observed in age, hepatocellular carcinoma related cirrhosis account for 192 (64%). Of total, 184 (61.3%) belonged to middle class and high schooling as highest educational level in 132(44%). Two hundred and ten (70%) participants were unaware about hepatocellular carcinoma surveillance and were not informed by doctors while 90 (30%) had some idea.
Conclusion: Health care professionals and community leaders ought to advise patients about the advantages of hepatocellular carcinoma surveillance through designed educational projects to enhance adherence to surveillance program, early diagnosis and treatment.
Downloads
Download data is not yet available.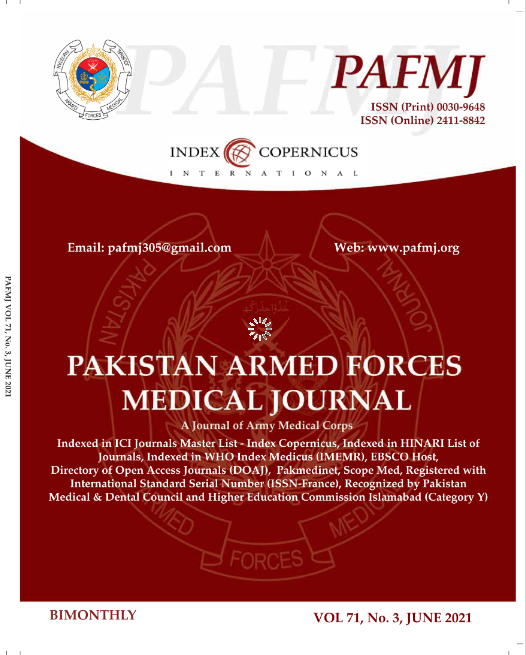 How to Cite
Abbas, A., Tariq, R., Haider, E., Abbas, A., Naqvi, M., Saeed, F., & Qureshi, Z. (2021). AWARENESS IN CIRRHOTIC PATIENTS REGARDING SURVEILLANCE OF HEPATOCELLULAR CARCINOMA. Pakistan Armed Forces Medical Journal, 71(3), 1051-55. Retrieved from https://pafmj.org/index.php/PAFMJ/article/view/6989
Section
Original Articles