COMPARATIVE DIAGNOSTIC ACCURACY OF ULTRASOUND AND MAGNETIC RESONANCE IMAGINGFOR PLACENTA ACCRETA IN PREVIOUS SCAR PATIENTS TAKING CLINICAL OUTCOME AS GOLD STANDARD
Mubashrah Aziz

Combine Militry Hospital Quetta/National University of Medical Sciences (NUMS) Pakistan

Muhammad Omer Aamir

Combine Militry Hospital Quetta/National University of Medical Sciences (NUMS) Pakistan

Muhammad Atif Mian

Combine Militry Hospital Quetta/National University of Medical Sciences (NUMS) Pakistan

Yasar Shakeel

Combine Military Hospital Gujranwala/National University of Medical Sciences Pakistan

Fareeha Awan

Combine Military Hospital/National University of Medical Sciences (NUMS) Rawalpindi Pakistan

Samia Rauf

Combine Military Hospital Gujranwala/National University of Medical Sciences Pakistan
Keywords:
Magnetic resonance imaging, placenta accreta, ultrasound, sensitivity
Abstract
Objective: To compare the diagnostic accuracy of magnetic resonance imaging (MRI) and ultrasound (USG) in clinically suspected cases of placenta accreta in previous scar patients taking clinical outcome as Gold standard.
Study Design: Cross-sectional validation study.
Duration and Place of Study: Combined Military Hospital, Quetta Pakistan, from Oct 2016 to Mar 2017.
Methodology: This study enrolled pregnant ladies having history of previous one or more caesarean sections, age ranging from 20-40 years and gestational age 37-41 weeks. The ultrasound & magnetic resonance imaging findings were recorded as positive or negative for placenta accreta and then correlated with clinical outcome.
Results: The data of 155 patients were analysed. Out of 155, 86 patients were found to be positive on magnetic resonance imaging. Among them, 78 were found to be true positive and 8 were false positive. While among, 69 patients with negative findings on magnetic resonance imaging, 12 were false negative whereas 57 were true negative. Overall diagnostic accuracy, specificity, sensitivity, positive predictive value and negative predictive value of magnetic resonance imaging for placenta accreta was 87.09%, 82.60%, 90.69%, 86.67% & 82.69% respectively. In 82 patients with positive findings on ultrasound, 71 were true positive and 11 were found to be False Positive. While among, 73 ultrasound negative patients, 14 were false negative whereas 59 were true negative. Overall diagnostic accuracy, sensitivity, specificity, positive and negative predictive value of ultrasound for placenta accreta was 83.87%, 86.5%, 80.82%, 83.53% and 84.28% respectively.
Conclusion: Magnetic resonance imaging andultrasonography are highly sensitive and accurate..............
Downloads
Download data is not yet available.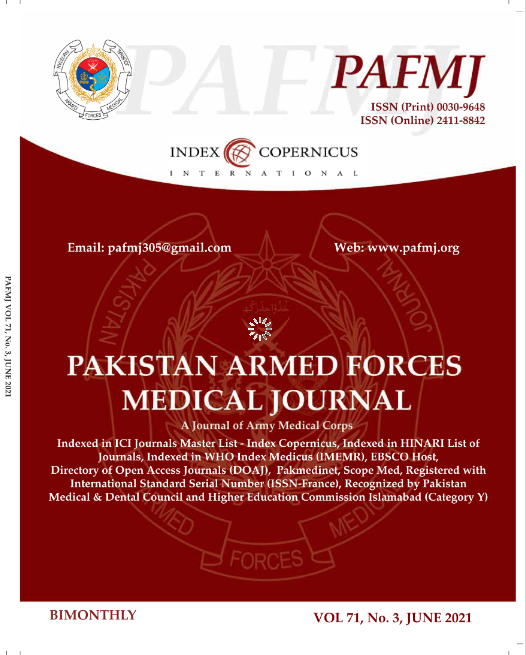 How to Cite
Aziz, M., Aamir, M., Mian, M., Shakeel, Y., Awan, F., & Rauf, S. (2021). COMPARATIVE DIAGNOSTIC ACCURACY OF ULTRASOUND AND MAGNETIC RESONANCE IMAGINGFOR PLACENTA ACCRETA IN PREVIOUS SCAR PATIENTS TAKING CLINICAL OUTCOME AS GOLD STANDARD. PAFMJ, 71(3), 1041-45. Retrieved from https://pafmj.org/index.php/PAFMJ/article/view/6988
Section
Original Articles